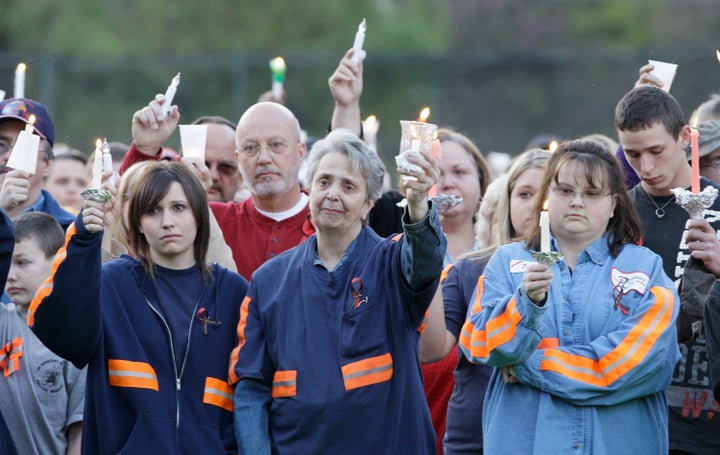 NEW YORK -- A year after the worst coal mining accident in decades took the lives of 29 workers, prompting urgent calls to revamp oversight of one of the country's most dangerous jobs, not much has changed in the lives of those who toil deep underground.
Soon after the disaster on April 5, 2010, lawmakers in Congress and West Virginia vowed to overhaul mine safety laws and investigators promised to swiftly find the cause of the explosion that roared through the Upper Big Branch mine in West Virginia the day after Easter.
Despite the widespread media coverage and passionate speeches, a bill that would have made it easier to shut down problem mines and increased penalties for serious safety violations was quietly defeated in early December. As The Huffington Post reported that month, the legislation died due to a combination of inattention, intensive lobbying efforts by a powerful industry and mine workers' lack of political clout.
Though West Virginia's then-governor Joe Manchin pledged that he would "move quicker than the feds," the state has failed to pass any mine safety package. His successor, Earl Ray Tomblin, did sign two mine safety bills but they were watered down almost completely -- instead of requiring changes, they called for studies -- reports the Charleston Daily Mail.
In the past year, the U.S. Mine Safety and Health Administration has ramped up its inspections, finding 4,600 violations at more than 200 mines across the country. But mine safety advocates and reformers say that the agency still lacks crucial powers. MSHA could lose a court battle with Massey Energy over whether the Upper Big Branch mine owners can undertake their own investigation into the fatal accident.
"I don't see anything that's happened," said Pat Parenteau, an environmental law professor at Vermont Law School. "This is one of the most powerful entrenched political powers in the country and to get change, it takes relentless pressure relentlessly applied." Parenteau added that while there is no system of laws and regulations to fully prevent such disasters, they can definitely be reduced.
And though Massey has a history of environmental problems and dozens of mining deaths, the company's executives have escaped serious punishment. Notorious CEO Don Blankenship retired in December and is due to receive a $12-million pay package. That same month, more than 18 top Massey officials refused to speak to investigators.
"It's really the first time on such a large scale that a management team has declined, and it's unprecedented, to my knowledge, in this country," former MSHA director David McAteer told NPR. A year-long probe by the Justice Department has only resulted in charges being filed against a mid-level employee -- Upper Big Branch security chief Hughie Elbert Stover -- for lying to federal investigators and ordering another Massey employee to dispose of documents relating to security. Reached at home, Stover declined comment.
McAteer is conducting an independent investigation of the accident. So far, it has involved interviews with over 300 people and an enormous amount of documentary material, according to Pat McGinley, a law professor at West Virgina University who is helping lead the probe. McGinley said that the refusal of about a dozen and a half company managers to be interviewed was an obstacle. "Their conscience has to be their own guide, I guess," he said.
On the day in December when mourners gathered at a wake for Charles Qualls, a Massey miner who died after his coal truck overturned due to faulty brakes, the company's retired CEO Blankenship invoked his 5th Amendment right to not answer questions in the Upper Big Branch investigation.
But despite the company's stubborn resistance to oversight and survival instincts honed by Blankenship, Massey itself became a casualty of the disaster. In late January, it accepted a $7.1 billion takeover offer from Alpha Natural Resources, a rival mining company which has announced its plan to replace Massey's modus operandi.
Recent revelations about the disaster only deepened the sense of despair among locals in the remote corner of West Virginia, where the Upper Big Branch once anchored a proud community. Mine safety officials confirmed to the Charleston Gazette that more than half a dozen miners actually survived the initial explosion before later succumbing, in contrast to previous reports that all 29 miners died instantaneously.
And after the explosion, the search and rescue effort was plagued by confusion and Massey's own primitive tracking system, according to an NPR investigation. Families of 22 missing miners waited in a four-day vigil before receiving word on their loved ones, due partly to the disarray. "It was I would describe as hell," Judy Jones Peterson, a physician who lost her brother Dean Jones in the disaster, told NPR. "Not knowing. Waiting in those terrible conditions. Families suffering side by side."
REAL LIFE. REAL NEWS. REAL VOICES.
Help us tell more of the stories that matter from voices that too often remain unheard.