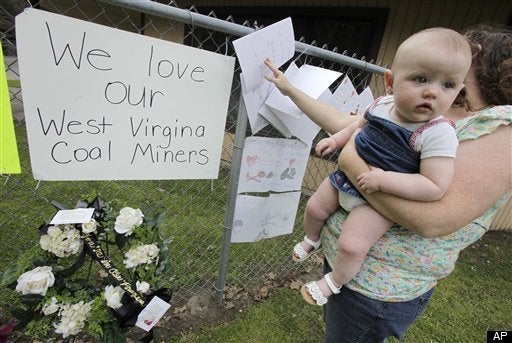 "Every mine law ever wrote has been written in blood, but this time even that wasn't enough" - Fred Burgess, whose stepson died in the Upper Big Branch mine explosion in April.
In the wake of a tragic mine explosion in West Virginia resulting in many deaths, members of Congress from both parties push to toughen mine safety laws and increase penalties for habitual violators. The bill passes the Senate by unanimous content and sails through the House before landing on the president's desk and being signed into law.
That was 2006's MINER Act, prompted by the Sago mine explosion in which 13 miners died without access to crucial life-saving equipment. Despite criticism from mine-safety advocates that it didn't go far enough to prevent accidents from occurring in the first place, the law represented a major overhaul of rules to help miners after an accident. "We honor the memory of all lost miners today, that's what we're doing signing this bill," said President Bush. "We make this promise to American miners and their families, we'll do everything possible to prevent mine accidents and make sure you're able to return safely to your loved ones."
Since then, several congressional attempts to address shortcomings in the act by controlling coal-dust levels in the mines and making it easier to shut down dangerous sites have stalled in the face of opposition from the mining industry.
But after the worst mining disaster in decades killed 29 at West Virginia's Upper Big Branch mine last April, prompting outrage that impotent federal regulators were unable to close dozens of mines that had racked up thousands of safety and health violations, lawmakers in both parties vowed to make sure such a tragedy never occurs again. So far in 2010, 48 coal miners have died on the job in the U.S. -- the most since 1992, when 55 coal miners were killed.
Despite widespread media coverage and passionate speeches by politicians promising swift action, a bill to improve miner safety and health took eight months to get to the floor of the House, where it was quietly defeated last Wednesday afternoon, failing to reach the two-thirds majority needed to pass. The measure would have made it easier to shut down problem mines, increased penalties for serious safety violations and offered more protection for whistleblowers. Every single Republican but one and 27 Democrats voted against it.
Relatives of miners who died at the Upper Big Branch were devastated by the defeat of the legislation.
"Every mine law ever wrote has been written in blood, but this time even that wasn't enough," retired miner Fred Burgess, whose stepson Ronald Maynor died in the Upper Big Branch explosion, told The Huffington Post. "The miners should have a safer workplace, but the mine companies throw a lot of money around, they have lobbyists all over the place."
"I was expecting it to pass -- I can't believe it was voted down," said Burgess, a Vietnam veteran who worked for 13 years in the mines before a mine accident in 1984 broke the straps of his helmet and left him with a compression fracture in his back, creating permanent injuries.
The death of legislation aiming to improve the safety and health of workers who toil at one of the country's most dangerous jobs is a tale of inattention, intensive lobbying efforts by a powerful industry and the lack of clout of this labor force.
The mining industry, which has an outsize influence in states like West Virginia, Kentucky and Pennsylvania, fiercely fought the act, sponsored by California Democrat George Miller. In addition, business lobbying heavyweights like the Chamber of Commerce and the National Association of Manufacturers were outspoken in their "strong opposition" to the legislation.
In a "Key Vote Alert" letter sent to members of Congress, Chamber Executive Vice President Bruce Josten attacked the bill as "unbalanced and punitive" because mining companies "could be forced to suffer significant economic loss," among other reasons.
The mining industry spent over $21 million lobbying Congress in 2010, a reduction from 2008, when it spent over $30 million to attack previous attempts to update mine safety laws. The vast majority of the 64 groups lobbying on this particular bill represent mine operators, including such giants as Peabody Coal, LafargeSA and the National Mining Association.
Asked about the industry's lobbying of Congress, NMA spokesman Luke Popovich declined to name individual lawmakers whose minds were changed, saying only, "The vote speaks for itself." The NMA, which contributed $520,000 to members of Congress in the last election cycle, opposed the bill because it grants too much authority to regulators and "impinges on employee relations," says Popovich, who blames the Mine Safety and Health Administration for ineffective oversight of mines. "We know best how to train our workforce; we don't think they should be in the business of telling us how to mine coal and how to produce it."
The industry spent $3.7 million on campaign contributions in the 2009-2010 election cycle, with 71 percent going to Republicans. Massey Energy, the company that owned the Upper Big Branch mine (a site tagged with thousands of safety and health violations), gave $55,500 to Republican members of Congress in the last election cycle. But the money's influence seems to spread across the aisle.
While only 10 percent of Democrats voted against the bill, of those 27 no voters, 25 (or 93 percent) of them have received money from the mining industry, according to a HuffPost analysis based on data compiled by the Center for Responsive Politics. Less than a third of all House Democrats received donations from the industry.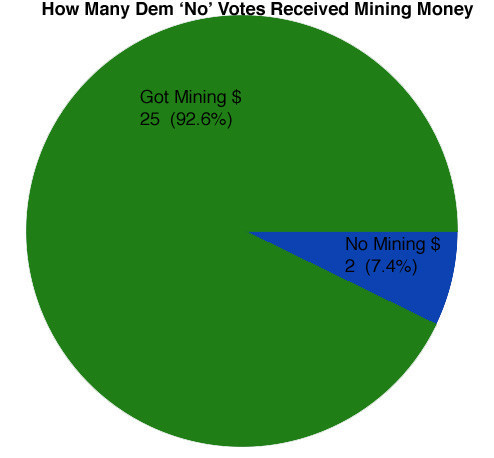 Only one Republican, North Carolina's Walter Jones (who did not get any money from mining interests in 2009-2010), voted for the bill.
Members of Congress who voted against the bill received, on average, four times as much ($2,362) in campaign contributions as those who voted for it ($589), according to Maplight.org.
The influence of money doesn't always predict legislative action -- two of the biggest Democratic recipients of mining industry money in the House, West Virginia's Nick Rahall ($44,000) and Pennsylvania's Jason Altmire ($70,300), voted for the bill.
Nevada's Dina Titus, who received $16,000 in mining contributions in the 2009-2010 cycle, went back and forth with her vote. At first, she supported the legislation since it included an act she sponsored to bulk up the Occupational Safety and Health Administration inspectors' power to shut down unsafe workplaces. But when that measure, fiercely opposed by the business lobby and powerful Republican Senators Johnny Isakson and Mike Enzi (who sponsored the 2006 mine safety bill), was removed, Titus switched her vote in protest.
'Doing The Bidding' Of King Coal
Stunned by the defeat of the bill, mine safety advocates attributed the loss largely to a combination of Republican intransigence, the influence of the mining industry and lack of concern for miners.
A spokesman for Rep. Miller said that "our nation must live up to the promises we make to the families after every one of these mine tragedies. Unfortunately, too many on the other side seem to forget these commitments once their big business lobbyist friends come calling."
Tony Oppegard, an attorney in Lexington, Ky. and longtime advocate for improved mine safety, was withering in his criticism of Congress. "Anyone who voted against the bill doesn't place a very high value on miners' values," he said. "Republicans in the House are doing the bidding of the coal industry, which wants the bill to be defeated...there is an undertone whenever there's an accident that there are a certain amount of deaths that are acceptable -- that it's the part of the cost of having cheap electricity."
Oppegard disputed the industry's stance that the bill went too far and too fast. "There is nothing in this bill which any coal operator who operates a safe mine should be worried about," he said, calling them "basic reforms." He explained that it would have given MSHA subpoena power "essential" to any investigative agency, which the organization has lacked since its creation in the 1970s. He compared that situation to Kentucky's, where regulators "can subpoena to investigate allegations of unsafe mining practices whether or not an injury has occurred."
"This was very disappointing," says Alex Chasick, policy counsel at Public Citizen's Congress Watch. "We had heard that the OSHA provisions were the big sticking point - [Senator Mike] Enzi said that when he blew up the bipartisan talks in August. So once that stuff got pulled, we were really expecting that this might have a shot because the MSHA stuff was not controversial."
GOP's Near-Unanimous Opposition
Republicans complained the bill was rushed and should have waited until the results of the federal probe into the Upper Big Branch disaster were completed. But back in 2006, California's Howard "Buck" McKeon voted for the MINER Act, saying, "Let's not delay any more" and claiming that the issue cuts "across party lines" and "enjoys rare support from both labor and industry." Hours after the Upper Big Branch disaster, he stated, "I will continue my work on the Education and Labor Committee in ensuring that the safety of our nation's miners remains a top priority in Washington," adding that he welcomes an investigation of this "horrific event."
But McKeon voted against the bill on Wednesday. The lawmaker, who declined comment to HuffPost, told colleagues that any Congressional action should wait until the investigation is complete, according to congressional staffers.
Other congressional staffers blamed the Republican obsession with passing the extension of the Bush tax cuts for the near-unanimous vote. But NMA's Popovich claimed widespread concern existed in both parties about the pace of the legislation: "Given the short time for debating the issues, there wasn't enough time to deal with an issue like this."
Another common Republican complaint about efforts to enhance regulations -- they cost too much money -- didn't apply to this particular legislation, which would have reduced the deficit, saving $115 million over the next decade, according to the Congressional Budget Office.
Back in Dawes, West Virginia, former miner and grieving stepfather Burgess remains concerned about the fate of future attempts to enhance miner safety. "This might have been our last chance for a long time to come. Right after the Upper Big Branch, you'd think they'd do something. But up there in Washington, they don't care about us."
Related
Popular in the Community