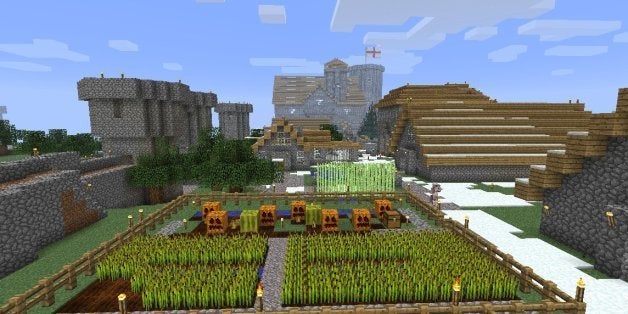 Fans of the ultra-popular game "Minecraft" are revolting against creator Markus "Notch" Persson as rumors swirl about a sale to Microsoft. The fans are saying Persson's a sellout.
Persson is reportedly trying to sell his company Mojang to Microsoft for more than $2 billion, even though he's loudly criticized Microsoft and other giant tech corporations in the past.
Mojang and Microsoft did not respond to requests for comment.
Persson has long been considered a champion of independent game developers. He built his first game at age 8, did not attend college and worked for King Digital Entertainment as a developer for five years before launching Mojang in 2009. Mojang, which is based in Stockholm, pulled in $290 million in revenue last year, and "Minecraft," the company's flagship title, had been downloaded more than 50 million times as of this June.
Players say they're worried that putting "Minecraft" in Microsoft's hands would spell ruin for the game, which lets users build virtual universes out of pixelated cubes. Many players took to online communities like Minecraft Forum and Planet Minecraft to register their displeasure.
Some fans are worried that the game would become exclusive to Microsoft and only be available on the Xbox. Right now, "Minecraft" is available for download on personal computers, mobile devices and gaming consoles. Players have also expressed concern that Microsoft would eliminate modding, the ability to alter the game, and that free updates would no longer be offered if Microsoft acquired Mojang.
Gamers critical of Microsoft's interface and Windows 8 have also said they're worried that any future upgrades to "Minecraft," or even, potentially, a sequel game, would be less compelling and less user-friendly than if Mojang had developed them independently.
But there are also fans who find solace in the idea of a Microsoft partnership, at least compared to the idea of Mojang going to Nintendo or Sony. Satya Nadella, who became Microsoft's CEO earlier this year, has said he wants to "prioritize innovation" and "do more," and some "Minecraft" fans believe the acquisition of Mojang could end up breathing new life into the game. Already, "Minecraft" has partnered with Lego and Scholastic to create tie-in products, and Microsoft could help bring about more of those.
A pressing concern for "Minecraft" fans is the lack of communication and transparency from Mojang and Presson himself during this time. A member at the online forum Planet Minecraft who posts under the handle Cyprezz told The Huffington Post that he was used to the company being quick to shoot down rumors -- and that the recent silence is therefore telling.
"If Microsoft does buy Mojang it's certainly one the community did not see coming. We're all patiently freaking out waiting for the official word of Notch," the user told HuffPost in an email.
Despite his history of general outspokenness, Persson has yet to comment on the Microsoft rumors publicly.
Popular in the Community