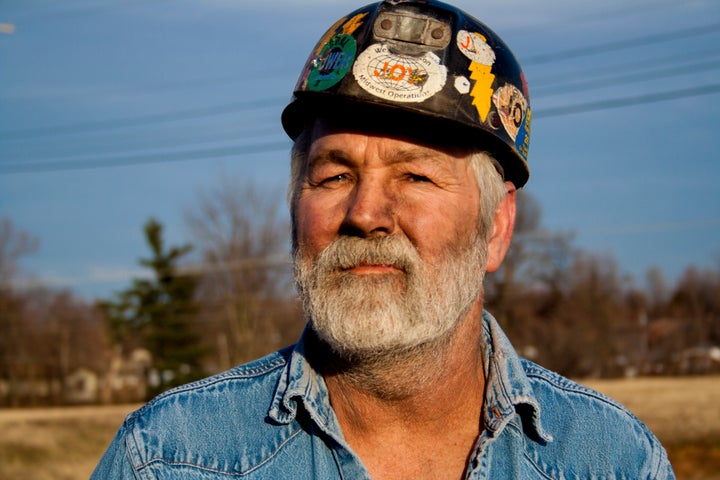 Mike "Flip" Wilson worked his last day in a Kentucky coal mine last spring. He had decided to retire and spend more time with his wife. After 40 years toiling below ground, and now suffering from black lung disease, Wilson had just reached a settlement with his employer, Armstrong Coal, over a series of discrimination complaints stemming from his safety activism in the mine.
But just a few days after his settlement, a restless Wilson drove the 45 minutes back to his old workplace, the Parkway Mine. Wilson had been designated a miners' representative when he worked there. A miners' rep accompanies federal officials when they inspect the mine's safety, pointing out hazards that need to be fixed. A diligent miners' rep can get his own mine fined and even shut down, all in the name of protecting his colleagues from disaster. Many coal companies shun miners' reps.
Even though he was no longer employed, Wilson knew he still had the right to be a miners' rep -- and he decided to exercise that right. In a highly unusual move, the 62-year-old demanded to view the safety log books and to know when federal inspectors would be doing their next walk-through. He wanted to join them. He was no longer paid to work at the mine, but he wanted to help make sure it was safe.
Mine management, apparently baffled by Wilson's presence, told him he wasn't supposed to be there anymore. A company lawyer called and emailed Wilson's lawyer, Tony Oppegard, to find out why his client was still hanging around the mine. The lawyer noted that Wilson was no longer an employee.
But he's a miners' rep, Oppegard responded.
Congress created the concept of the miners' representative in 1977, when it passed a landmark mine safety law following the Scotia mine disasters that killed 26 men in Kentucky. The idea was simple: empower miners by giving them a role in the enforcement of the law. After all, no one knows a mine better than a miner who works there. It takes only two miners to designate someone a miners' rep through the Mine Safety and Health Administration. And yet very few miners actually take on the duty.
"A lot of shit goes with it," said Brandon Shemwell, a worker at Parkway who serves as a miners' rep alongside Wilson. "You've got company sucks that don't like it. They think you're trying to get on top of the company and shut 'em down. It ain't about that at all. It's about having a good, safe work environment."
MSHA doesn't have easily accessible data on the number of active miners' reps in the country's mines. Amy Louviere, an agency spokeswoman, said MSHA has ramped up its efforts to educate miners about the law, and that its inspectors regularly inform miners of their right to participate in inspections. But Celeste Monforton, a workplace safety expert and former MSHA employee who's investigated mining disasters, said only a "very small fraction" of non-union mines have representatives who walk with inspectors. Shemwell said he worked at four mines prior to Parkway, none of which had miners' reps, as far as he knows.
"It's been my experience that many miners don't even know about that right," Monforton said. "It's such a unique protection. It's really unfortunate that more miners don't understand what it is and how they can really take advantage of it."
Miners' reps may be rare, but a former miner who still takes the time to walk with inspectors pro bono, as Wilson does, is virtually unheard of. With unions no longer a presence in Kentucky coal country -- the last union mine there shut down last year -- Wilson is demonstrating how miners can wield the law themselves to make their mines safer, so long as they're willing to confront the company. Shemwell said their decision to assert their rights as miners' reps has transformed the safety at Parkway, especially when "there's always the fear of Flip coming in."
"Flip is utterly unique. He is also fearless," said Oppegard, who's representing Wilson alongside Wes Addington of the Appalachian Citizens' Law Center. "He doesn't get anything out of traveling with federal mine inspectors other than the satisfaction of knowing that he's helping to protect the health and safety of his friends and former co-workers."
Wilson has been driving the 70 miles round trip to and from Parkway up to four times a week since he stopped working at the mine. He often waits for federal inspectors to arrive so he can accompany them on their rounds. Motivated by his own experience with black lung, Wilson continues to point out dangers, which often results in fines for his former employer. Armstrong Coal did not respond to interview requests for this story.
"He's just trying to make it better for the miners," Shemwell said of Wilson. "He found out the seriousness of the dust and what it will do to you. He really cares."
Wilson wasn't always such a gadfly. As a Kentucky native with an eighth grade education, he was the first man in his family to work in a coal mine. He was simply grateful to have a good-paying, blue-collar job in a region where they were lacking. With three stepsons, a daughter and a wife to support, he knew better than to question an order underground.
"He's just trying to make it better for the miners."
For most of his four-decade career, Wilson wasn't even aware of mine safety laws, let alone helping to enforce them. Wherever he worked, he tended to skirt safety precautions for the sake of production, just like many of his co-workers and supervisors did. He obeyed the unspoken rule of every mine he worked in: The coal must flow, or you must go.
But over time, he came to know many workers who were hurt or killed on the job. And eventually, he had a hard time breathing. He had a chest x-ray done and found out he'd developed black lung disease due to years of exposure to high levels of coal dust.
Miners develop black lung, or coal worker's pneumoconiosis, from breathing too much coal dust in the mine. The lung disease can lead to painful fits of coughing, difficulty breathing, chronic bronchitis and death. The Centers for Disease Control estimate that more than 76,000 Americans have died as a result of black lung since 1968.
Wilson said the mine atmosphere had often been so dusty that he couldn't see but a few feet in front of him. Angry and emboldened, he began to refuse work he believed was unsafe.
"The last two years I worked, it was slowly coming to me," Wilson explained. "'Hey, I don't have to do this.'"
As an elder statesman inside the mine, and with little time left on the job, Wilson felt he had an obligation to speak out for the sake of others who may fear being fired -- even if it meant alienating some of those same people. Facing a retirement filled with hacking and wheezing, he wanted to make sure the miners behind him didn't face the same fate.
"I've seen enough people hurt in the mines in my time, especially the young boys. Matter of fact, I've packed some of 'em out," Wilson said. "I just want to make sure that the mine is running safe and that they're doing what they're supposed to be doing. I'm thinking about the men and the safety of everybody up there. I don't wanna see nobody hurt, but I know how the company is operating."
In 2014, The Huffington Post published a report in which workers alleged that Armstrong Coal submitted misleadingly low coal dust readings to federal officials. Under the law, mine operators must keep the coal dust in the mine atmosphere at a reasonable level, to guard against black lung and the possibility of a mine explosion. Before the system was recently overhauled, miners would wear dust pumps to capture coal dust samples, then the company would submit those samples to the feds for testing. Workers at the Parkway Mine said they were encouraged to cover their dust pumps or take them off altogether to keep the readings low and avoid scrutiny from regulators.
Such alleged cheating is hardly unheard of in Appalachian mines. What's extremely rare is for miners to publicly accuse their employer of fraud. Wilson was one of two then-current miners at Parkway who went on the record with the allegation. "There's been cheating ever since I've been there," Wilson said at the time.
After he learned he had black lung disease, Wilson applied with the federal government for what's known as part 90 status. The status allows miners with black lung to work in a less dusty area of the mine, often outside, for the same rate of pay they would earn underground. Just as they don't care for miners' reps, many coal companies don't care for part 90 miners, since they can't work them as they see fit.
Safety advocates say miners are often discouraged from seeking part 90 status -- even though black lung is ravaging pockets of Appalachia and many miners would no doubt qualify for it. According to Labor Department filings, Wilson claimed a manager at his mine urged him not to apply for it. (That allegation was part of Wilson's case that was later settled.) After he secured his status in 2014, Wilson was the only part 90 miner in all of Western Kentucky, according to his lawyers. MSHA says there is not a single part 90 miner in the region right now.
"The coal companies don't care if you get black lung or not," Wilson said. "They don't care as long as they get the coal. That's all there is to it."
His newfound activism and part 90 status apparently didn't endear him to his fellow miners. According to Wilson, somebody wrote, "Die, rat," on his locker. His locker door and the lock itself were glued repeatedly, leading him to replace what he guesses was seven locks. He said the comments were endless. "There's Flip, he's trying to shut us down." "All he ever did was get a job outside." "You're taking money out of my pocket." "You don't need to be here. Why don't you go home." Many miners, he said, would no longer look him in the eye.
Once Wilson continued to show up at the mine after he retired, he said mine management tried to keep him off the property. Oppegard said he notified the company that Wilson had the right not only to accompany inspectors but also to view the company's log books, which detail any accidents that may have happened. Wilson said the company began allowing him to drive onto the property, but wouldn't do him the courtesy of informing him when inspectors arrived. So Wilson would drive to the mine and wait outside.
"I get there sometimes before the federal inspectors get there," Wilson said. "I'll go through the books, look at the maps, and check everything to make sure they have it in order. I'll examine the pre-shift and on-shift [logs] for dangerous conditions, look at the electrical books. When the feds show up, I tell 'em I'd like to ride with 'em."
"The coal companies don't care if you get black lung or not."
Wilson said each of his tours with inspectors typically leads to two or three safety violations for Armstrong. Records with the Mine Safety and Health Administration indicate the company has racked up more than 400 citations at Parkway since June 2015.
In February, the Parkway mine resorted to what's known as a corrective action program to deal with its many safety infractions. The mine was headed toward becoming a "pattern of violations" mine, a designation reserved for mines with the worst safety records. POV mines face tougher scrutiny and are easier for MSHA to shut down. If Parkway falls on the POV list, it could be hard for the company to get off it.
On a number of occasions, Wilson has called MSHA's hotline when he feels MSHA's own inspectors haven't adequately cracked down on the company. Before regulators cite a company for hazards, they typically meet with mine management to haggle over the citation. Wilson prefers to sit in on these meetings to keep the heat on both parties. He gets the feeling that his vigilance annoys the regulators almost as much as the company.
"They don't want me pointing things out, but it's my place to," Wilson said. "It's my job. If I see anything that I think might get somebody hurt, I point it out."
Asked to respond to Wilson's claim that inspectors go too easy on Armstrong, MSHA's Louviere said the Parkway mine is the only mine in Western Kentucky that has a corrective action program in place. That plan requires that the mine manager meet with MSHA every two weeks. Louviere also noted the hundreds of violations MSHA has racked up over the past year.
Wilson's legal battles continue even in retirement. He currently has at least five discrimination complaints filed against Armstrong, accusing the company of illegally interfering with his rights as a miners' rep. Wilson lodged most of those complaints through his own lawyers, but the Labor Department has taken up his cause as well. Earlier this month, the labor secretary filed a complaint against Armstrong accusing the company of illegally excluding Wilson and Shemwell from part of a post-inspection conference between inspectors and company officials.
Wilson's original plan for retirement was merely to look after his wife, who's been sick. But his own health problems have motivated him to stay on as a Parkway miners' rep, even though it's becoming more and more difficult for him to breathe, "like you ain't got no air at times," he said. He relies on inhalers but they only help so much. He can no longer push a lawn mower or dig a hole in the yard the way he once could. Walking long distances or exercising is out of the question. He wakes up in the middle of the night coughing.
No miner, he said, should have to give up his lungs to provide for his family.
"[Mining] made me a good living. But I made sacrifices, too, and I'm paying for it now," Wilson said. "I'm doing this not just for me but for all the other people who worked up there and breathed all that dust."