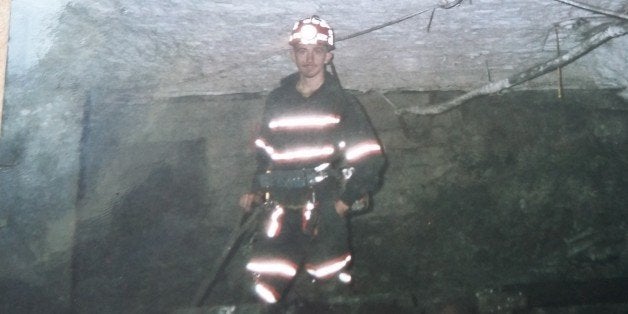 In October of 2011, Jeromy Coots helped transport the lifeless body of his older brother out of the coal mine where they'd worked together in eastern Kentucky. Richard Coots, just 23 years old, had been crushed to death by a piece of mining machinery below ground.
Now, not even three years later, the younger Coots has been fired from his job at a different mine for flagging the sort of dangers that claimed his brother, according to Labor Department filings. He was let go in May after he complained in a company meeting that safety standards weren't being met inside the mine. He's 22 years old, with a wife and three kids.
"It's the Hobson's Choice that the miner is faced with," said Coots' lawyer, Tony Oppegard, who represents miners in safety cases. "Either you work in unsafe conditions, or you refuse and you get fired and you can't support your family."
From April until May of this year, Coots worked for Lone Mountain Processing at the Clover Fork No. 1 Mine in Harlan County. He was employed as a roof bolter operator, installing roof supports underground. The job can be treacherous. Of the 377 U.S. miners injured when mine roofs or rib pillars fell in 2012, 165 of them were roof bolter operators like Coots, according to the Department of Labor's Mine Safety and Health Administration. Between 2008 and 2012, 19 miners died in such falls.
To protect workers from cave-ins, mines are supposed to employ a piece of machinery called the Automated Temporary Roof Support System, or ATRS. It basically functions as a hydraulic-powered canopy, helping to keep the roof from coming down. Mine operators are required under the law to use the ATRS with roof bolting machines. For the roof bolter operator, it's often the one thing standing between the roof and his hard hat.
Shortly after taking the job, Coots was tasked with replacing roof bolts that had become dislodged in a particular section of the mine. After employing the ATRS, Coots was told by a manager to stop using it, an MSHA investigator found. The work needed to be done quickly, and deploying the ATRS "would take too long," the manager said, according to the investigator's report.
Lone Mountain is owned by Arch Coal, the second-largest coal producer in the country. As a 2011 HuffPost story detailed, Arch spent years battling a safety whistleblower named Charles Scott Howard, who was fired -- and later reinstated by a judge -- after repeatedly alleging unsafe conditions at his mine.
When reached for comment, Lone Mountain referred HuffPost to Arch. An Arch spokeswoman didn't respond to an email. The company has said in the past that it does not comment on ongoing litigation.
Mining jobs are coveted in Harlan County, offering blue-collar workers like Coots a solid salary of $50,000 and higher. With a family to feed, Coots apparently continued working even though he believed he was being put in harm's way. According to the investigator's report, Coots was hit by falling rocks several times while bolting without the ATRS.
"It's crazy to bolt without it," Oppegard said of the ATRS. "For a company to require miners to bolt without the ATRS is really playing Russian roulette with that miner's life."
Though he kept working, Coots didn't keep his concerns to himself. During a mine safety meeting on May 12, a supervisor asked if anyone wanted to raise safety issues. Coots spoke up.
Roof bolter operators should be using the ATRS, Coots said.
The mine foreman told Coots to see him after the meeting. In private, the foreman told Coots that they didn't have time to use the ATRS, according to MSHA's investigation. Then he sent Coots home for the day.
The next day, the foreman called Coots at home and fired him, the MSHA investigator found.
The Labor Department has filed an application to the Federal Mine Safety and Health Review Commission to have Coots put back on the job temporarily, alleging that Lone Mountain "disciplined and discharged [him] for expressing these safety concerns." To be reinstated temporarily, the law requires only that Coots prove his claim is not "frivolously bought." But the bar is higher for winning permanent reinstatement.
According to Oppegard, Coots told his foreman that he couldn't hold his tongue on safety because of the loss of his brother.
As HuffPost previously reported, Richard Coots was killed in Owlco Energy Mine No. 1, in Letcher County, on Oct. 7, 2011. He was trying to fix a broken conveyor bridge when the machinery came down on him. (Owlco is not owned by Arch.)
MSHA later faulted Owlco management for the death, saying the accident was "correctable through reasonable management controls." Rather than use blocks that are designated for such repairs, a foreman and another miner had apparently decided during an earlier shift to prop up the broken conveyor with a large rock, MSHA found in an investigation of that case. When Coots went to work on the bridge, it slipped off the rock and pinned him, according to the report.
Jeromy Coots was nearby and came to help. According to the MSHA investigation, he performed CPR on his brother before the ambulance arrived.
"What happened to Richard Coots never should have happened," said Oppegard, who's representing the younger Coots alongside Wes Addington of the Appalachian Citizens' Law Center. "You can imagine the horror of seeing your brother killed ... while you're there trying to help him. And then to ride out of the mine with his body, knowing he's dead, and you're still trying to administer CPR. You can imagine why safety would be so important to you as you continued to work in the mines."
Popular in the Community