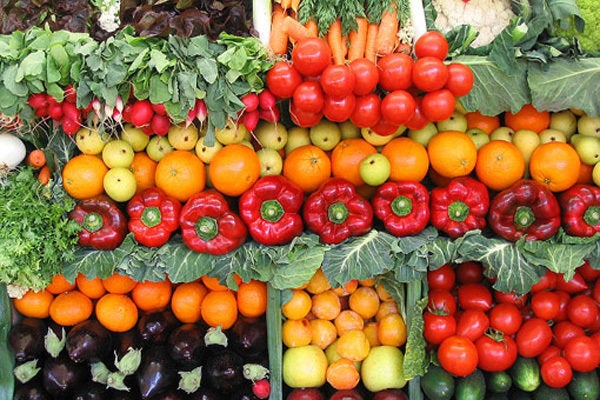 For some, the prospect of reforming American school lunch is dauntingly complex. But for one feisty Italian old woman, the solution was simple: "Minestrone!" she cried out in her heavy accent, interrupting a speech at the Slow Food USA Eat-In I attended today in Tiverton, Rhode Island. "So cheap, so good, and you have the beans, and the vegetables. And you put in the chard, and it makes it so sweet, and they like it."
Well, our Congressmen can't exactly bring minestrone to all U.S. public schools (though it would be pretty amazing if they could). But there are a number of measures they can take in the next few months that would go a long way toward improving school food in America. Today, in 307 Eat-Ins across all 50 states, thousands of people gathered over potluck fare to ask Congress to take those measures and provide real food to schoolchildren across the United States.
In Tiverton, we lunched on tomato and peach salad, home-baked bread with homegrown herbs and slices of deliciously nutty banana bread. The feisty Italian woman turned out to be a good cook too, bringing a platter of rice croquettes stuffed with meat, cheese and peas. Her husband, who was similarly vocal, wasn't sure minestrone would solve our nation's lunchtime problems. "The problem is education!" he declared. "We need to teach the children!"
He's right, and feeding students real food at school is one way to do that. The National School Lunch Program provides meals to more than 30 million students every day. Serving healthy food to all those children is not only a down payment on health care reform, it's also a way to establish lifelong healthy habits. That's a mission that goes back to the founding of the National School Lunch Program. In the 1920s and 1930s, when volunteer meal programs were sprouting up across the country, advocates hoped school lunch would teach students how to eat. They hoped their efforts would create a generation of strong Americans who would ensure a healthy future for this country.
It's time to bring the school lunch program back to its roots. Slow Food USA is asking Congress for five things in this year's child nutrition reauthorization: more money for school cafeterias, nutrition regulations for snack foods, funding for farm-to-school programs, incentives for local procurement and the creation of a school lunch corps to build and work in cafeterias nationwide.
Why are these measures necessary? Let's start with funding. Schools cafeterias are essentially stand-alone businesses within school districts. They don't receive money from the district general fund or from local taxpayers. The only funding they get comes from the federal government, which reimburses them for each meal served, and from the students who pay for their meals. The government reimbursements are slim -- cafeterias get $2.57 for each free meal, $2.17 for each reduced-price meal and 24 cents for each paid meal. Along with student dollars, that money has to cover everything from food, to labor, to equipment to meal program directors' own salaries.
That means budget overshadows nutrition when it comes to planning menus. Cafeterias often can't afford fresh fruits and vegetables and whole grains, which typically cost more than processed foods. And with such tight budgets, cafeteria directors hesitate to change their menus and serve healthy foods out of concern that their sales will take a hit. Raising the reimbursement by $1, as Slow Food proposes, will not only allow schools to purchase more fresh produce, it will also allow them to think outside the box and introduce students to new, nutritious foods.
Problem number two is junk food. Though reimbursable meals must meet some basic nutrition standards set by the USDA, foods sold in student stores, cafeteria a la carte lines and vending machines are entirely unregulated. Students can buy French fries, ice cream, chips, candy bars and soda at school, and it's not unusual for them to bypass the cafeteria line for a lunch of Cheetos and cookies. Senator Tom Harkin (D-IA) and Congresswoman Lynn Woolsey (D-CA) have introduced a bill that would set national nutrition standards for all foods sold in the school environment. With rising rates of obesity, diabetes and other diet-related diseases, this legislation is far overdue.
Once we overhaul school meals and remove junk food, we need to make sure students actually eat the healthy foods that end up on their trays. That's where local procurement, farm-to-school programs and school gardens come in. You'll probably have a hard time getting students to eat kale if you just heap it on their trays. But if students plant, water and harvest the kale themselves, they'll be much more open to tasting it. If they meet the farmer who grew their asparagus and their broccoli, they'll be more likely to eat those vegetables too. Michelle Obama knows that, and that's why she's busy tending her White House vegetable garden. The Bancroft Elementary School students who helped her plant the garden have "really learned some lessons about nutrition," the first lady said in May. "They're making different choices because they're a part of the process of planting and tilling the soil and pulling up the food. It makes such a huge difference in the choices that they make." It's time to spread that to schools around the country.
Of course, you can't do any of this without adequate facilities and workers who know how to cook -- two things that are sorely lacking in public school cafeterias today. According to a 2009 report from the School Nutrition Association, over 80 percent of schools cook fewer than half of their entrees from scratch, and almost 40 percent of schools cook fewer than one-quarter of their entrees from scratch. Schools not only need industrial kitchens that can provide food for thousands of students, they also need employees that know how to prepare that food so that it is safe and delicious. A school lunch corps that would train underemployed Americans to renovate cafeterias and work in kitchens would give cafeterias the support they need to use their funding effectively.
This year's child nutrition reauthorization provides an enormous opportunity to overhaul school food and teach students healthy eating habits that will last a lifetime. It may not be as simple as ladling out minestrone, but with a movement over 20,000 strong, I hope Congress will be up to the challenge.
Calling all HuffPost superfans!
Sign up for membership to become a founding member and help shape HuffPost's next chapter