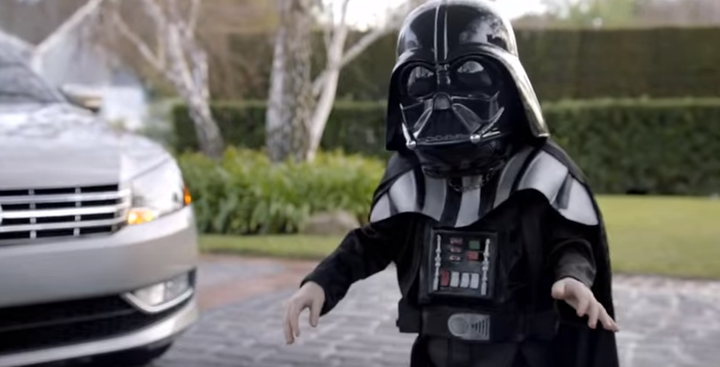 Some call him The Sith; others call him Darth Vader. His mom calls him Max.
Like Anakin was supposed to be the chosen one in "Star Wars," Max Page was the kid chosen to play mini Darth Vader in Volkswagen's "The Force" Super Bowl commercial. 
Now, about five years later, it's been called the ad that changed Super Bowl commercials, thanks to an adorable storyline and an early release on YouTube that gained millions of views days before the game. But what ever happened to its (death) star? 
Well, here's Max Page today: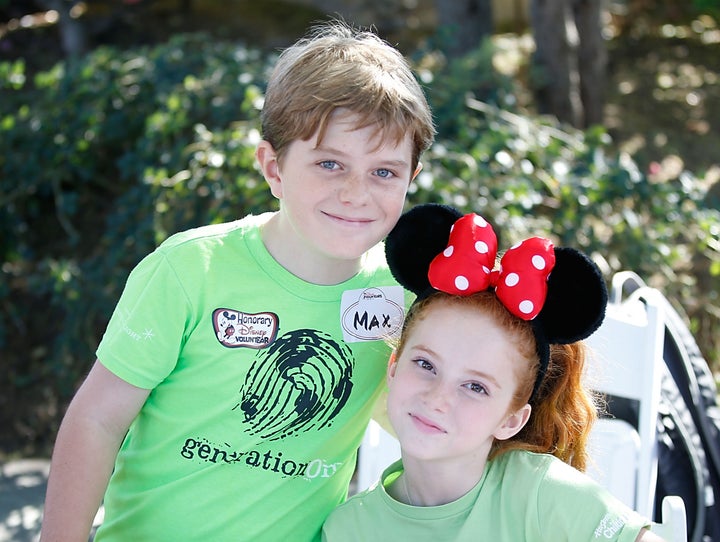 Page was only about 6 years old when he shot the ad. Since that time, the commercial's popularity has given him amazing opportunities, including meeting the real Darth Vader, James Earl Jones, and even giving back to the Los Angeles Children's Hospital.
Page was born with a congenital heart defect and has had surgeries for it throughout his life, including one late last year. He now serves as a junior ambassador at the hospital he says saved his life.
Now 11, the actor took some time in between going on rides at Disneyland to chat with The Huffington Post about what he's been up to since his big game debut.
What are you doing nowadays?
I like to act, and I also like baseball. I just tried out for baseball. We're going to have sponsors for the team and light blue is our color. I am still acting. I just finished a movie a few months ago. It's going to be on Pixl channel. It's called "Secret Summer."
Since you're still into acting, do you watch the Oscars at all?
I do every year. Our family does this little thing where we each have a ballot and we pick the ones that we think will win, and then we highlight them and whoever has the most wins.
Cool. Who do you think will win big this year? 
I have no clue, because I can't see rated-R movies yet.
[Laughs] Yeah, that's tough.
I always have a disadvantage. When I'm over 16, I will be so close. Hopefully one of these times I can see USA Today and see what they pick and just go off that. I always like Best Animation because I see all the animations.
What's it like looking back on the ad?
It's pretty amazing, looking back on it. At that time, I never knew it was going to be this big. It's amazing, and it's just an honor to play mini Darth Vader. 
You look like Darth Vader in this commercial, but this has millions of views. Does anyone ever recognize you?
I'm not sure anyone recognizes me when I'm outside of the costume. If I'm in the costume, people will definitely ask. And if they happen to know.
Can you actually use The Force?
Dang. What was it like shooting it and pretending?
We got to the set. It was a two-day shoot, and it was 8 hours a day of pretty much just holding my arms straight out, so that hurt. It was fun, though. Really fun. 
I hadn't seen "Star Wars," and I was too afraid to watch the YouTube videos, so I went and did karate moves, and I did fun little action moves, and I think that they really enjoyed that.
But you've seen "Star Wars" now?
I have, yes. I think that it's a really good series.
Personally, I'm on the Light Side, but when I'm Darth Vader, I'm all about the Dark Side.
Darth Vader hates sand. What do you think of it?
I go to the beach a lot. I don't really have anything against sand. It does get stuck between my toes and in my socks and stuff, so I guess that's one thing against sand.
What's your favorite experience that's come out of this?
Probably the ["Star Wars: The Force Awakens"] premiere, or meeting James Earl Jones. I was a red carpet correspondent for "Inside Edition," and I got quite a few people to talk to me, so I was happy about that.
Yeah, I think that it is pretty good.
I dont know yet. I think I need to see the next movie but I kind of have a suspicion about that.
Were you secretly at Luke Skywalker's Jedi Academy?
No, not that I'm aware of.
So you didn't grow up to be Kylo Ren?
[Laughs] Whoa. So what's next?
I just go where the world takes me. I have no intention to go anywhere, so I'm just excited to see what I get.
May The Force be with you, Max.
This interview has been edited and condensed. At one point, Max had to call us back so he could ride the Tower of Terror. Despite being a child actor, he's clearly got his priorities straight.
PHOTO GALLERY
Katy Perry's Super Bowl Halftime Show

Calling all HuffPost superfans!
Sign up for membership to become a founding member and help shape HuffPost's next chapter