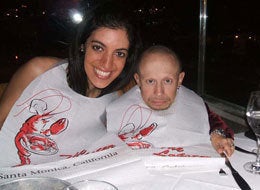 Verne Troyer's ex-girlfriend and sex tape co-star Ranae Shrider spoke to News Of The World about his beautiful eyes, their romantic first date, and, of course, the infamous Mini-Me sex tape she's been shilling. Excerpts below:
Her first date with Verne--famous for playing midget clone versions of baddie Dr Evil in the smash Austin Powers movies--was a romantic dinner at seafood restaurant The Lobster overlooking the Pacific in Santa Monica.

Ranae recalled: "Verne told me not to reach down and hold his hand when we walked in as he didn't want it to look like a child out with his mum.

"When we got to the table he'd fixed for the restaurant to pile three thick phone books on the seat so he could be on the same level as me. Once he'd sat down it was just like having dinner with a normal-sized man.

"We laughed all night and I noticed what amazing eyes Verne had. By the end of the meal I was smitten.
On the first time they had sex:
"It was two weeks before we finally had sex, at his place. I was so nervous I wanted it over and done with--in case there was no chemistry or it just didn't work because of his size.

"It was a normal-sized bed and once Verne had clambered up, I undressed and laid down next to him.

"For a small guy he's quite well endowed. I had no complaints.

"But the whole thing was over in three minutes.

"It was strange having sex with someone who couldn't reach to kiss me at the same time, except for my tummy that is! I was so relieved it was over.

"But minutes later Verne was ready to go again. That night we made love three times in 20 minutes, which most bigger men only dream about doing."
On how the sex tape came to be:

She said: "Without a doubt there's nothing Verne enjoys more than seeing himself on screen. Watching his own films is his favourite hobby. So it was no surprise when he asked if he could film us having sex. He said we could use it to get ourselves turned on."

Verne then turned director...telling Ranae where he wanted furniture because he was too small to move it himself. She said: "Verne ordered champagne and strawberries to get us in the mood. Then we got down to it.

"First the tape shows Verne pleasuring me for 15 minutes which was amazing. The next 45 minutes is us having sex. And we really enjoyed ourselves."
REAL LIFE. REAL NEWS. REAL VOICES.
Help us tell more of the stories that matter from voices that too often remain unheard.