It's zucchini season! Zucchini is one of our favorite summertime vegetables. They're versatile and easy to incorporate into recipes. I'm embarrassed to admit that I recently tasted my first zucchini muffin. Yes, I never ate zucchini in any baked treat. It was so delicious that I asked the pastry chef for the recipe and within minutes he kindly provided me with a list of ingredients and instructions to his mini masterpieces.
As always, I like to modify recipes by adding more nutrient dense ingredients. Instead of cake flour, I used whole-wheat flour. Granulated sugar was replaced by low glycemic coconut sugar, and, as an oil substitute, I opted for unsweetened applesauce. I also added flax meal to increase fiber and heart healthy fats.
Since my vegan clients often ask about ideas to help them achieve their daily protein needs, I decided it was time to give aquafaba a try. What is aquafaba? It's the water used to soak dried beans or pulses. Aquafaba is also the liquid found in canned pulses and packaged tofu. It is typically used as an egg white replacement in various baking recipes. Approximately three tablespoons of aquafaba whisked together into a foam like consistency is equivalent to one egg. I am pleased to report that none of my taste testers could detect an egg replacement in the muffins. Mission accomplished and the muffins still tasted delicious with all the other modifications. Score!
Enjoy these heart healthy, high-fiber, and high-protein zucchini muffins for breakfast or as a nutritious snack. They travel well and stay fresh in an airtight container for 3-5 days.
~Healthy Happy Zucchini Eating!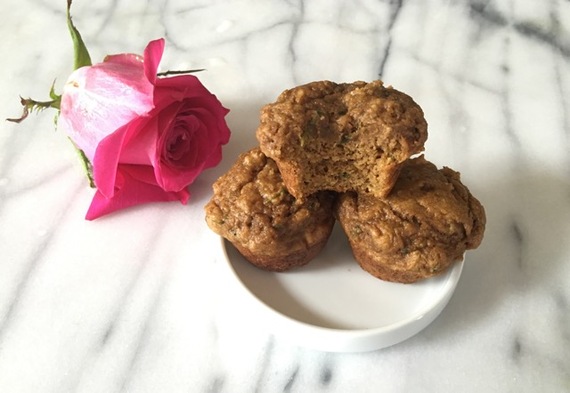 Mini Zucchini Muffins
(makes 20-22 mini muffins)
Ingredients:
3 tablespoons aquafaba, whisked or 1 egg
½ cup unsweetened applesauce
1 cup plain yogurt
1 teaspoon vanilla
1 large zucchini, grated
1½ cup organic whole wheat flour
1 cup organic coconut sugar
1 teaspoon baking soda
½ teaspoon salt
2 teaspoons baking powder
1 teaspoon flax meal
Directions:
1. Preheat oven to 375 degrees Fahrenheit and lightly coat a mini muffin pan with vegetable spray or line with muffin wrappers.
2. In a large bowl combine the wet ingredients and fold in the grated zucchini.
3. In a separate medium sized bowl, mix together the dry ingredients.
4. Carefully combine the dry into the wet ingredients without over mixing.
5. Use a spoon to distribute the muffin dough and fill the cups completely.
6. Bake until muffins are golden brown and a toothpick inserted comes out clean (approximately 8-10 minutes).
Helen Agresti is Registered Dietitian and founder of Professional Nutrition Consulting, LLC, and The 24_7 dietitian app. Through her private practice, she provides Personal Nutrition Coaching (in person and via email, FaceTime and Skype), cooking demos, lunch & learns, and corporate wellness presentations. Helen is credentialed under Pennsylvania's Adults with Autism Waiver. She is the only registered dietitian in Western Pennsylvania qualified to consult under the waiver.
Helen has educated the public on healthy eating for 15 years. Her passion is to convey the importance of eating real food and exercising regularly. Her current initiative is encouraging families to bring dinner back to the table while dispelling the myth that it is difficult and time consuming.
Helen is passionate about cooking healthy at home for her husband and 5 children, creating nutritious meals and snacks for even the fussiest eaters. Her recipes on Pro Nutrition's website have benefited many busy families looking to provide healthy fuel for their children.
For more healthy recipes and nutrition advice follow Helen on Instagram.