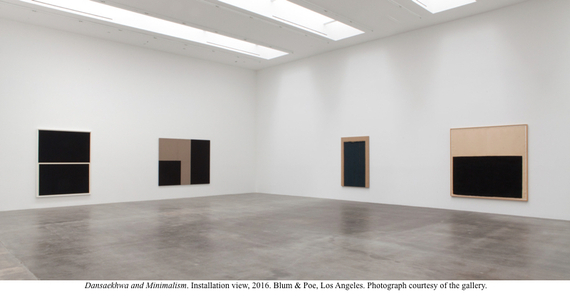 Until a few years ago, when we thought and talked about American Minimalism, we referred to such artists as Carl Andre, Robert Irwin, Sol LeWitt, Agnes Martin, and Richard Serra, among others. But thanks to the consistent efforts of one of the best Los Angeles art galleries, Blum & Poe, we started to learn in recent years about the Korean counterpart to this American movement. The current exhibition at Blum & Poe presents the first survey of Korean monochromatic painting, known as Dansaekhwa, while juxtaposing it with carefully and smartly chosen examples of American Minimalism.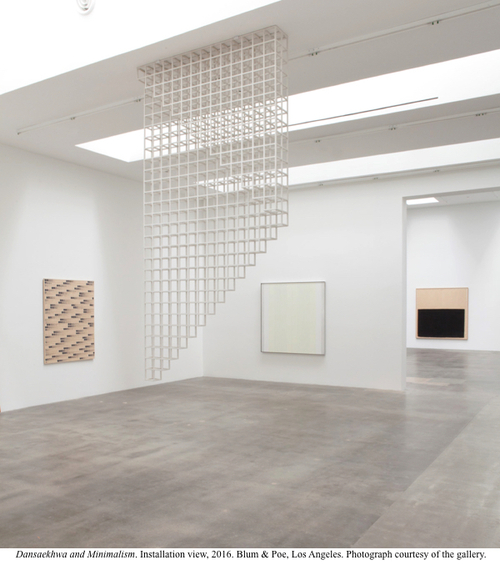 And though the word Dansaekhwa translates as "monochrome painting," these Korean artists excelled in surprisingly diverse and unconventional ways of expressing themselves as they pushed, smeared, and scraped paint; and if that was not enough, the artists scratched, punctured, and sliced the material with which they work. The intriguing challenge for any visitor to this exhibition is determining which of the 35 paintings and sculptures are by Korean artists, and which are by their American counterparts. What comes as a welcome surprise is how Dansaekhwa artists, in their sophistication and daring, easily match the high mark established by icons of American Minimalism.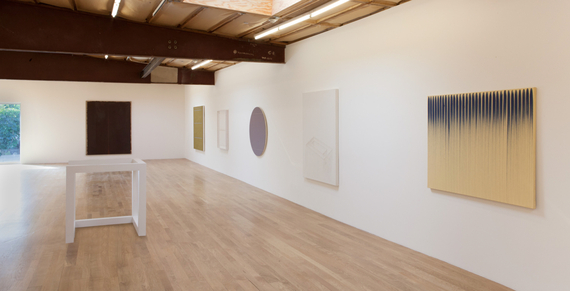 Though Dansaekhwa emerged in the 1960's, it was not until the 1980's that it achieved renown in Asia and Europe. However, it took many more years before this Korean movement gained recognition in the United States. Usually, I'm rather reluctant to use the term "museum quality" while talking about artworks or exhibitions in commercial galleries, but the Dansaekhwa exhibition at Blum & Poe fully deserves such praise.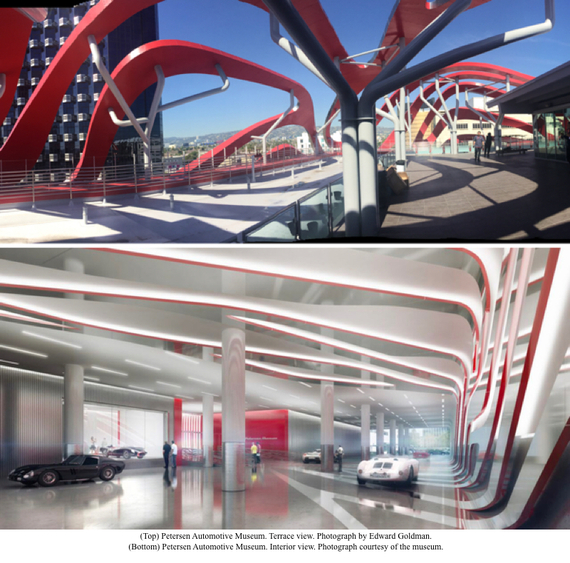 Now, enough with Minimalism. Let's switch gears to Maximalism at its most operatic. Of course, I'm talking about the complete transformation of The Petersen Automotive Museum from its formerly easy to miss, low-key, boxy building into a spicy, curvaceous architectural fantasy, proclaiming its love affair with gorgeous cars speeding along the endless ribbons of freeways that slice through and embrace our City of Angels.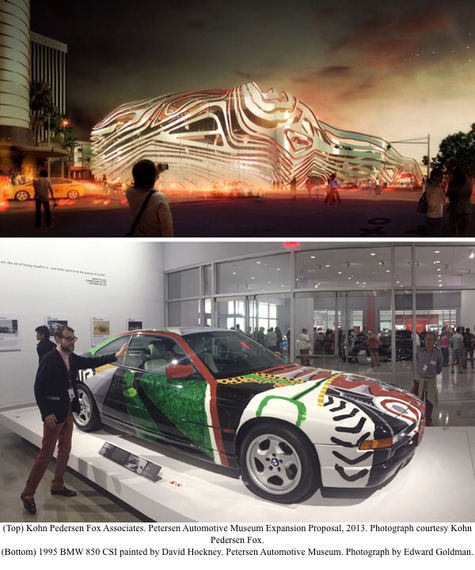 I do remember my first ever experience driving along an American freeway --it was a busy night with heavy traffic. In front of me were rivers of red and white lights, which made me think about flows of rubies and diamonds or, if you prefer, blood and milk feeding this city of ours. The bright red and shining silver of The Petersen's new twisting encasement make me think of these winding, streaming rivers of light --the veins and arteries of Los Angeles. The exterior of The Petersen Automotive Museum, transformed by architectural firm Kohn Pedersen Fox, turned this Miracle Mile museum into an attention-grabber able to compete with LACMA and the coming Academy Museum across Wilshire Blvd. Even if you, like me, are far from being a car-aficionado, you'll find cars inside of The Petersen that are pure art. And I mean it. How else can you describe the 1995 BMW painted by David Hockney?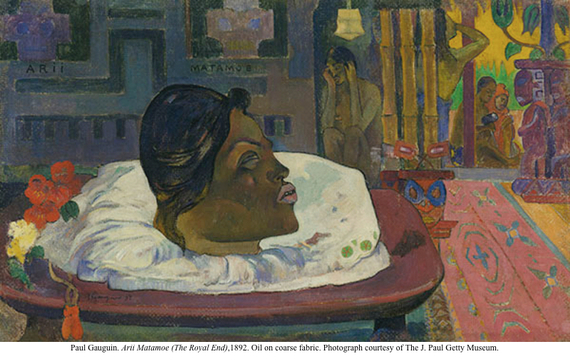 Let's finish with news about 3 upcoming Getty lectures that you don't want to miss. They will be delivered in the coming week by leading Impressionist scholar Richard Brettell, who will focus on 3 outstanding paintings from the Getty Collection: Jeanne (Spring) by Édouard Manet on Sunday, February 28th, Arii Matamoe (The Royal End) by Paul Gauguin on Tuesday, March 1st, and Young Italian Woman at a Table by Paul Cézanne on Thursday, March 3rd.
To learn about Edward's Fine Art of Art Collecting Classes, please visit his website. You can also read The New York Times article about his classes here, or an Artillery Magazine article about Edward and his classes here.
Edward Goldman is an art critic and the host of Art Talk, a program on art and culture for NPR affiliate KCRW 89.9 FM. To listen to the complete show and hear Edward's charming Russian accent, click here.