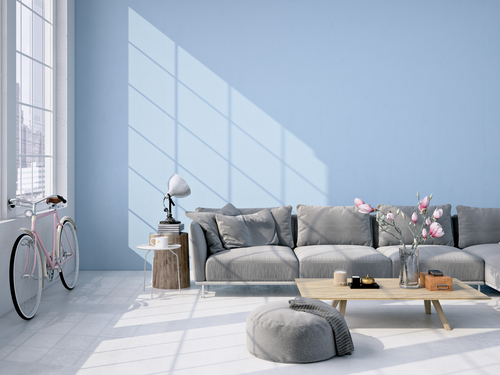 Think you can avoid all design faux pas by simply decorating your home in minimalist style? The less décor involved, the fewer mistakes I can make! Think again.
Despite having fewer moving parts, getting minimalist décor right can be just as challenging as filling a room to its brim. While the goal is to cut down to the essentials, you also don't want your room to be bare bones. The minimalist ideal is to achieve a room that tastefully and strategically contains just enough to meet your needs, and nothing more.
Wondering how to navigate the space between clutter and absence? We reached out to a few design experts to get their take on when minimalism becomes a bit too much.
Mistake 1: Furniture That Serves Only One Purpose
While minimalism is about design aesthetic, it's also about functionality. You don't want to eagerly and vigorously strip down your room, only to realize you can no longer use it as a living space. When it comes to minimalism, designers say each component of a room must have both a primary and a secondary function.
"For instance, that sleek rectangular object that serves as a coffee table can also have a storage drawer on a touch-latch slide," suggests Victoria Stepanov, the lead designer and founder of Sense of Space. "Or, hiding behind matte glass doors is a massive built-in wardrobe housing everything from your shoes to your vacuum cleaner."
Minimalism is an opportunity to get creative with your storage solutions. Artist and designer Pablo Solomon agrees. "Decluttering your home and going minimalist is actually not that hard as so many minimalist furnishings are multifunctional."
Mistake 2: Stripping the Room of Personality
The stereotype of minimalist décor is a bright, white room filled with... well, not much of anything.
In reality, professional designers are often critical of stark and clinical rooms that lack personality. As Toronto-based designer Vivian Reiss told House Beautiful, it doesn't matter how simple an interior is; the idea of human presence is most important. That means having your room look like more than a hotel lobby (or worse, the waiting room at a doctor's office). Make people feel welcome in your home, Reiss says.
One way to keep your room feeling alive and personable is to add a colorful accent piece. The idea of an accent wall is a tried and true measure for adding a bold pop of color to a living space. But designers say people are mistaken in thinking that's the only place one can add a fresh hue.
If you're not ready to commit to an entire wall of color, consider the other places where you can balance boldness with minimalism: a bright vase, a colorful cushion, or the bright green hue of a healthy plant.
Mistake 3: Dropping All Colors and Patterns
While crisp white rooms may be some people's preferred aesthetic, minimalism doesn't mean bidding farewell to all color. Nor does it mean eliminating all design risk-taking from your space. It does, however, require homeowners be more selective of the colors and patterns that do make it into their home.
"For a decluttered, minimalist aesthetic, choose a simple streamlined color palette," says Mary Beth Fiedler of Case Design/Remodeling.
These color palettes don't have to be exclusively tones of white, black, and gray. Take these eight color palettes from Milan-based designer Duminda Perera, for example. They include bright hues of all kinds, that pair well with one another rather than fighting for attention. Stepanov of Sense of Space recommends a palette of no more than three colors, including the base neutral.
As for patterns and textures adding another element to the mix, a floor design or rug can be a subtle way to add edge. Classy hardwood or tiled flooring can be used in minimalist contexts, and will add a soft geometry to the base of your room. An area rug with muted colors and simple patterns can provide both functional comfort and pleasing aesthetic.
Mistake 4: Furniture That Doesn't Match -- Or, Matches Too Much
Just as with the color cooperation, furniture must be thoughtfully selected to match. "Choose furniture that is all in proportion, nothing too big or too small," Fiedler says.
Matching doesn't mean purchasing every piece of furniture from IKEA's STOCKSUND set. Minimalism still leaves space for pieces that have their own personality. While that personality may be reserved, no two furnishings should be exactly the same. One way to avoid having an ultra-matchy room is to source your pieces from a variety of stores, or to look at furniture shops that carry a variety of different designers.
Look at the weight of furniture, too. We're not saying you have to pick it up to literally gauge its heaviness -- instead, examine the legs and thickness of material. Your chunky couch with short, square legs may look mismatched with a narrow, delicate, long-legged coffee table. Buying furniture of similar scale will improve a room, even while each piece maintains its own personality.
Since you're having to purchase less furniture, you will have fewer items to direct your budget towards. That means now may be the time to select more quality pieces for your home.
Mistake 5: Poor Furniture Placement
Though a minimalist room may only have a few pieces of furniture, you should be wary of where those items are placed throughout a room.
According to Solomon, minimalism is all about openness, lack of clutter, horizontality, simplicity, and connection with the surrounding landscape. To achieve this, you must be aware of clean lines and be careful not to obstruct the line of sight to windows and other rooms, he adds.
That means choosing not only the right elements for your room, but also the most appropriate places to put them. "Arrange the pieces so the room has visual balance and a clear focal point," says Fiedler.
Creating Your Minimalist Space
If you're feeling overwhelmed, remember that this process doesn't have to take place in just one day, or even one weekend.
Josie Abate, Principal and Interior Design Director at Ambience Design Group, has some first step suggestions for those wanting to adopt the minimalist aesthetic:
One room at a time: your house doesn't need to become a minimalist masterpiece overnight. Says Abate: "it's hard to simplify an entire house at once. Focus on one room, and let that be your center of calm. Use it to inspire you to simplify the next room."
Keep your floors clear: floors should be completely clear of clutter and only hold your furniture.
The same goes with walls: Abate suggests minimizing the amount of art on walls to one or two simple pieces.
Eliminate non-essential items: if you're converting a room with stuff already in it, do an audit of the furniture and other items. "Try to strip the room down to its essentials," Abate says. "You can always add a few choice items beyond the essentials later."
With these expert designer tips in mind, you're ready to take the next steps in stripping your space down -- strategically, not haphazardly -- to bring the tranquility of minimalism to your home.
Related