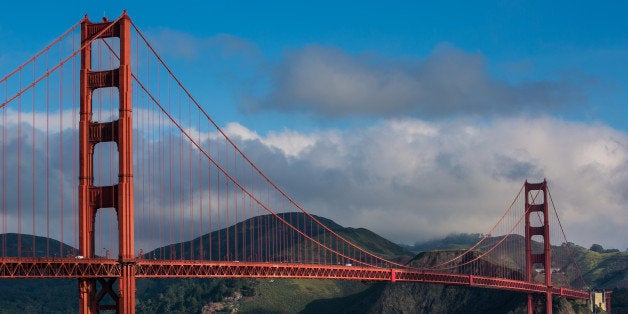 If you need more evidence that a higher minimum wage won't kill the economy, consider this: The city with one of the highest minimum wages in the country has had faster job growth than any other big city over the past 10 years.
San Francisco's small businesses are growing faster than those of any other big city or the nation as a whole, according to new data from payroll-processor Paychex and research firm IHS. And this is happening despite the fact that, as of January 1, San Francisco's minimum wage was $10.74 an hour, higher than any state minimum wage or the federal minimum wage of $7.25 an hour.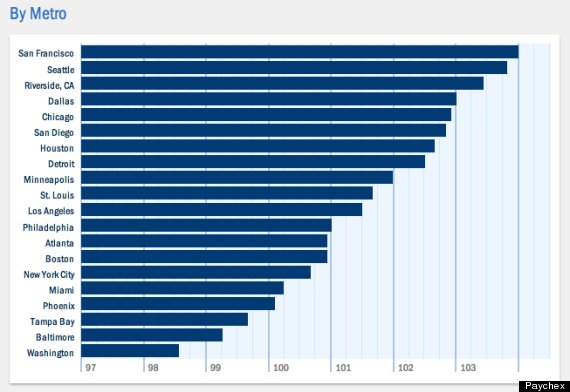 The chart above compares changes in job-growth rates in the 20 largest metropolitan areas in the country. It shows job growth as an index, with 100 representing the city's growth rate in 2004. A value of 101 means that city's job growth is 1 percent better than it was 10 years ago.
Meanwhile, as you can see in the chart below, Washington leads all states in job-growth acceleration, despite having a minimum wage of $9.32, the highest state minimum wage in the country. And Seattle has the second-best job-growth rate among major cities.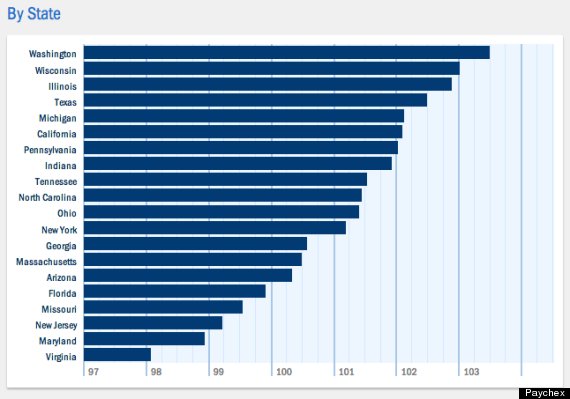 Of course, these data are limited, measuring only businesses with fewer than 50 workers. They don't account for broader economic trends, such as the tech boom affecting West Coast cities like San Francisco and Seattle, that might affect job growth, noted James Diffley, chief regional economist at IHS, who helped make these charts.
Many small businesses already pay more than minimum wage to attract better workers, so a higher minimum wage isn't necessarily something that would restrict their hiring. In fact, most small-business owners are in favor of raising the minimum wage.
Most minimum-wage workers are employed by large corporations like Walmart and McDonald's, not your local mom-and-pop burger joint or clothing store.
Still, these numbers suggest that higher minimum wages won't necessarily snuff out economic growth, as opponents of raising the national minimum wage claim. And an earlier report in Bloomberg reinforced the message of the Paychex data, suggesting overall job growth in Washington state outpaced the national rate.
"It's hard to see that the state of Washington has paid a heavy penalty for having a higher minimum wage than the rest of the country," Gary Burtless, an economist at Brookings Institution, told Bloomberg.