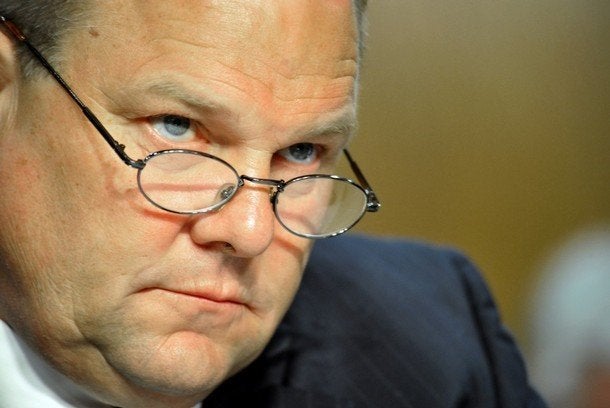 WASHINGTON -- Both Democrats and Republicans will be trying to convince voters in the 2012 elections that their party is better for Americans' pocketbooks. There are already debates over which party has better ideas for creating jobs, reducing the deficit and increasing the solvency of entitlement programs.
This broad economic debate is being played out starkly in Montana's U.S. Senate race, where incumbent Jon Tester (D) is facing a challenge from Rep. Denny Rehberg (R-Mont.). The race, already heated 18 months before Election Day, is being watched closely by both parties and a recent poll had the two candidates running in a dead heat.
This week, Tester's office will be highlighting the senator's consistent support for raising the minimum wage, according to a spokesman. The move comes on the four-year anniversary of the Fair Minimum Wage Act of 2007, which gradually raised the federal minimum wage from $5.15 per hour to $7.25 per hour.
Rehberg instead supported an alternative Republican proposal that paired the minimum wage increase with a repeal of the estate tax, the inheritance tax on multi-million dollar estates.
"Packaging together the first federal minimum wage increase in over a decade and repeal of the death tax is the quickest way to put more money in to the pockets of Montana's working families, farmers, ranchers and small businesses," Rehberg explained to the Billings Gazette 2006. "Sometimes in Congress to develop broad bipartisan legislation you have to be creative to be effective."
Rehberg has already taken heat for his position on the minimum wage. In March, Democrats released a video of Rehberg repeatedly ignoring a question about what the minimum wage is. (Montana's is $7.35 an hour, slightly higher than the national level.) Rehberg spokesman Jed Link responded by questioning whether Democrats were paying minimum wage to the young man who shot the footage.
Montana Democrats also released a video in April of Rehberg telling a town hall audience that he was "land-rich and cash-poor" and "struggling like everyone else." According to OpenSecrets, he was the 14th wealthiest member of the House of Representatives in 2009, with a net worth between $6.5 to $56.2 million.
"This legislation will restore responsibility and accountability to the oil industry and fairness to all taxpayers -- while encouraging more domestic energy production here in America," Tester said. "And just as importantly, it will help pay down our national debt."
This is another area where the two candidates have disagreed. In a recent interview with the Billings Gazette, Rehberg made no apologies for being "supportive of oil, and gas, and coal" and opposing the Democratic legislation.
"How can Democrats bash oil and on the other hand want (oil) money to support the schools and all the other things they want for the state?" Rehberg said. "Why continually bash the golden egg that has somewhat kept Montana in the black?"
Rehberg's office did not return a request for comment.