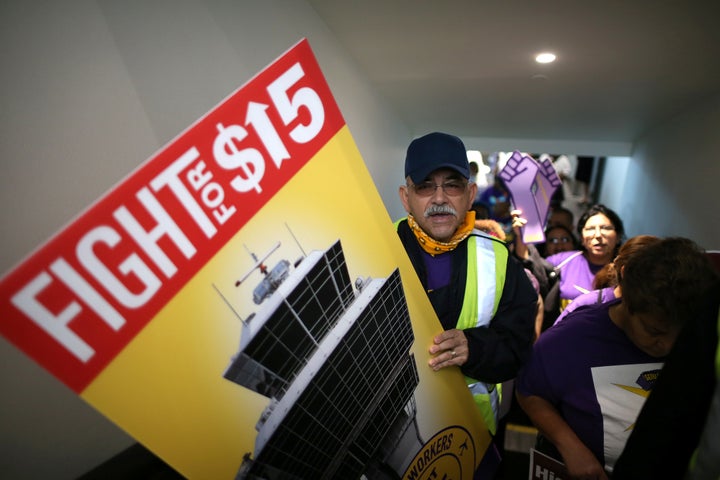 In 2012, Alvin Major was earning the minimum wage of $7.25 per hour when he went on strike at his KFC restaurant in New York City. Four years later, he's earning $10.50 per hour, a 45 percent increase. But Major isn't done striking.
"I'm feeling proud for the work we've done," said the 51-year-old Guyana native. "But our fight has to keep going on. We won't stop until we've won what we deserve."
Major's bigger paycheck is evidence of the victories notched by the "Fight for $15," a union-backed worker campaign that turns 4 years old this week. But for Major, it's also a sign of the work that remains. With four children, including two in state college, he still needs food stamps, and he has nothing left in his bank account at the end of the month.
"I've got to be making choices: putting food on table, paying the bills and paying rent," he said.
On Tuesday, Major was joined by workers from around the country in the latest Fight for $15 strike. Protests hit dozens of cities to mark the anniversary, and images of workers and their allies being arrested for civil disobedience popped up on Twitter throughout the day. Dozens were arrested blocking traffic in Detroit, Manhattan and Chicago.
The Fight for $15 campaign began in 2012 with fast-food employees like Major but now includes day-care workers, airport baggage handlers and even some Uber drivers. The high-profile protests have helped drive minimum wage increases in cities and states around the country, including an aggressive one in New York that has boosted Major's pay.
But four years on, the endgame for the Fight for $15 is still no clearer. The campaign aims to win workers not only $15 per hour but also union representation. The fast-food industry remains union-free. The Service Employees International Union, which has poured tens of millions of dollars into the campaign, has not attempted to unionize individual restaurants. It would much rather unionize fast-food workers en masse, which would require regulatory changes, or pressure industry giants like McDonald's into implementing its own major wage increases.
The campaign shouldn't expect any help from Washington under a Donald Trump administration. The National Labor Relations Board, which has refereed the workers' disputes during the Fight for $15, will become a Republican majority much likelier to side with businesses. Regulators probably won't be as receptive to workers' arguments that the major fast-food chains are "joint employers" alongside franchisees. And the likelihood of a federal minimum wage hike has become even dimmer with Republicans controlling both the legislative and executive branches.
President Barack Obama has been a public supporter of the Fight for $15, as has Hillary Clinton, who was likely to continue Obama's policies on the labor front had she defeated Trump in the presidential race.
But Mary Kay Henry, the president of SEIU and a Clinton supporter, said Tuesday that the Fight for $15 would continue regardless of who holds the reins on Capitol Hill or at the White House.
"The movement has never relied on any type of politicians," Henry said. "We think that working people have been at war for decades. The destruction of unions has been going on for 40 years. But when people join together, good things can happen."
With fewer friends in Washington, Henry said fights on the local and state levels will become even more important. The last four years have seen a wave of new laws pushing local wage floors as high as $15 an hour, with voters keen on approving minimum wage referendums and paid leave proposals. A majority of states now have higher minimum wages than the federal level, which has remained at $7.25 per hour since 2009.
The National Employment Law Project, a worker advocacy group that has supported the Fight for $15, released a report Friday estimating that 19 million workers are covered by minimum wage increases that have been enacted since the campaign began. The biggest beneficiaries, NELP said, have been workers in jurisdictions that passed $15-an-hour ordinances: California, New York, Los Angeles, San Francisco, Washington, D.C., Seattle, and SeaTac, Wash.
Many business groups and local chambers of commerce have opposed the minimum wage proposals only to be bowled over by their popularity. The industry-backed Employment Policies Institute, a vocal opponent of the Fight for $15, released a series of videos ahead of Tuesday's protests blaming minimum wage hikes for closures of small businesses. The institute called them "cautionary tales."
Major hasn't lost his job due to the increases in New York. His current wage of $10.50 per hour is the mandated minimum for fast-food employees in New York City at the moment. That will eventually reach $15 at the end of 2018, under an agreement reached by state officials last year. He says he plans to continue protesting even after he's won his $15 per hour, to earn job security and union recognition.
"I used to be scared when I first went on strike. Not anymore," Major said. "We don't have a union, but we're acting like one."
Support HuffPost
The Stakes Have Never Been Higher
Related
Before You Go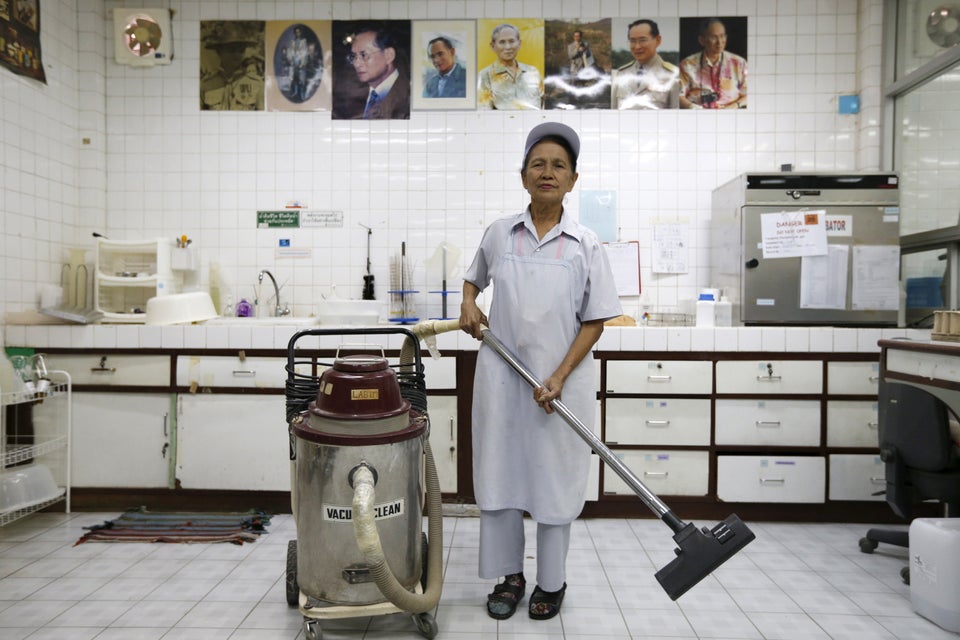 A Worldwide Aging Workforce Shows No Signs Of Stopping
Popular in the Community