 The idea of increasing the minimum wage and pegging it to inflation received big support from the American public, with few believing the counter-argument that a minimum wage increase would hurt workers by reducing hiring, according to a new survey.
According to the new HuffPost/YouGov poll, 62 percent of Americans support the idea of increasing the minimum wage from the current $7.25 an hour to $9 an hour, which President Barack Obama proposed during his State of the Union address last week. The president's plan is supported by a huge majority of Democrats (86 percent to 6 percent) and a majority of independents (56 percent to 28 percent), though a 52 percent to 36 percent majority of Republicans oppose the proposal.
Predictably, the White House plan quickly divided lawmakers in Washington, with Democrats arguing the raise was long overdue and Republicans claiming it would hurt job growth in a weak economy. But findings from the HuffPost/YouGov poll suggested that the proposal has far fewer detractors outside of Congress.
The survey found that only about a third of Americans buy the argument that a minimum wage increase would be harmful to workers. Fifty-one percent of respondents said a minimum wage increase would help workers by giving them more income, while only 30 percent said that it would hurt workers because businesses would hire fewer people. Nineteen percent said they weren't sure.
A 58 percent to 23 percent majority of respondents also said they think the minimum wage should be indexed to inflation -- a significant piece of the White House plan, as the wage floor historically has been raised in lump sums every few years. In fact, that piece of the White House proposal received more support from Republicans, a 44 percent to 37 percent plurality of whom supported indexing to inflation, than an immediate increase to $9 an hour received.
The federal minimum wage of $7.25 per hour hasn't been raised since 2009, after the last of a series of increases signed into law by President George W. Bush went into effect. The White House has argued that raising the minimum wage to $9 would benefit 15 million American workers who currently earn less than that amount. (The federal minimum wage prevails in the 31 states that don't already mandate a higher one.)
Six percent of respondents to the survey said they made minimum wage -- close to the 5.2 percent of hourly American workers that the Bureau of Labor Statistics has determined earned equal to or less than the minimum wage in 2011. Another 46 percent of those polled said that they personally know someone working full-time for minimum wage.
Perhaps unsurprisingly, respondents under age 30 were the most likely to say that they worked for minimum wage, at 15 percent. Seven percent of those age 30 to 44, however, also said that they worked for minimum wage, undermining a common myth that it's overwhelmingly teenagers who earn the legal minimum.
Black and Hispanic respondents were more likely to say that they personally worked for the minimum wage and to say raising the minimum wage will help workers. Sixty-nine percent of Black respondents and 63 percent of Hispanics said the proposal would help workers, compared to 47 percent of white respondents.
The HuffPost/YouGov poll was conducted Feb. 11-12 among 1,000 U.S. adults. The poll used a sample selected from YouGov's opt-in online panel to match the demographics and other characteristics of the adult U.S. population. Factors considered include age, race, gender, education, employment, income, marital status, number of children, voter registration, time and location of Internet access, interest in politics, religion and church attendance.
The Huffington Post has teamed up with YouGov to conduct daily opinion polls. You can learn more about this project and take part in YouGov's nationally representative opinion polling.
Before You Go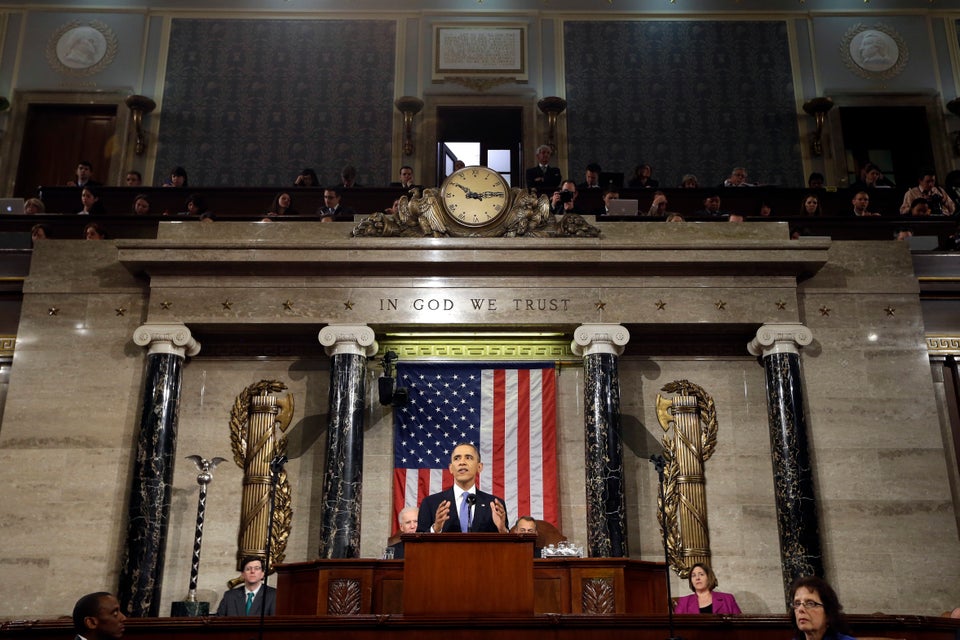 State Of The Union 2013
Popular in the Community