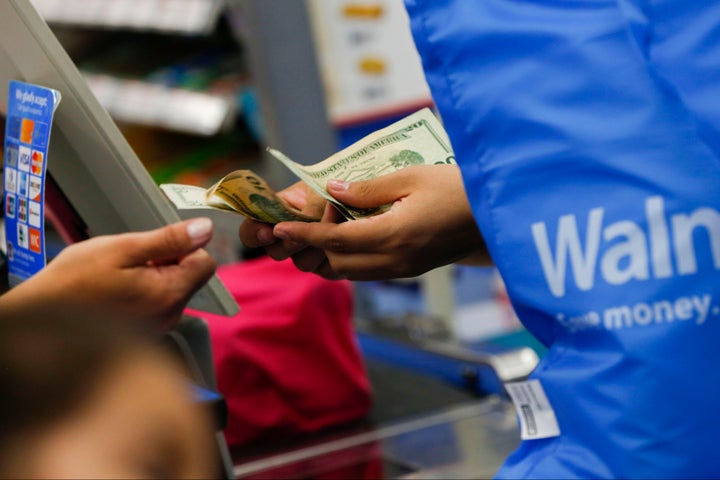 Minimum wage is a women's issue, and most likely one that needs to be addressed with public policy, not by corporations.
A new analysis underlines that point, showing that state laws that increase the minimum wage help people at the bottom of the income ladder, even when they're making slightly more than the minimum wage. Those people at the very bottom? Nearly 60 percent of them are women -- and they are disproportionately women of color.
The analysis, published Wednesday by Elise Gould at the Economic Policy Institute, a liberal think tank, looks at the income of the 10th percentile of American workers -- that is, the people who earn less than 90 percent of workers in the U.S. -- in every state. In 2015, wages for that bottom 10th percentile went up everywhere, but they went up more in the 22 states (plus Washington, D.C.) that increased minimum wages than they did in the other 28 states. And they went up the most for women who live in those states.
It's not news that minimum wage policy is especially helpful to women. A 2013 study by the National Women's Law Center found that states with higher minimum wages have narrower wage gaps than states that stick to the $7.25 federal minimum wage. If the national minimum wage went up to $12 an hour, 40 percent of the country's working single mothers would get a raise, according to Katherine Gallagher Robbins, director for research and policy analysis at the NWLC.
"You're not only increasing women's economic security" by raising the minimum wage, Robbins said. "You're also increasing equality."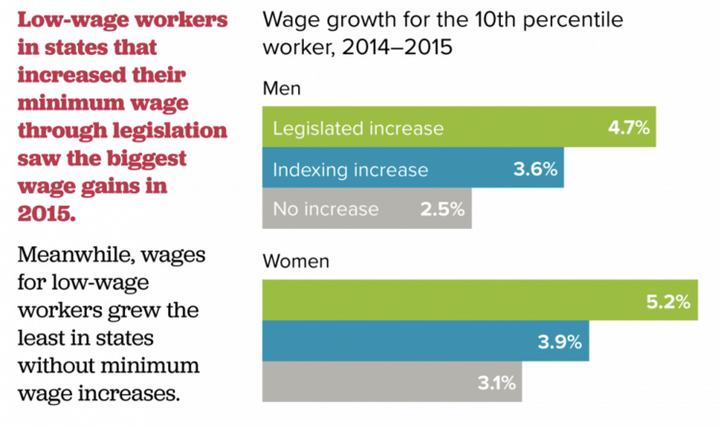 Last year, a number of America's largest corporations, including Walmart, Starbucks, Gap Inc. and McDonald's, all announced that they would be raising their own companywide minimum wages. But this still didn't have as much of an effect as the legislative policy changes that resulted in 22 states having higher minimum wages. Letting the market push wages higher just didn't do as much for low-income Americans as legislated increases did.
"The big message is that policy matters," Gould told The Huffington Post. And minimum wage policy matters especially for working women.
Clarification: An earlier version of this article stated that "if the national minimum wage went up to $12 an hour, 40 percent of the country's working mothers would get a raise." The 40 percent figure refers to the country's working single mothers. For all working mothers, the figure is 27 percent.
Related
Popular in the Community