Co-authored by Cole McNamara, co-founder of the teen movie review site Crixit.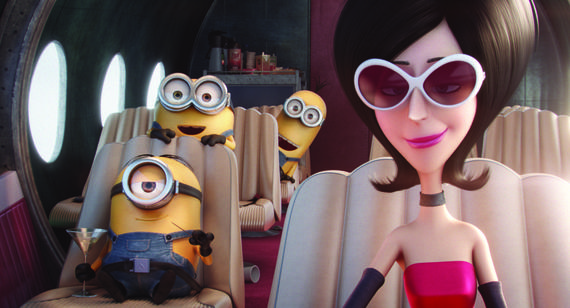 Minions hits theaters this Friday, indicating one thing: henchmen are in! In fact, the adorable nonsense-speaking lackeys we grew to love in the Despicable Me movies aren't the only minions to get their own movie. Henchmen, defined as "an unscrupulous and ruthless subordinate," are followers who do the dirty work of their boss. Here are other Assistant Villains who were the stars of the show:
Not only is this the No. 1 movie about henchmen, it's based on the true story of mob underling Henry Hill and his wiseguy buddies who learn that initially crime pays, but then, you gotta pay it back ... with your life.
The Lost Boys (PG-13, 1987).
Teen vampires terrorize Santa Clara, Calif., but it turns out they're not as lost as it seems. By movie's end, we learn they serve a head vampire and they only survive as long as he does.
Liam Neeson is mob enforcer Jimmy "The Gravedigger" Conlon, roughing up and killing those who cross his boss and childhood best friend, Shawn Maguire. But, when Jimmy and Shawn's sons get into a deadly tussle, Jimmy must decide where his loyalties lie.
The fabled hunchback and right hand man to Dr. Frankenstein and Count Dracula shows up in his own animated family film as a scientist's assistant who dreams of making a name for himself.
Pulp Fiction (R, 1994).
Quentin Tarantino always celebrates the middlemen of crime and one of his finest pieces of work is this cobbled series of connected vignettes that show a bunch of goons who can't do their jobs cleanly. Tarantino is largely known for his violent and gory scenes, but it's easy to forget that he made his mettle with this movie, which is mainly comprised of mid-level minions talking about pop culture to pass the time.
Starscream is Megatron's second-in-command, but it's no secret he wants to usurp his boss and rule the Decepticons. In this sequel, he finally gets his chance when Megatron is assumed dead for the first half of the movie. However, like most cinematic baddies, he fails in the end to achieve his goal.
In the fairy tale, the Queen sends the Huntsman to take her beauty rival into the forest and cut out her heart. But, the Huntsman isn't that ruthless. In this revisionist story, the Huntsman doesn't just abandon the teen in the wild, he goes on the run with Snow, mentoring and training her to take on their evil ruler.
In Bruges (R, 2008).
After a noob hitman's first job goes awry, accidentally killing a child, he and his mentor are sent to Belgium to await further punishment from their gangster boss. Comedy doesn't get darker than this action film that won Colin Farrell a Golden Globe.
Star Wars: Episode VI - Return of the Jedi (PG, 1983).
In the original trilogy, it's clear that Darth Vader doesn't have much control over the Galactic Empire. In Return, his dynamic is made clear and the Sith Lord is forced to make a decision between his son and his boss/mentor, Emperor Palpatine.
Road to Perdition (R, 2002).
Tom Hanks is a mob enforcer whose son witnesses a botched negotiation. This forces them to go on the run together after his mob boss kills the rest of their family. It's a dark story of father and son that leaves little in the way for redemption.
An entire song is dedicated to letting us know that Kermit lookalike Constantine is the No.1 villain and Dominic Badguy is No. 2, but by movie's end, we learn Badguy (said "ba-JEE") has been running a separate enterprise all along.
UP NEXT: Henchmen (2016).
This upcoming animated movie is about a new recruit to the Union of Evil, voiced by Thomas Middleditch ("Silicon Valley:)"), who is assigned a low-level job at the Vault of Villainy. When Lester accidentally steals a super villain's super weapon, disgraced henchman Hank (James Marsden) must step up and become a (eccchhh) hero.
REAL LIFE. REAL NEWS. REAL VOICES.
Help us tell more of the stories that matter from voices that too often remain unheard.