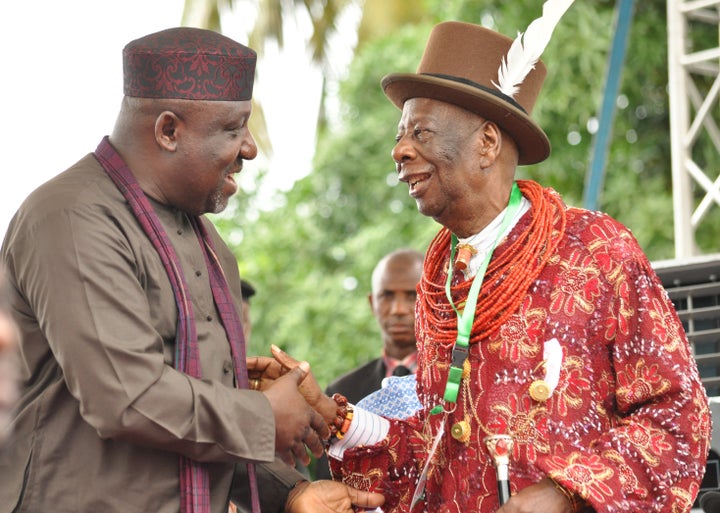 A tiny but densely populated state in southeast Nigeria has created a Department for Happiness and Purpose Fulfillment, the first of its kind in the country. The new department in Imo state, which will sit alongside conventional departments such as health and education, has a remit to improve the well-being of the state's 4 million people. Yet far from being seen as a novel policy direction, it has been widely derided in Nigeria.
Gov. Rochas Okorocha announced that the department would soon serve as a model to be replicated by other state governments who needed to focus policy on well-being. "The ministry is to be able to assist Imo people to realize happiness, which is the very primary essence of government," Okorocha explained in December. "Imo people must be happy. Imo people must be made to fulfill their purpose in life."
However, the appointment of the governor's sister, Ogechi Ololo, as the first commissioner for happiness is one of several criticisms that have been widespread among citizens. 
"It's my capacity to do good things, not my relation to the governor that counts. I'm a practical woman who comes into an environment and seeks to change it for the better," Ololo said in response to nepotism claims. 
Defending her new role, she says she has big plans. "People have the right to say what they want to say but within six months Imolites will be able to see huge changes in the way we operate in the state."
Plans for a large-scale mentorship program initially targeted at 15- to 17-year-olds will begin in February, as part of the commissioner's "purpose fulfillment" aim. The program is set to give students career advice that encourages them to pursue professions that will make them feel fulfilled.
"I believe passionately that our young people can get jobs and should be in roles that give them a purpose and utilize their strengths and passion," she said.
According to Nigeria's National Bureau of Statistics, 18.8 percent of the country was unemployed as of September. In Imo state the rate is far higher at 29.5 percent with almost half of the working population either unemployed or underemployed. Yet according to Ololo, a focus on fulfillment is important in tandem with working to increase the number of jobs.
The department will open a "jobs bank," where the state will register unemployed youth, identify their skills, provide them training and then offer them to private sector employers, guaranteeing their effectiveness as employees.
"We want to reduce the costs in skilling employees and also improve the employability of young people," Ololo explained. "We want people to be employed but also in the areas they'll feel fulfilled in."
For all its ambition, the scheme has not been well received, said Eno-Abasi Sunday, a journalist at The Guardian in Nigeria.
"Most people in Imo and in Nigeria see the development as bizarre and a classic case of misplaced priorities," Sunday said. "Imo state people are battling to get their salaries and pensions owed from the state government. People will be happy when the government pays them their entitlements."
According to Ololo, states in Nigeria function in a way that is too far removed from individual citizens, due to poor governance and bureaucracy. The commission sees a large part of its role as making government more accessible and accountable.
"What I want to do is to look at many existing policies in other departments and make them more people-oriented and more accountable to ordinary Imolites," she said. 
"I think people are dissatisfied with government because there are policies or agencies that sometimes don't work as they should. Then when they don't, people don't have anyone to complain to."  
The government has ambitious plans for a new hotline for people to make complaints about the effectiveness of state agencies. A health policy called "health at your doorstep," where mobile medical officials respond to residents' health needs at their homes, is, according to Ololo, an example of a good policy that could work better. If a medical professional fails to arrive when called, people can call the hotline and an operator will follow up on their query.
"We will roll out details of the hotline from next week," she said. "It is one way we want to empower Imolites to feel like their state is here to serve their well-being effectively."
Despite the labor needed for the hotlines, mentoring schemes and other policies, Ololo said no extra funds would be needed as staff would be moved from other departments.
"People who say this is an expensive project don't understand that this is not costing Imo state money," she said. "I am already employed as the governor's deputy chief of staff, so my salary isn't changing. However we are reorganizing the state to improve well-being in different areas."
According to Budgit, a civil society organization promoting government transparency, Imo state's budget is one of many in Nigeria that isn't transparent, preventing citizens from seeing how much of their taxes are spent on services versus on Okorocha's controversial projects. The governor refused to disclose how much the statue cost, yet it has added to widespread concerns that money isn't being spent efficiently.
"Imo State is a perfect example of the escalating cost of governance in Nigeria," said Oluseun Onigbinde, Budgit's founder. "This governor's projects and frivolous actions are an extravagant use of public funds. Meanwhile, the state struggles to meet its own financial obligations and help people in Imo."
According to Onigbinde, well-being is an outcome achieved in a functioning society. "Well-being is a noble aim and you can define it in different ways, but the government haven't even thoroughly articulated what their version is and how they'll achieve it."
Addressing the immediate needs of citizens in Imo state is a faster route to happiness, said Sola Tayo, an expert on Nigeria at Chatham House think tank in London. "Ministries for happiness can work in wealthy societies where people don't have to worry about fuel shortages or erratic electricity supply. You could argue that Nigeria would be infinitely happier if these issues were addressed."
For more content and to be part of the "This New World" community, join our Facebook Group. 
HuffPost's "This New World" series is funded by Partners for a New Economy and the Kendeda Fund. All content is editorially independent, with no influence or input from the foundations. If you'd like to contribute a post to the editorial series, send an email to thisnewworld@huffpost.com
Calling all HuffPost superfans!
Sign up for membership to become a founding member and help shape HuffPost's next chapter