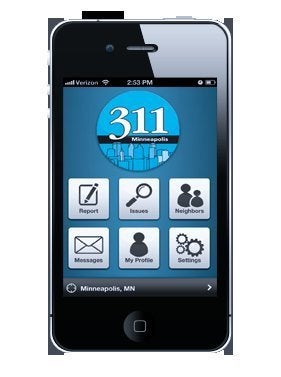 For all its high culture, urban American life can be down and dirty at times. Abandoned cars? Graffiti? Potholes? Those things have become the norm in many neighborhoods throughout the U.S.
But lately, high tech's been tackling those and other urban ills the best way it knows how to: with apps.
For reporting problems, the free app is less costly to both cities and citizens compared the time-consuming process of making "311" phone calls or even browsing to a website to report an issue. Adding to the convenience, the app uses those phones' GPS capabilities to tell city officials exactly where problems are.
And Minneapolis is just the latest city to expedite service requests with apps. In June, the city of Boston released Street Bump, an app that totally automates the process of reporting potholes. Just download the app and place your iPhone on your dashboard or in your cupholder; a sophisticated algorithm identifies which bumps are potholes, and the app reports the location to government officials.
SeeClickFix, the New Haven, Conn.-based startup that developed the Minneapolis app, has also made a custom mobile program for Washington, D.C., which was released in April. Deals are in the works for three other American cities to get custom apps, according to Emma Richards, director of client relations for the firm. And other smaller cities, like Richmond, Va., Oakland, Calif., and New Haven, currently use SeeClickFix non-custom app available in Apple's and Google's app stores for sorting through citizen complaints.
Even still, other cities, such as Boston (with Street Bump and its older reporting app, Citizens Connect) and New York (with its own NYC 311 app) strike it out on their own with government-commissioned apps.
Whoever makes the means of complaining, it appears that in the city of the future it'll be easier than ever to gripe to government. App technology will help close the sometimes yawning gap between municipal bureaucracy and the citizens it's suppose to serve.
"We'd like to be able to build features that let users ask questions related to government," Richards told The Huffington Post. Conversations on SeeClickFix's app now is limited: citizens can speak directly to the government through requests, and government can only respond in comments on those requests. But that may change.
"We want people to be able to ask, 'How do I get my library card?' or 'Where do I go to vote?'" As she sees it, either app users or the government itself may be able to respond. Currently, New Haven has such a web-based Q&A forum, facilitated by SeeClickFix, where anyone can answer municipal questions.
Calling all HuffPost superfans!
Sign up for membership to become a founding member and help shape HuffPost's next chapter
BEFORE YOU GO
PHOTO GALLERY
6 Apps To Help You Relax On Vacation