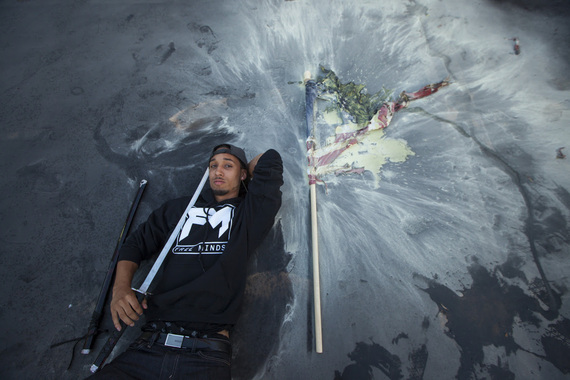 Between Minneapolis and Milwaukee, there has been a flux of underground hip hop seeping out of the Midwest. The 26-year-old Twin Cities' rapper David Gaines, also known as GainesFM, is creating sonically diverse hip hop music with lyrics that oppose the typical, top 40, rap paradigm. Hip hop has always been a way to turn struggle into liberation, to send a message, and to tell it like it is.
Gaines' is of mixed race heritage, his mother of Caucasian descent and his father of African-American descent. He discovered his passion for music in elementary school while struggling with the confusion of his parents divorce. Splitting his time between his mother's home in the suburbs and his father's place in the city, Gaines' story began. "Walking both sides of the racial divide is like speaking two languages," Gaines describes. "I was listening to Nirvana and Linkin Park one week and then Nas and Jay-Z the next week at my dad's. The double life shaped who I am, and certainly my music."
In 2007, Gaines released his first mixtape titled "Purple" which received positive feedback from the local music scene as well as charting on CMJ, a popular music website that features new and upcoming music. The success of "Purple" propelled Gaines into recording an official and polished album as he began riding on the warm wave of inspiration. He reached out to local beat makers, Lazy Thunda and Dae Walker but also had his eye on the Grammy-Award winning producer, Rahki Smith, who is known for his work with Kendrick Lamar, DJ Khalil, Eminem, Aloe Blacc, and many more.
Gaines' connection with Smith changed the trajectory of his career as his music began to fall into place like pieces of a puzzle. "One of our producers knew him [Rahki], so he sent over the track," says Gaines of how the collaboration began. "We didn't know if he'd respond or not." Not only did Smith respond, but he sent the track back with the title "Mutant." Thus began Gaines' musical journey as he released the album Night Crawler in September of 2011.
Night Crawler garnered good reviews while starting a local buzz and in 2012, Gaines released a re-boot of the project entitled Night Crawler: Reloaded which added Chance the Rapper on the track called "We Are." Having solidified his name in the Midwest, he is ready to embark on a new adventure, sharing his creations with the outer reaches of the country and hopefully the world. His newest album, Reanimation, was just released on the 25th of January, 2016. Unafraid to speak his mind about the zombiedom of the music industry as well as represent his Minneapolis roots, Gaines will surely find his place among the kings of hip hop.
Calling all HuffPost superfans!
Sign up for membership to become a founding member and help shape HuffPost's next chapter