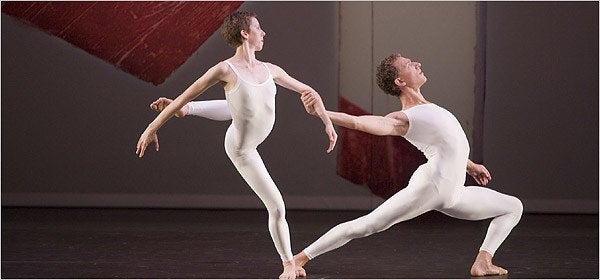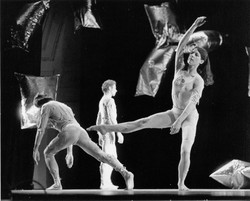 The good news in the dance world is that the 150-object Merce Cunningham Dance Company collection of set pieces, costumes, painted drops created for the visionary choreographer by leading artists, designers and musicians has a home.
The less good news is that dance fans will have to traipse to Minneapolis to see the made-in-NYC seminal performing arts collaborations of visualists Robert Rauschenberg, Jasper Johns, Andy Warhol, Frank Stella, and Roy Lichtenstein, and composer John Cage.
The collection will roost at the Walker Art Center, one of the most progressive art museums in the country and a long time supporter of the pioneering choreographer, Merce Cunningham, who died in 2009 after a nearly 70 year career.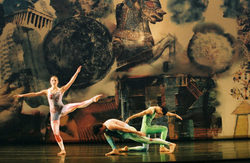 It actually makes good sense for the collection to reside at the Walker. The museum's relationship with Cunningham dates to 1963, when MCDC first performed in Minneapolis. Since then, the Walker actively supported Cunningham's work over 45 years through nine residencies, three commissions, an exhibition, and some 17 separate engagements, including three world premieres and two U.S. premieres.
The collection includes Rauschenberg's combine Minutiae (1954/1976), and Andy Warhol's Silver Clouds installation, used in the dance RainForest (1968). Click on the photos to see details of these marvelous art works.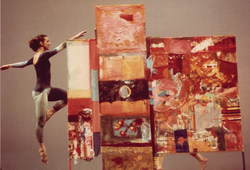 Highlights of the Walker/Cunningham collaboration include the MCDC's 1969 Walker residency, in which the company performed the iconoclastic Canfield; the 1998 exhibition Art Performs Life, exploring the work and life of Cunningham; Event for the Garden (1998), a special performance in front of Spoonbridge and Cherry by Claes Oldenburg and Coosje van Bruggen to celebrate the Minneapolis Sculpture Garden's 10th Anniversary, which incorporated dozens of Andy Warhol's silver Mylar pillows floating in the air around the stage; and Cunningham's monumental restaging of Ocean (2000), at the bottom of a Minnesota quarry.
The collection will be displayed in November 2011 concurrent to the Cunningham's company's last performances at the Walker.
Founded in 1879, the Walker was established at its current location in Minneapolis in 1927. The Andrew W. Mellon Foundation provided crucial underwriting to the purchase and transfer of the collection.
Debra Levine blogs about dance, film, music and urban culture on arts•meme.
Photo information, courtesy Cunningham Dance Foundation:
Interscape (2000) MCDC dancer Andrea Weber, Daniel Roberts, Jonah Bokaer performing Cunningham's Interscape, with costumes and drop by Rauschenberg. Photo: Tony Dougherty.
Minutiae (1954) MCDC perform against Rauschenberg work of same name, one of earliest and largest freestanding Combines he created. Photo Herb Migdoll, 1976
Rainforest (1968) featuring Andy Warhol mylar pillows, Cunningham, Meg Harper dancers

Popular in the Community