MINNEAPOLIS — The city police chief resigned at the request of the mayor on Friday, less than a week after a police officer /www.huffingtonpost.com/entry/australian-woman-shot-minneapolis_us_596c1e28e4b03389bb187027?l3m&ncid=inblnkushpmg00000009"}}" data-beacon-parsed="true">fatally shot an unarmed Australian bride-to-be who had called for help, and protesters overtook a press conference to demand that the mayor go next.
Minneapolis Mayor Betsy Hodges said in a statement that Chief Janee Harteau "deserves everyone's thanks for her dedicated service." But Hodges said she had lost confidence in the chief's leadership ― "and from the many conversations I've had with people around our city, especially this week, it is clear that she has lost the confidence of the people of Minneapolis as well." 
Justine Damond, 40, was shot in the abdomen Saturday by Officer Mohamed Noor, 31, who responded with his partner to Damond's 911 call reporting a possible rape. Noor has declined to speak to investigators, and police haven't explained why Damond was shot.
The state's Bureau of Criminal Apprehension, the agency conducting an external investigation into the shooting, announced in a statement Friday that officials had identified and interviewed a man on a bike who witnessed the incident.
Later Friday evening, protesters forced their way into a press conference, where Hodges was supposed to discuss Harteau's resignation. The crowd shouted at Hodges to resign and chanted "Bye, bye, Betsy!" 
"We're asking for your prompt resignation. We don't want you as our mayor of Minneapolis anymore," said John Thompson, a best friend of Philando Castile, who was shot to death by police in a suburb of nearby St. Paul in July 2016.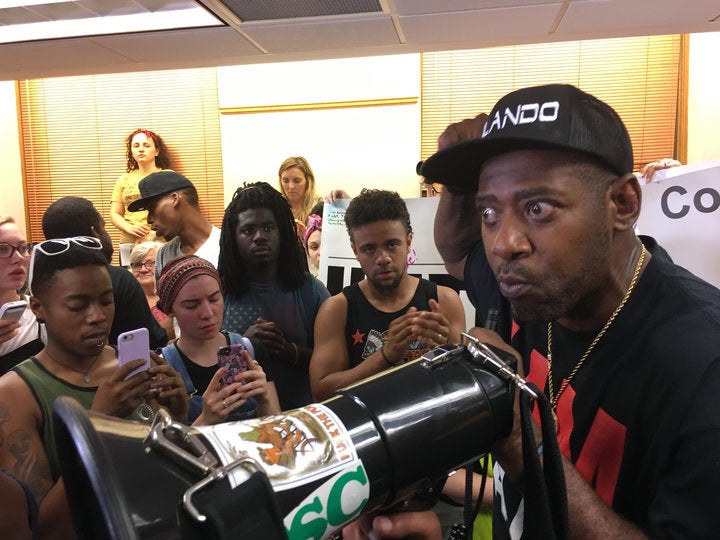 After unsuccessfully attempting to calm the crowd, Hodges was escorted out of the conference room to her office.
Protesters quickly took over.
"We got real problems in this town, but we're the ones that are going to solve them," said Michelle Gross, of Communities United Against Police Brutality.
"This has been a particularly difficult and heartbreaking and challenging and awful week for the people of our city," Hodges told reporters. "I share people's frustration about the pace of change in policing and in building community trust.
"I hope people appreciate that there is no magic wand for public safety. We need to do more, and a change in leadership at the [police] department will help move us forward."
The mayor's office declined to comment Friday to HuffPost, saying Hodges' statement speaks for itself. 
Harteau said in her own statement Friday that she had reflected deeply on the "tragedy." 
"The recent incidents do not reflect the training and procedures we developed as a department," Harteau said. "Despite the MPD's many accomplishments under my leadership over these years and my love for the City, I have to put the communities we serve first.
"I've decided I am willing to step aside to let a fresh set of leadership eyes see what more can be done for the MPD to be the very best it can be. The city of Minneapolis deserves the very best."
The killing of an unarmed woman dressed in pajamas has sparked protests in Minnesota and Australia, where Damond, a spiritual healer, was described as generous and even-tempered. 
Thompson was among those who participated in a solidarity march from Loring Park to the mayor's office on Friday. Asked about Harteau's resignation, Thompson said the mayor should now step aside. 
"The city is out of control when it comes to policing," Thompson told HuffPost. "You are the head coach so to speak. Your team's out of control. Turning body cameras on and off when they want to ... But I think there are other officials in the city that should follow suit and I'm demanding that that happen. Swallow your pride and just say, 'I failed at doing my job. I'm not effective."
Little information has been released about Damond's shooting. The BCA said it would "provide additional details of the incident once initial interviews with the officers are complete." Neither Noor nor his partner activated their body cameras prior to the shooting.
Harteau gave a fiery speech about Noor this week. She admitted she was on vacation when the shooting happened, and called on Noor to give a statement, despite his legal right to decline. 
"Justine didn't have to die," Harteau said Thursday. "Based on the publicly released information from the BCA, this should not have happened. On our squad cars, you will find the words 'To protect with courage and serve with compassion.' This did not happen."
Hodges said she will nominate Assistant Chief Medaria "Rondo" Arradondo, a 28-year veteran of the department, as Harteau's replacement.
Andy Campbell contributed reporting. 
Calling all HuffPost superfans!
Sign up for membership to become a founding member and help shape HuffPost's next chapter
BEFORE YOU GO