Police Chief Medaria Arradondo announced their terminations during a news conference. He did not publicly identify the officers.
"It is the right decision for our city," Mayor Jacob Frey said of the firings. "We've stated our values and ultimately we need to live by them."
Bystander video that circulated on social media shows an officer who appears to be white pressing his knee into Floyd's neck, while Floyd is pinned face-down on the street. Floyd can be heard repeatedly pleading with the officer to get up.
"Please man, I can't breathe," Floyd says. "I cannot breathe. I cannot breathe."
Within minutes, the video shows Floyd closing his eyes and no longer speaking. The officer appears to keep his knee on Floyd's neck, even as onlookers begin shouting that he isn't moving and demand that officers help him. The video shows a second officer nearby, looking in the direction of onlookers.
Police called for an ambulance but Floyd was pronounced dead shortly after arriving at a hospital, the Minneapolis Police Department said in a press release.
(Note: A still image from early in the video, before Floyd stops moving, is below.)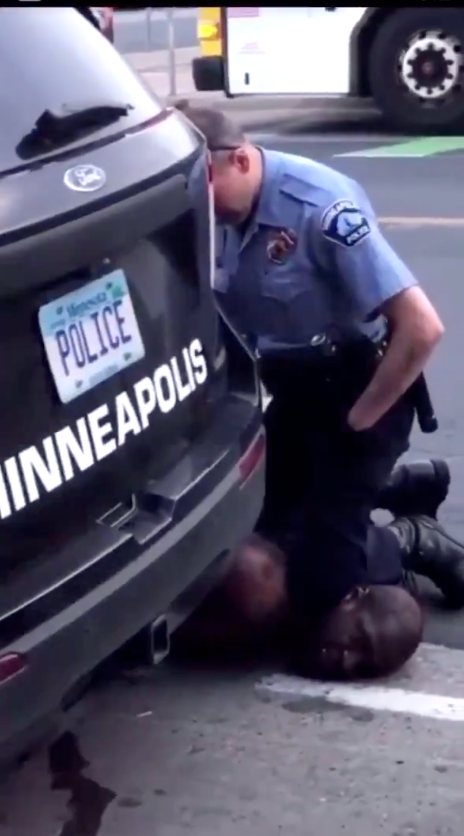 Minnesota's Bureau of Criminal Apprehension is investigating Floyd's death. The bureau said in a statement Tuesday that it will present its findings without recommendation to the Hennepin County Attorney's Office for review.
The FBI has opened a separate federal civil rights investigation into the matter at the request of the Minneapolis Police Department, Arradondo said.
Officers arrived at the scene Monday in response to a reported "forgery in progress," police said in a statement that night. The suspect, police said, appeared to be under the influence and "physically resisted" officers.
The statement said no weapons were used during the encounter. It did not mention that an officer had pinned the man to the street by kneeling on his neck.
Attorney Ben Crump identified the man as George Floyd after announcing he had been retained by Floyd's family to represent them.
"We all watched the horrific death of George Floyd on video as witnesses begged the police officer to take him into the police car and get off his neck," Crump said in a statement. "This abusive, excessive and inhumane use of force cost the life of a man who was being detained by the police for questioning about a non-violent charge."
"We will seek justice for the family of George Floyd, as we demand answers from the [Minneapolis] Police Department," he added. "How many 'white black' deaths will it take until the racial profiling and undervaluing of black lives by police finally ends?"
A protest in response to Floyd's death has been planned for Tuesday evening at the intersection where he was killed.
This story has been updated.
Popular in the Community