MINNEAPOLIS -- These are complicated times for public libraries. Even as budgets are slashed nationwide, more people than ever are visiting their local library. Even as the unemployed seek out the quiet space and free Internet access, the group most attached to libraries remains working mothers, often accompanied by their children.
And, in case you hadn't heard, books aren't quite as popular as they used to be.
"So the question, and it's a huge question, is, 'What even is a library anymore?'" said Cesar Pelli, the world-renowned architect and designer of the Minneapolis Central Library.
While this large urban library has greater resources than many of its suburban and rural counterparts -- the building itself, which opened in 2006, cost some $138 million -- librarians across the country are looking to institutions such as this to show the way forward. For their part, the librarians here say their hope is that this library can be more of a cultural center than a book repository.
When visitors walk into the Minneapolis building, the first collection they see is about 300 computers, each of which is in use about 90 percent of the time. Nationwide, the number of physical books borrowed from libraries is slowly declining, although books remain a core reason why people visit their libraries. The staff in Minneapolis estimates that computer access is the primary reason that most patrons, especially low-income and unemployed people, visit.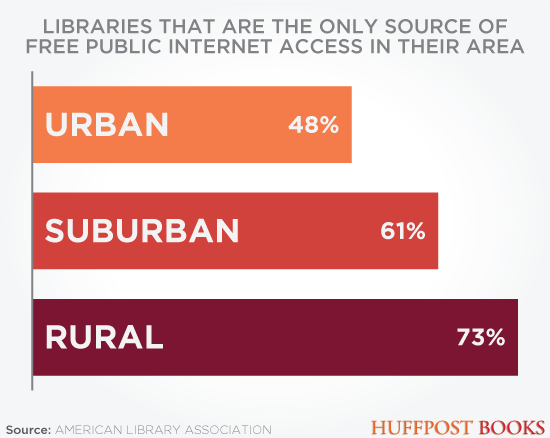 But the library also offers English language classes in the New Americans Center. The teen room, designed with teen advice, has laptops for use in the library, a vending machine, and a sound system and CD collection. Elsewhere there's a soundproof piano room.
Betsy Williams, the coordinating librarian, says staffers are adapting to their new roles. They've been surprised by the intensity of computer use and have had to get used to answering more questions about Microsoft Word than about the library's book-search system.
They're also coming to terms with how many people seem eager to sit on the floor and use their own laptops.
"The shift to more mobile computing has us thinking about our use of space, and our library is only five years old," Williams added. "If people don't want to sit at a desktop, how can we accommodate them best? What can we offer to laptop users other than free Wi-Fi?"
Pelli, for his part, said he was looking forward when he designed the space. "Unquestionably the function of a library is changing very rapidly, and we knew that a decade ago," he said by phone. What the architects could do was to "keep the structure extremely flexible."
Literally it is. The air and electricity in the building is distributed under the floors, not through the inner walls. Without beams and other structural impediments, the rooms can be changed in a weekend. The local library system has made this kind of flexibility a requirement in its design standards for construction projects of all sizes.
Other library systems are taking similar approaches. In Fairfax County, Va., where budget cuts have forced hundreds of layoffs and the cancellation of magazine subscriptions, there is still money from bonds to pay for library construction. Edwin S. Clay III, the director of libraries since 1982, said that libraries have "never been more relevant," but that they are increasingly filling the voids left by other public institutions.
"We're becoming lots of folks' offices, especially as they look for work," Clay said. "We're not the school system, but we're focusing on childhood literacy. We're teaching people how to use computers. We're stepping up and saying, 'How can we help?'"

Related
Popular in the Community