 WASHINGTON -- On Tuesday, Republicans will attend precinct caucuses in Minnesota and Colorado and vote in a non-binding primary in Missouri. Polling for these contests has been extremely sparse and may be just a rough guide to the outcome, but final data from three news surveys by the Democratic-affiliated firm Public Policy Polling (PPP) suggest that Rick Santorum may have a strong showing in the two Midwestern states.
On Monday night, PPP released final data on new automated, recorded-voice surveys showing former Sen. Santorum (R-Pa.) leading in Minnesota and Missouri and running second to former Massachusetts Gov. Mitt Romney in Colorado.
PPP conducted surveys from Feb. 4 to Feb. 6 in the two caucus states, Colorado and Minnesota. In Colorado, a state where Romney carried 60 percent of the caucus vote four years ago, they give Romney a 10 percentage-point lead -- 37 percent to Santorum's 27 percent -- followed by Newt Gingrich at 21 percent and Ron Paul with 13 percent.
In Minnesota, PPP shows Santorum with a nine-point lead (33 percent to Romney's 24 percent), followed by former House Speaker Gingrich (R-Ga.) at 22 percent and Rep. Paul (R-Texas) with 20 percent.
In Missouri, which will hold a non-binding primary election on Tuesday with no effect at all on the allocation of delegates, PPP fielded a one-night poll on Feb. 6 that gives Santorum a 13-point lead over Romney (45 to 32 percent), followed by Paul (19 percent). Gingrich did not qualify for the Missouri ballot, and was thus not included in PPP's poll question. However, the ballot will include an option to vote "uncommitted" -- an option that PPP did not offer on its vote question, so the poll may understate how many Gingrich supporters will opt to vote uncommitted as a way of expressing support for their candidate.
The three PPP polls also found that a third or more of the voters in the three states say they might still "end up supporting someone else," rather than their first choice -- 31 percent in Colorado, 35 percent in Minnesota and 38 percent in Missouri. That result, which the PPP release characterized as indicating an "unusually volatile" race, may indicate the potential for further change or simply reflect that many have already changed their minds, perhaps more than once in recent weeks. It also suggests that some of the poll respondents may not actually vote or turn out for the caucus meetings.
So there are many reasons for caution about the PPP results, but few as important as the simple scarcity of survey data. And what a difference a few weeks make. Just before the Iowa caucuses in early January, public pollsters released ten separate surveys in the final week measuring the preferences of likely caucus-goers. Just before the primaries in New Hampshire, South Carolina and Florida in January, pollsters released 15 to 20 surveys in the last week alone.
But Saturday's Nevada caucuses produced just two public polls, and only PPP has released surveys for the contests in Colorado, Minnesota and Missouri.
The scarcity of polling owes in part to the non-binding nature of all three contests. The Missouri primary is a "beauty contest" vote. Although the precinct caucuses in Colorado and Minnesota begin the process of selecting delegates to the national Republican convention, that process has no formal connection to the "straw votes" that will be held at the precinct meetings in each state. So technically, the votes in the two caucus states that will be reported on Tuesday are also non-binding.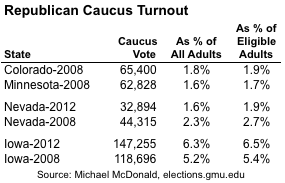 Identifying the likely electorate with precision for very low-turnout caucuses is nearly impossible. The best pollsters can do is attempt to sample a slice of likely voters that is probably too broad a representation of the true electorate, but hopefully comes close.
In Nevada, the final PPP survey did reasonably well. It showed Romney leading Gingrich by a 25 percentage-point margin, 50 percent to 25 percent. Romney won the Nevada straw vote by a 29-point margin, 50 to 21 percent. PPP's Tom Jensen wrote via Twitter that his firm was "nervous about polling Nevada," given the likely turnout, but was pleased at the outcome. They should be similarly nervous about Tuesday's contests.
That said, the Romney campaign appears to be taking Santorum very seriously. As The Huffington Post's Jon Ward reports, the Romney campaign blasted out an attack on Santorum on Sunday, and made former Minnesota Gov. Tim Pawlenty, who has endorsed Romney, available to reporters Monday to criticize Santorum. Pawlenty downplayed expectations for Romney in the Minnesota caucuses, saying that the top candidates would be "bunched together toward the top of the pack."
Political observers have gotten used to reams of data leading up to most of the recent Republican contests that, for the most part, helped us know what to expect. For this weeks' events however, we are much more in the dark.
Update: This story has been updated to reflect Monday's final poll numbers.
CORRECTION: An earlier version of this story stated the PPP polls were conducted from Feb. 2 to Feb. 6. The polls were conducted from Feb. 4 to Feb. 6.
Calling all HuffPost superfans!
Sign up for membership to become a founding member and help shape HuffPost's next chapter
BEFORE YOU GO