UPDATE: 1:22 p.m. -- Blair Walsh was able to express his gratitude for the handwritten notes in person on Thursday, as he visited Northpoint Elementary and spent time with the first graders.
"[The fact that] people like you, kids like you, are willing to do kind things like that for somebody you don't even know, it really meant a lot to me and I just want to say thank you," he told the class.
When Minnesota Vikings kicker Blair Walsh lined up what should've been a routine 27-yard field goal last Sunday, it was all but assumed that the ball would fly through the posts. Alas, it was not to be, and as the kick sailed wide-left, Minnesota saw its playoff dreams slip through its fingers, with its season officially ending just moments later. 
Walsh, of course, was devastated after the game, claiming responsibility for the loss amid tears of regret. And while teammates tried and failed to buck him up at the time, a group of first graders at a local elementary school has now assumed that responsibility. 
According to the Star Tribune, a teacher at Northpoint Elementary in Blaine, Minnesota decided to use the heart-wrenching loss and Walsh's feelings of guilt as a "teachable moment" for her students as they learn the importance of empathy. So this week, her first graders had a simple assignment: To pen notes of understanding and forgiveness to the NFL player, cheering him up with stories of how they, too, have faced heartbreak on the playing field.
"You are handsome … Don't worry. It's just a game." -- William

"One time I had the same problem as you and we lost the divisional playoffs. You rock." -- Jacob

"Dear Blair Walsh. I know that it can be hard to get through things that are sad. But you have to try and try again. Everyone makes mistakes sometimes. One time I made a mistake when I was doing a cartwheel. I felt embarrassed. You can still help the Vikings win the Super Bowl next year." -- Sophia

"Dear Blair Walsh, you are the best player in the world. Everyone makes mistakes, but I had a missed basket before." -- Alex

"For Blair Walsh. Keep on trying. Puppys are cute." -- Tasha
They are indeed, Tasha, they are indeed. Wise, kind words from Tasha, Sophia and the rest of these elementary schoolers.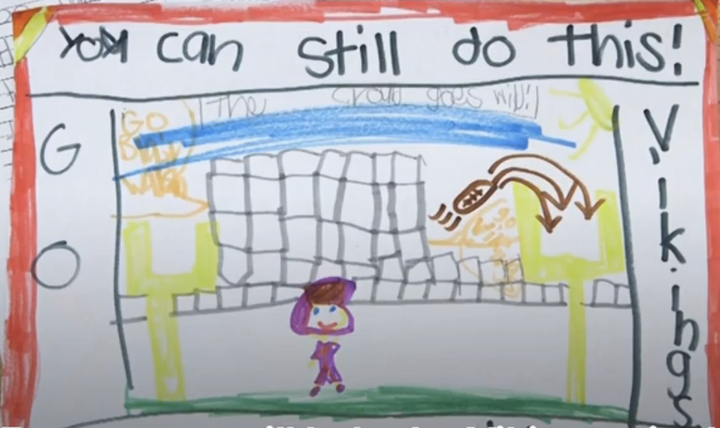 PHOTO GALLERY
Amazing Sports Photos
REAL LIFE. REAL NEWS. REAL VOICES.
Help us tell more of the stories that matter from voices that too often remain unheard.