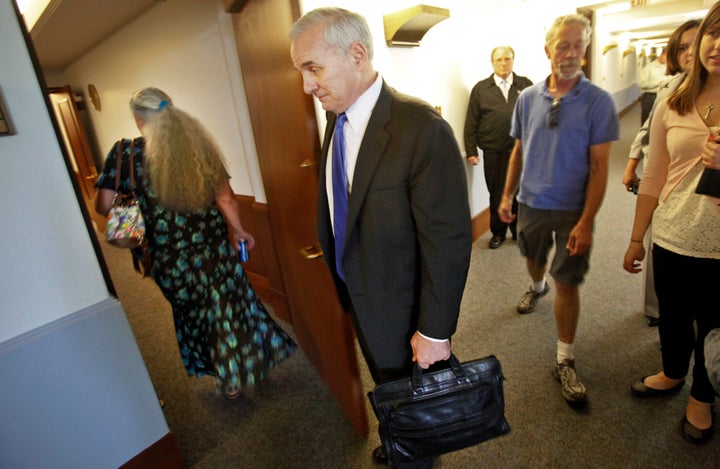 A simmering labor dispute in Minnesota could erupt into a full-blown state government shutdown just in time for the July 4th holiday weekend if a $5 billion budget gap isn't closed by the end of Thursday.
Across the border from where Gov. Scott Walker (R-Wis.) launched his assault on public sector employees' collective bargaining rights, a conflict over Minnesota's budget threatens to temporarily lay off more than 20,000 state workers. Only this time, Gov. Mark Dayton, from the state's Democratic Farmer Labor Party, is facing off against intransigent Republican legislative leaders.
State parks and zoos are scheduled to close, potentially infuriating thousands of Independence Day campers, revelers and barbecuers. If the Thursday midnight deadline is not met, the state capitol would shut its doors. Non-critical functions like road construction would screech to a halt, creating an economic ripple effect that would raise the state unemployment rate by as much as a whole percentage point.
"This is going to be a tough shutdown," said David Lillehaug, an attorney for the governor, on Wednesday.
Dayton is proposing progressive income tax increases to fix the state budget, which faces a huge gap over the next two years, while the GOP is demanding further spending cuts. Both sides said they were attempting to compromise. But time is running out, and even if an agreement is reached Thursday, it may not come soon enough to avoid a partial shutdown.
If the shutdown occurs, "It's the largest single layoff that's ever occurred in the state of Minnesota," said Jim Monroe, head of the Minnesota Association of Professional Employees (MAPE). Monroe estimates that more than 8,000 of his union's members would be temporarily out of a job, and the effects on the state as a whole would be "almost unimaginable."
The budget battle fight has taken on the ideological cast of a clash between an unapologetic progressive, Dayton, and Tea Party-favored state legislators. The state's House and Senate are both dominated by Republican majorities. David Schultz, an adjunct professor at the Hamline University School of Law in Saint Paul, Minn., told HuffPost the showdown is the result of "a real enormous game of constitutional chicken."
Dayton, he said, is "really trying to put a lot of political pressure on the Republicans to compromise or cave in -- whatever term you want to use."
At the governor's request, a judge ruled on Wednesday that, in the event of a shutdown, government staffing would have to be stripped down to core critical functions. Basic care at state-owned nursing homes and hospitals would continue, as would most programs funded by federal dollars like Medicaid, but many state functions -- from the lottery to highway rest stops -- would be closed down.
The cost to the state, which would still incur expenses for many employees even while they were out of the work, would likely run into the millions. A much more limited shutdown in 2005 under then-Gov. Tim Pawlenty cost the state an estimated $12 million dollars. (That standoff ended with a modest cigarette tax increase and both sides claiming victory.)
Budget negotiations have proceeded under a "cone of silence" agreed to by both sides.
Katharine Tinucci, a spokeswoman for Dayton, told HuffPost on Wednesday that while "both sides have been reporting that there's been progress made," no deal had yet been reached. That situation remained the same as of Thursday morning despite talks that went through the night. Dayton's priority in the negotiations, Tinucci said, was "a balanced solution of cuts and raising taxes on the richest Minnesotans."
Spokespersons for the Republican House and Senate caucuses did not respond to requests for comment.
Dayton has proposed making $1.8 billion in cuts to the state budget, delaying payments for the state's education system and raising another $1.8 billion by adding a fourth bracket to the top of the state income tax. Republicans, for their part, have resisted any tax increases, preferring instead to balance the budget solely by cutting funding for education, health care, social services and other state programs.
Nan Madden, the director of the non-partisan Minnesota Budget Project, told HuffPost that one likely result of the Republican budget would be to simply kick some of the tax burden down the road from the state level to the local level, where property taxes could rise to fund local priorities like K-12 schools. The debate, she said, was over whether "we raise revenues based on the ability to pay, and very transparently at the state level," or "at the local level and through the property tax."
State labor leaders and social service providers said the Republican budget's cuts to government aid would be devastating for people who have already been buffeted by the economic downturn. Minnesota has an unemployment rate of 6.6 percent -- relatively healthy compared to other Midwestern states, but still above the 4 to 5 percent rate it maintained for much of the 2000s.
Eliot Seide, the executive director of AFSCME Council 5, expected that between 8,500 and 10,000 members of his union would be laid off in the event of a shutdown. "Our members are anxious and concerned. They're concerned about their own livelihoods," he said.
Minnesota's big public employee unions, like MAPE and the AFSCME, have lined up in support of Dayton's tough stance -- even though their members could be put out of work if no budget compromise is reached. Dayton, they said, is being forced to fight by hard-line Republican leaders who have refused overtures towards a compromise.
"The Republican legislature has demonized and denigrated public workers for the last five months. They have put ideology in front of responsible governance," Seide said. "This is the most extremist legislature. I mean, they are just out of touch. They are just so extremist that the cuts they've proposed are so devastating and draconian."
More people than those just directly employed by the state would see their livelihoods threatened under the Republican budget. Even with higher property taxes at the local level, many other areas would be hit. The state's higher education system, a major generator of jobs, would lose funding. Health care money and funds that allow disabled individuals to live independently would also be slashed.
Terry Bicknell, a child care provider in St. Cloud who is an associate member of the SEIU, said that both a shutdown and the proposed Republican budget would threaten her livelihood by cutting off access to the state funds used by her clients. She would lose half her income in the event of a shutdown, she said.
"If I can't make my house payment, I may have to shut my door," Bicknell said. "And I know the job market out there sucks big time, and I may be flipping burgers, but I also can't put my kids out there on the street."
Bicknell thinks she could lose her job -- and she believes that the families she assists would also be forced to choose between caring for their children and working. Several have been using child care to work their way off public assistance. One mother recently found a job and, at almost the same time, had an infant. "It's tormenting to some of these parents, they're like, well now what am I going to do?" Bicknell said.
Schultz, the political scientist at Hamline, believes that the shutdown will happen, and that Dayton will ultimately have the upper hand. "I think the Republicans have to have one eye on the fact that if they want to stay in the majority ... they need to blink," he said. "But the problem is that they can't blink. They're trapped by their own rhetoric: As soon as they blink they're going to get challenges from the Tea Party, from the fiscal conservative wing of their party."
So far, Schultz said, the polls show that voters are with Dayton. He believes that when a shutdown comes, it is the state's Republicans who stand to lose.
"If I can draw a contrast to like Obama, for example, Dayton's willing to fight. And one of the criticisms that you sometimes see of Democrats is that they don't know how to fight," he added. "I think here Dayton is fighting really hard and seems to have out-positioned the Republicans."
Calling all HuffPost superfans!
Sign up for membership to become a founding member and help shape HuffPost's next chapter