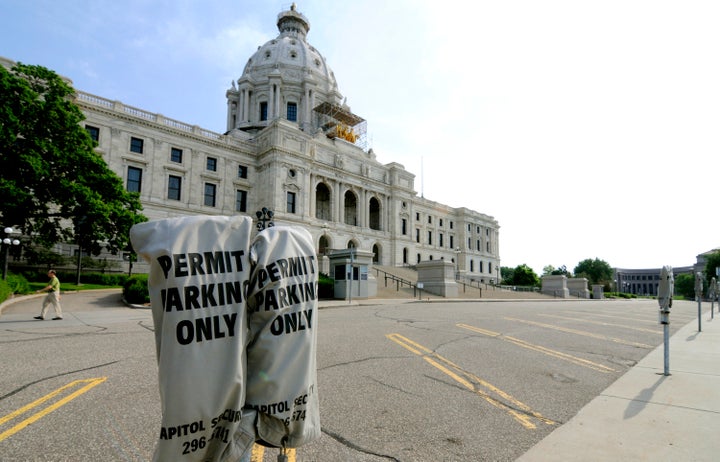 St. Paul - Minnesota Gov. Mark Dayton (D) and leaders of the Republican-controlled state legislature, conceding that they are no longer able to effectively govern, announced today that Minnesota will merge with Iowa to create the new state of Iowasota.
The startling announcement came as Minnesota entered its second full week of an unprecedented shutdown of all non-essential state services with no end in sight after Dayton and Republican lawmakers once again failed to agree on a budget for the new fiscal year.
"It's a shame it had to come to this, but not even Paul Bunyan and Babe the Blue Ox could help find a way out of this impasse, so we've reluctantly agreed to Iowa's offer to, in effect, take control of our state," Dayton said in a joint appearance with House Speaker Kurt Zellers and Senate Majority Leader Amy Koch.
Speaker Zellers called the historic decision "a tragic necessity that couldn't be avoided," while Sen. Koch said, "I hate to see Minnesota go the way of Northwest Airlines, but at least we won't have to raise our income taxes."
Dayton also disclosed that he and the GOP lawmakers briefly considered an offer to merge with Minnesota's neighbor to the north, the Canadian province of Manitoba, but decided it would create too many legal problems. "Besides, Minnesotans would rather stop telling Iowa jokes than learn to speak like Canadians."
Iowa Gov. Terry Branstad praised the Minnesota political leaders' decision to accept his offer to merge the two states. Noting that their combined population of more than 8.2 million will make Iowasota the nation's 12th largest state, just behind New Jersey, he said, "Maybe now, Chris Christie will treat me like an equal."
Reaction from members of Minnesota's Congressional delegation was mixed, with the state's two U.S. senators and eight House members lamenting the fact they would either have to give up their jobs or seek reelection in larger redrawn districts with a much different constituency.
Sen. Amy Klobuchar (D), who is running for reelection in 2012 said she was confident she could beat Iowa Democrat Tom Harkin when his term expires in 2012, while Sen. Al Franken (D) called the decision to merge with Iowa "the biggest joke I've heard since I was on Saturday Night Live.
But Rep. Michele Bachmann, who is seeking the Republican presidential nomination, welcomed the decision, saying, "I was born in Iowa and this will definitely help me in next month's Iowa Straw Poll" of likely GOP voters.
Not surprisingly, many Minnesotans expressed outrage that their state will lose its identity after merging with its smaller neighbor to the south. "We have 10,000 lakes, Garrison Keiller and the Mayo Clinic," said Joe Schimmelbeck, a tavern owner in the central Minnesota town of St. Joseph. "What the hell does Iowa have except Chuck Grassley and a lot of corn and hogs?"
Hjalmer Swenson, a Minneapolis bus driver and avid sports fan, was even more critical. "If they think we're going to start calling them the Iowasota Twins and Iowasota Vikings, they're crazy."
In an apparently related development, the University of Minnesota's seismology department reported a minor tremor occurred near Lakewood Cemetery in Minneapolis just after Dayton and the GOP leaders announced their decision.
"We've traced the origin of the tremor to a specific location," a University scientist said, "and we're pretty sure it was caused by Hubert Humphrey turning over in his grave."

REAL LIFE. REAL NEWS. REAL VOICES.
Help us tell more of the stories that matter from voices that too often remain unheard.