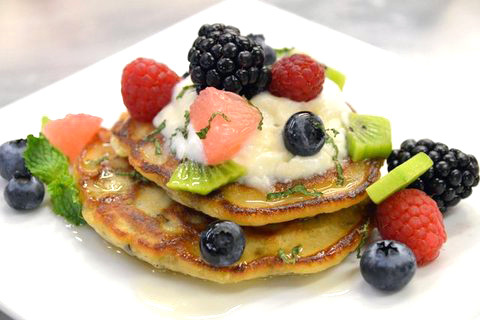 Minnesota Wild Rice Griddle Cakes make a terrific and healthy breakfast option. You can adorn them like you would your favorite pancake. My traditional griddle cake recipe adapts perfectly with the addition of blueberries, strawberries, bananas or even chocolate chips. One of my favorite ways to eat wild rice griddle cakes for breakfast is to top them with a nice healthy dollop of Greek yogurt, mixed berries, seasonal fruits and drizzle all with a little honey. Add more flavor by sprinkling some fresh mint chiffonade on top. You'll be happy and feeling good all day long!
Topped with: Greek Yogurt, Mixed Fruits and Honey
(Makes 12, 2-ounce Griddle Cakes)
1 box Minnesota Wild Rice Griddle Cakes
An assortment of berries and fruits (strawberries, blueberries, kiwi, orange segments or blackberries)
6 cups yogurt
2 cups honey
½ cup mint, chiffonade
½ orange, zested (optional)
Preheat griddle or sauté pan.
Make one box of Minnesota Wild Rice Griddle Cakes as per instructions on back of the box.
Place griddle cake on serving plate and top with fruit, yogurt, honey, mint and orange zest, as desired.
Tip: Remember: Any leftover batter can be stored in a sealed plastic container in your refrigerator for three days.