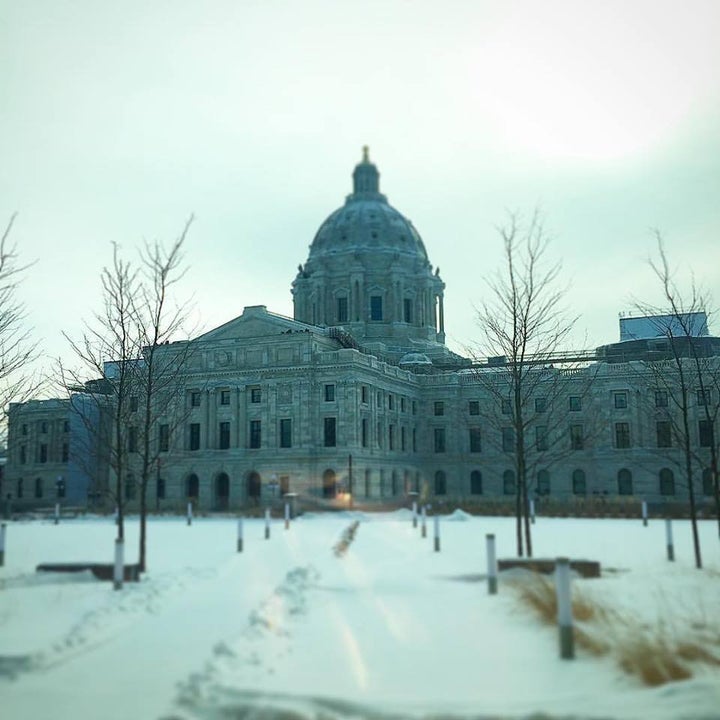 A group of Citizen Advocates, spearheaded by the Minnesota Brain Injury Alliance, are spending Tuesdays at the Capitol in an effort to bring their personal stories to the forefront of their Legislature's radar.
Here is a brief overview of how the system currently works (Note: Medicaid, Medical Assistance, and MA all refer to the same program):
Medical Assistance with Disability qualifying limit is 100% of the poverty level, or $990 per month, and an asset limit of $3,000
The spend-down for people with disabilities is 80% of the poverty level, or $792 per month.
Straight Medical Assistance (without disability) qualifying limit is 133% of the poverty level, or $1,317 per month, with no asset limit.
Medical Assistance with Disability is the only way to access the waiver program, which allows them to continue living independently, and without they would end up institutionalized (ie: nursing home, group home, etc).
Minnesota currently has the fewest people with disabilities living in institutions
Basically, a disabled Minnesotan receiving SSDI (social security disability insurance) of $1000 a month would be required to pay out of their own pocket the first $208 of their monthly medical bills — leaving them with $792 to cover all of their expenses for the entire month. SSDI is something they have PAID INTO during their working career. They were disabled through no fault of their own and they should be able to keep it to live off of — they earned it.
Representative Nick Zerwas from Elk River is the chief author of the MA bill HF225, attempting to raise the spend-down to $990 per month (the poverty level) and the asset limit to $10,000.
Rik Seiler of Saint Paul, MN sustained a traumatic brain injury (TBI) in 2014 when a car slid into him on an icy patch of Highway 169 in Shakopee, MN. He had just rescued a 19 year old driver whose car had flipped on that same patch of ice. After two months in an induced coma, he had to learn to talk, swallow, and eat all over again.
He has limited mobility and relies on many of the waiver programs to remain living independently, including: Metro Mobility, personal care assistance, meals, and an independent living skills worker. He lives on just $1000 a month from his SSDI — which he paid into while working construction for 25 years.
Rik is only able to afford his rent through the generosity of others, because of the spend-down he is only left with $792 a month, which barely covers his living expenses (without rent).
He is one of the many disabled who are lobbying for a reduction in the MA spend-down. Raising the spend-down limit to "just" the poverty level will allow those living off their SSDI to keep more money in their checkbook and to pay other living expenses. It will cost $27M biennium, but is a whole lot less than the cost of putting these individuals into an assisted care facility.
Living in an institution is more expensive than fixing the spend-down.
Many of those relying on straight MA through the MA Expansion (like myself) are at risk of losing their benefits with the repeal of the Affordable Health Care Act (ACA, Obamacare). Those with MA Disability are at risk of losing their benefits because of block grants that the GOP wants to push through.
What can you do?? - Send an email to your local state legislatures. Share this article with them. Tell them how the spend-down affects you or someone you know directly. Call your state legislatures. Simply tell them to "raise the spend-down standards." Ask for an appointment to meet with your state representative and senator in person (if you're able).
Amy Zellmer is an award-winning author, speaker, and advocate of traumatic brain injury (TBI). She is a frequent contributor to the Huffington Post, and has created a private Facebook group for survivors and also produces a podcast series. She sits on the Brain Injury Advisory Council (BIAC) through the Brain Injury Association of America's and is involved with the Minnesota Brain Injury Alliance. She travels the country with her Yorkie, Pixxie, to help raise awareness about this silent and invisible injury that affects over 2.5 million Americans each year.