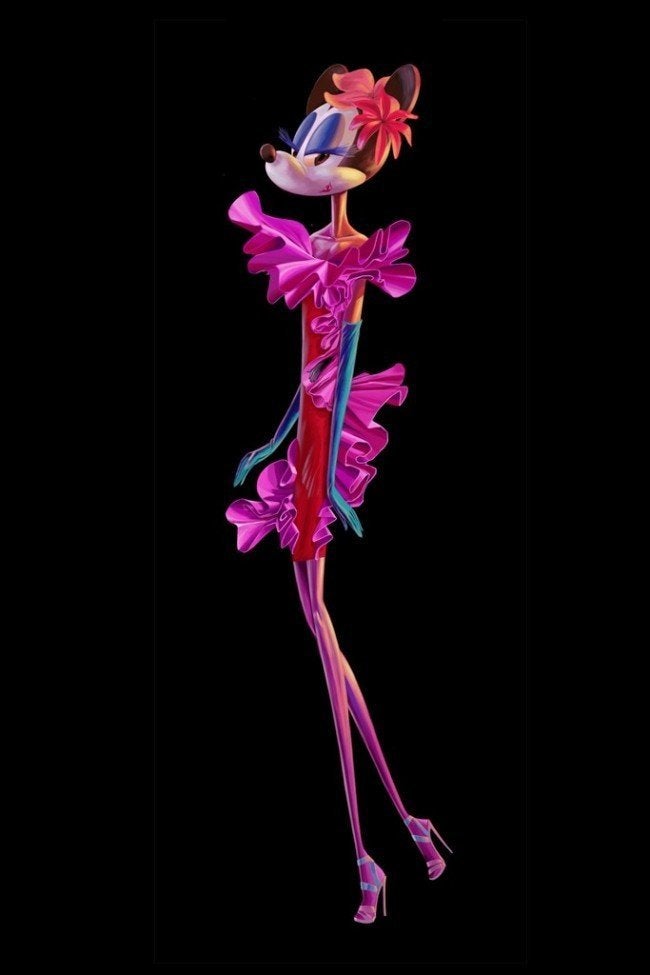 And now, a lesson in thinness, brought to you by Disney and Barney's.
You may have heard about the luxury department store's "Electric Holiday" campaign that stretches and slenderizes some familiar childhood figures. While several Disney staples are undergoing serious makeovers for the promotion, none have caused quite the controversy Minnie Mouse has.
The formerly rounded rodent was given a big boost in the height department and a presumably restrictive meal plan, all to don a designer Lanvin gown which Barney's creative director, Dennis Freedman, pointed out "will not look so good" on standard-issue Minnie.
Ah, surely a crafty public relations expert would come to the rescue, reassuring the public that the skinny Minnie scandal was all a mistake. Perhaps it was a lapse in judgment or a poor decision on the part of marketing gurus. Certainly the bigwigs would acknowledge the negative impact their emaciation of a beloved character was having?
So yes, Barney's and Disney are sorry. They're sorry that all of us uppity "activist" types interpreted a skeletal Minnie to represent something deeper than what she's truly intended to epitomize: the universally appealing fantasy of thinness -- the one unifying goal we can all strive for in our fantasies! Truly, the stuff dreams are made of.
Perhaps Barney's and Disney executives are choosing not to acknowledge Freedman's remarks regarding the requisite 5'11 stature necessary to model a Lanvin masterpiece, because their statement directly contradicts them. If Minnie wakes from her dream wearing the same designer dress, shouldn't that mean that all shapes and sizes are deserving of high fashion? And if that's the case, then why continue marketing luxury brands to one incredibly specific, rare body type?
It's hard to write two consecutive rants about Minnie Mouse without feeling a little silly, but this issue has sparked such serious debate among my friends and colleagues, I can't help but truly believe the Disney/Barney's debacle exemplifies something substantial. As my friend and fellow J-Schooler Lexi Pandell pointed out, the automatic association between glamour and thinness is an issue in itself. Our classmate Stacey Kennelly chimed in that the entire fashion industry -- from the shopping mall chain stores to the high-end boutiques -- needs a serious overhaul in the sizing department.
And while it's common knowledge that elegant garments frequently require lithe, lanky, clothes hanger frames to properly hang from, isn't that stipulation indicative of the garments' inadequacies, not of any shortcomings associated with the curvier bodies "unfit" to wear them? As Ragen Chastain wrote in her petition, "The problem isn't with Minnie's body. It's with a dress that only looks good on a woman who is 5'11 and a size zero."
The fashion industry won't change overnight, and I'm not sure anyone expects it to. What some of us do expect is a sincere acknowledgement of the role images like skinny Minnie's have in perpetuating narrow and damaging societal standards. To write Chastain's petition off with a patronizing press release is to belittle the legitimate concerns of her 136,000 (and counting) supporters, and the grievances of countless other men and women who have never seen themselves represented or reflected in mainstream marketing.
Let's hope Disney and Barney's come to their senses and find some chic, stylish threads for the real Minnie and crew to fit into soon.
Related
Popular in the Community