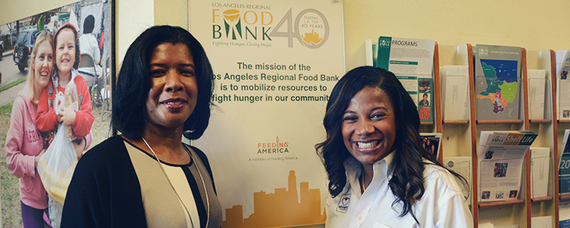 Last week the organization I founded, Minnie's Food Pantry, celebrated its seventh anniversary of service to the North Texas community. We feel blessed to be called to this work and have the opportunity to fill such an important role for those struggling to make ends meet. The fact that our services are in such great demand speaks volumes about the world we live in where so many have slipped through the "social safety net" that is supposed to protect us.
We celebrate our anniversary each year with a gala, which provides an opportunity to acknowledge and honor the efforts of those who work alongside us to make a difference in our community and to help those in need. We are reminded that we are not alone in what we do. One of the people I am fortunate to call a friend and partner in our work, and who was on hand for our celebration, is the Director of Let's Move Nation, Denise Brown.
Denise and I both work with high-need communities addressing inequities and health challenges from seemingly different perspectives. Minnie's Food Pantry works to ensure that hungry people get food - balanced, healthy, nutritious meals. Let's Move Nation is dedicated to promoting nutrition education and physical activity in the fight against obesity and other chronic diseases. I realized recently that our work intersects at a very critical point - access to healthy food in low income, disadvantaged communities.
In Denise's work with Let's Move!, she has seen the trade-offs that low-income individuals have to make feeding themselves and their families. When you lack transportation and time, and have safety concerns in your neighborhood, you are often forced to shop in local convenience stores surrounded by alcohol and tobacco advertisements, shelves stocked with processed, unhealthy foods, and little or no access to fresh meats, fruits and vegetables. Welcome to the food desert.
Many don't have the funds to shop at the corner store or the local gas station. And, yes, some of our neighbors do most of their grocery shopping at the gas station. What if your choices came from a bag filled with generous donations, but in some cases those donations were limited in their nutritional benefit, weren't nutritious at all, or didn't allow you to create a balanced, healthy meal for your children? Welcome to life in the food donation line. These are the people Millie's Food Pantry wants to serve.
We don't need statistics to see what is happening in our communities. We just have to keep our eyes open and see those around us who are working hard, but hardly getting by. We have to believe "I can make a difference." Often the question "what difference can one person make?" is the question that can holds us back from doing anything.
One person can make a difference. I wanted to make a difference when I opened up a food pantry in a Texas suburb and was told there are no hungry people here. Whoever thought that surely had their eyes closed. Denise wanted to make a difference when she took part in the very early discussions about Let's Move! and the fight against childhood obesity - especially in high need communities - at the invitation of President Obama and the First Lady.
When you're lucky enough to find like-minded people fighting the same fight, you have the potential to double your impact and expand your reach. I'm proud to announce a new partnership between Minnie's Food Pantry and Let's Move Nation to open healthy food pantries in Los Angeles. Together we can combat hunger and the obesity/chronic disease epidemic among L.A.'s high need communities. Together, we can not only create a healthier generation--but feed one too. I'm also excited to announce that Ray Lewis, former Ravens Linebacker and Superbowl MVP, has joined the Let's Move Nation and will be partnering on this initiative as well as helping create a nationwide platform to raise awareness.
If you want to succeed - let alone deal with life's difficulties - you need to be healthy. The stresses of everyday life can take down the healthiest people, let alone those battling some of its most difficult challenges. This is why we are fighting to create a healthier generation among those most in need.
Learn more about our partnership initiative by visiting Minnie's Food Pantry at minniesfoodpantry.org or our Let's Move Nation friends at letsmovenation.org.
Hungry To Serve,
Dr. Cheryl Jackson
Follow me:
Twitter @CherylAction
Instagram @CherylAction
REAL LIFE. REAL NEWS. REAL VOICES.
Help us tell more of the stories that matter from voices that too often remain unheard.