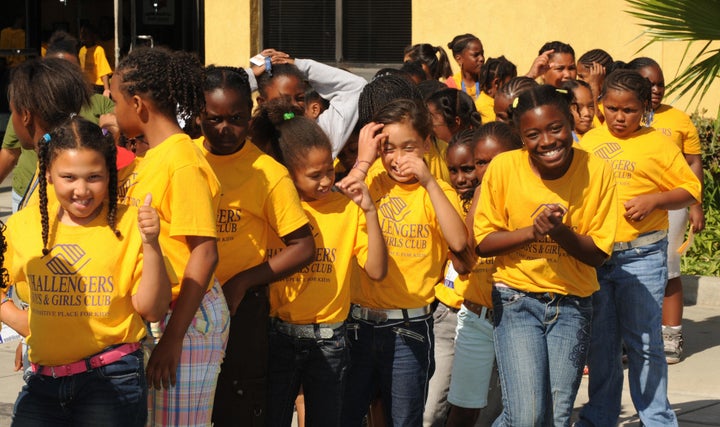 Children of color are four times more likely than their white peers to be born into a poor family and suffer a lifetime of consequences, ranging from diminished academic standing to increased financial insecurity, a report released Thursday found.
Beyond financial comfort, even practical dreams of education and savings remain an elusive idea for many nonwhite Americans. The nation's racial wealth disparity is more pronounced in the lives of children, the study, prepared by the California-based Insight Center for Community Economic Development, revealed.
"You could say that, 'oh these poor children of color, they are doing so badly. We should help them out of...generosity,'" said Trina Shanks, associate professor at the University of Michigan School of Social Work, who authored the report. "But this is a different conversation. What we are saying here is look at the numbers. Children of color will represent the majority of children in the United States in 2024, 2024. Right now, so many of these children are living and learning in conditions that diminish their potential as early as two years old. If we...help families build just the most basic of assets, it can benefit the country over a longer period of time."
In about 13 years, the population of black, Latino, Asian, Native American and Pacific Islander youths is expected to collectively outpace the number of white children living in the United States.
Right now, Latino, black and Native American children under the age of five are three times as likely as their white and certain Asian counterparts to live in households with very little income and sometimes, zero assets, the study found. And even when children of color come from homes that do hold wealth-building assets, the value of what their families own is generally worth less than that of white children, according to the report.
That is why some white Americans who don't earn high incomes or build their own assets can still turn to their parents or other relatives for financial help when it is time, for instance, to move to a better school district. But many families of color don't have relatives with deeper pockets, Shanks said.
"There will be people who look at this study and say, you know, I can provide a little help to my family if the time comes," said Shanks. "...But what you are essentially saying is, you don't mind people who have historically had more continuing to have more. You are almost guaranteeing that inequities are going to continue over time."
In 2007, just under one third of white households with young children throughout the country had incomes below the poverty level, and about 14 percent had no assets. But a full 69 percent of similar Latino households and 71 percent of black families lived below the poverty line. In each case, 40 percent of such black and Latino families also had no assets.
Between 1994 and 2007, the wealth gap between white and black households with children increased by $22,000. And in a two-year period between 2005 and 2007, the percentage of black households living with no or negative net worth--debt--grew from 35 to 39. During that same stretch, the share of white families with zero net worth remained steady at 15 percent.
Goodwill Industries of Greater Detroit works to reduce poverty by strengthening families and helping poor individuals overcome obstacles. About 77 percent of Detroit's population is black and seven percent Latino, and nearly 28 percent of the city's residents lived in poverty in 2009.
This year, a $2.5 million corporate donation from Walmart allowed the agency to launch Beyond Jobs, a pilot program that will serve 250 poor single mothers and their families. Many of the women were born into poverty, sometimes second-generation poverty. According to Jaycee Memminger, women's services coordinator for Beyond Jobs and Flip The Script, another poverty-reduction program, the effects of lifelong poverty are clear among her clients.
Memminger, for instance, has seen grown women come to the realization that it might not be wise to keep their money in a shoebox beneath their bed.
She's talked to women in their 30s and 40s who have never held a job or earned more than $7.40 and hour.
And this year, thanks in part to the work of her programs, she's seen some of these women enter college. She's heard her clients discuss the way their parents' expectations shaped them, and witnessed them reflect upon the impact their own financial standing, lack of education and emotional baggage may have on their children.
"We are talking about a population that hasn't been given the opportunity to put very much thought beyond today," Memminger said. "It really isn't uncommon for us to ask a client about a career path, or even their dreams, and they will literally sit in silence. Poor people can get so busy surviving that their sense of agency, that they can in some way shape their destiny, is just zapped."
"Now imagine being a single mother raising kids," she continued. "How do you teach your children anything different?"
The Center's report advocates for a series of what it calls asset-building public policies that can help poor families build modest savings accounts, which they can then use to cover emergency expenses or education costs. Such policies also aim to enhance the poor's understanding of non-predatory financial services.
In Singapore, the government deposits small amounts of money into an account for each child born, Shanks said. That money can be withdrawn to cover costs such as extra tutoring for children or higher education for young adults. Or it can sit, earn interest and become the sort of nest egg or emergency fund the child's future family may need.
As a result, almost all families in Singapore--regardless of income--own their own homes. Those homes can then be used to finance business investments or education for subsequent generations, said Shanks.
"Income matters, but assets, and what they can do for a child and its family, matter more," said Shanks.
Many families cycle in and out of poverty a number of times, usually because of economic shocks like a job loss and a lack of savings, the study found.
Poverty itself can damage a child's physical health and cognitive skills, said Curtis Skinner, director of Family Economic Security for the National Center for Children in Poverty at Columbia University. Chronic asthma, depression, anxiety and behavioral problems are far more common among poor children. These conditions make it more likely that the child will not graduate from high school or college, increasing the chances a poor child will go on to become a poor adult, Skinner said.
"It becomes a vicious circle," said Skinner. "Unfortunately, its such an engrained part of the United States' culture. We still have a lot of this pull your self up by your bootstraps notion. And it is kind of romantic to think that poverty is simply about character and fortitude and anyone can escape it. But that's a notion. That's not the truth."
Since the recession began, newspapers across the country have been filled with stories about people forced to visit community food pantries who never thought they would have to. It's possible the recession has exposed some of the structural issues--rather than character concerns--that contribute to low incomes and the lack of savings and assets, said Skinner.
Getting past common assumptions about character and poverty might allow lawmakers to work on creating policies that would reduce poverty and trim the vast wealth gaps between demographic groups, Skinner said. Right now, 12 percent of white children live in poverty compared to 33 percent of Latino kids and 36 percent of black children.
But the nation does not appear to be ready.
"We've been a little disappointed, actually," Skinner said. "Despite these disturbing increases in poverty due to the recession, no one likes to actually use the word poverty anymore. President Obama didn't use it once in the State of the Union. Instead, what we heard was a lot of talk about the middle class. Everyone is not middle class."
Related
Popular in the Community