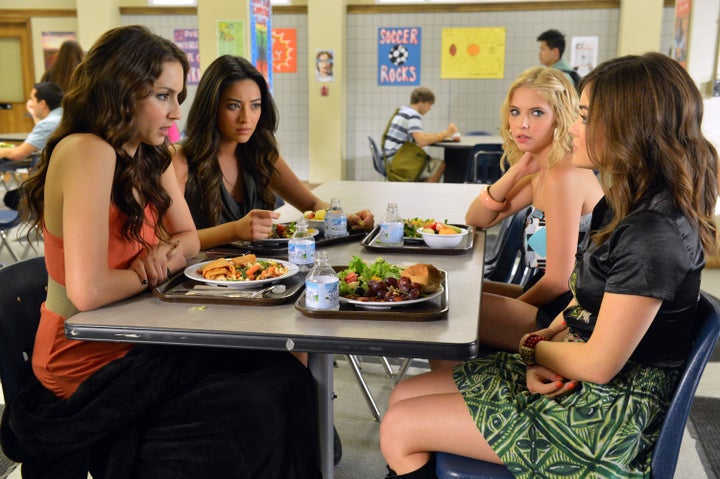 The casting process is an experience all actors must go through. It's what they all strive to achieve. Actors are always seeking opportunities like these to audition for great roles, whether they are for the lead or a supporting role.
For minority actors, finding prominent roles in North American television is more difficult in comparison to the caucasian majority. Asians and LGBT (Lesbian, Gay, Bisexual, and Transgender) are two minority groups that struggle to find representation in North American television. Specifically in shows for young people, minorities struggle with stereotyped characters and shortage of great roles.
GLAAD (The Gay and Lesbian Alliance Against Defamation), an organization that represents the LGBT community in the media, found in its 2011-2012 annual report about diversity on television, that the estimated percentage of LGBT scripted characters were 2.9% of all scripted regular characters on major U.S. networks. It was down from the previous television season which had 19 series regular characters who were LGBT. The number of current supporting or recurring LGBT characters is 26.
Sharon Forrest of Forrest and Forrest Casting says the increase in immigrants into the cities like Toronto, increases the demand for more ethnic diversity on television. "People want to see all different ethnicities," says Forrest. "It represents what the city looks like." But Forrest says that casting depends on the story and setting. A show set in a small town will have fewer minority characters than if it were in a big city.
Shannon Kook is one of the most prominent ethnic-minority actors currently working in North America. He is of South African and Chinese ethnic background. Among his upcoming projects is a lead role in The Warren Files (also known as The Conjuring), alongside Oscar-nominated actress Vera Farmiga and Patrick Wilson, to be released on January 25, 2013.
His previous work includes guest starring roles in Rookie Blue and Durham County. But his most famous role to date is as Zane Park for three seasons on the Canadian teen drama Degrassi: The Next Generation.
Zane Park is both Asian and gay. The only other gay male character on a current teenage series that possibly represents the same minority groups is Blaine Anderson on Glee. Blaine is played by Darren Criss, who is half Filipino and half Irish. His character is openly homosexual, but there is no confirmation yet if he is also of mixed ethnicity.
Kook's character was cast with no ethnic background attached. "They came up with Park," says Kook. "He wasn't Asian. He was just described as gay and possibly recurring." In portraying Zane, Kook wanted to play him as a regular guy. "I wasn't going to ham him up, and you know, give him flamboyant mannerisms."
He acknowledges that Asian actors struggle to find lead roles in North America. "The problem is that all the ethnic people are only playing side characters," he says. "The heroes are always white. The villains or the side characters are always ethnic." Fellow minority actors have told him about their frustration with playing stereotypical characters lacking depth, he says.
On the show, Zane Park played the boyfriend of Riley Stavros, a teen who struggled with the decision to stay in the closet or come out. Zane is an instigator, but a positive influence. In contrast to most gay characters on television, both Zane and Riley are more masculine than the flamboyant gay stereotype commonly seen on television or film.
Playing a complex character is important to Kook. "With Zane I loved it because I got to play him as a full person rather than being just a gay guy," says Kook. "Even though my storyline was predominantly about being gay, as a character he was more. I think that really left me fulfilled because I didn't feel like I was playing some talking head and perpetuating a stereotype."
"It's important what you put on screen," says Kook. "You don't realize that this is what people are seeing. When I was a kid I struggled to find role models. I saw myself as being Asian. I saw myself in a certain way because of what the media told me, and they're still telling to us."
Max Gouttebroze, the entertainment media strategist for GLAAD lists Degrassi, Glee and Pretty Little Liars as examples of teen shows that bring diversity to the portrayal of LGBT characters. According to Gouttebroze, these shows accept that LGBT people are an important part of our society. "The characters we see on those programs are deeply interwoven into the storylines," says Gouttebroze. "Their orientation is often addressed as part of their being and is usually not sensationalized."
Kook admits that he is sometimes offered stereotypical roles. "If I come in with an Asian accent, it has to be a very heavy Asian accent," says Kook. "I can't just be an Asian guy with an Asian accent. I have to have this comical Asian accent. It's all relative to what the role is and the story."
So which group is finding more progress in the issue of representation and inclusiveness? "I almost feel like there are more gay leads than there are Asians," says Kook. "The gay community has been very united in coming forward and being proud of themselves." He says he is frustrated with the ignorant jokes that Asian men have to deal with because of how they are represented on television or film. "I want people to stop coming to me thinking I do karate, or I that have a small dick. The same jokes over and over. Or that I'm less of a man for you because I have less hair on my chest."
However, he acknowledges that both groups struggle with discrimination. "I found Asian men have been very castrated of their manhood, as well as gay men," he says. "That's why Zane spoke so much to me because I wanted to make Zane a young man, and he was gay and Asian. I could both at the same time, play a gay character with strength."
Bobby Del Rio is a Canadian actor and founder of INCLUDE (Integrating Networks of Cultures, Learning and Understanding Diversity in Entertainment), a free multicultural network which promotes diversity in Canadian film and television. The organization shares news among its members for auditions, job opportunities, and articles that affect visible minorities in the entertainment industry.
An advantage some actors may have is racial ambiguity. If an actor is mixed, he or she is more likely to be able to play different ethnic backgrounds. Del Rio is half Chinese and half Italian. He gets auditions for Native, Asian, Latino, Inuit and Indian characters. But it is not always an advantage for him. "I've been turned down for Asian roles because they're like, I look too white," he says. "People evaluate you on the perception of your face."
One of the top casting directors in Canada, Stephanie Gorin, says that the acting business needs more diversity. She says producers she works with make an effort to cast minorities, but there are simply more Caucasian actors in the business. "Let's say out of 100 people who were submitted for a specific role, like a 16-year-old teenage boy," she says. "Of those 100 people submitted, there might only be 10 people who are ethnic."
But Del Rio believes agents are aware that the most of roles go to Caucasian actors and therefore push harder for them. "It's going to create this illusion that there's less minority actors than there really are," says Del Rio.
A script is sometimes changed to alter a character's ethnic background because a specific actor is wanted for that role. Sharon Forrest says this happens frequently. As long as it does not change what the role is about, then they are open to casting a different ethnicity. This is ultimately the decision of the producers and writers, not the casting directors.
With the portrayal of minority characters on television, there is an opportunity to challenge false stereotypes. But some people are close-minded and will refuse to accept anything outside of societal norms. Kook does not believe that stereotyping and ignorance is deliberate. "It's just the repercussions of what's shown on TV," he says. "Whatever you show on TV does need to have some kind of representation of what the world is."
Diversity on television is not always easily accepted. The introduction of Adam Torres, played by Jordan Todosey, in the tenth season of Degrassi created controversy because Adam is their first ever transgender character. Adam was born a female, but identifies, behaves and dresses as a boy. Adam represented a huge step forward for the transgender community. But some viewers were intimidated by this change. The Florida Family Association (FFA) boycotted the show.
In a statement to The Huffington Post, FFA founder David Canton said it "licentiously appealed to the prurient nature of teenagers." He claimed that the storylines and characters promoted behavior that did not normally happen in high schools.
In relation to the responsibility of television shows and characters representing minority groups, are the young teenage viewers who are the target demographic of these programs. With minority characters that are at risk of being stereotyped, there is the sensitive issue in portraying them in a way that is a positive influence for the young viewers.
Thanks to the role of Zane Park, Kook has been able to inspire young viewers who are struggling with their sexuality. "I've got so many letters from fans," says Kook of the fan response towards his character. "I'm very grateful for everything I get." He receives countless fans message of support on his Twitter and Facebook fan page.
As much progress as there is in more mainstream shows featuring Asian or LGBT characters in major roles, the fight for equality is far from over. "We can't just moan about the situation," he says. "We need to write from our own perspective and get those sorts of things forward, and do justice to our roles."
He says it should not be about hiring an actor because he or she is a minority. It should always be about the talent and who deserves the role. "We need to give a good job. If we don't do a good job, then they're not gonna want to put us there."
Popular in the Community