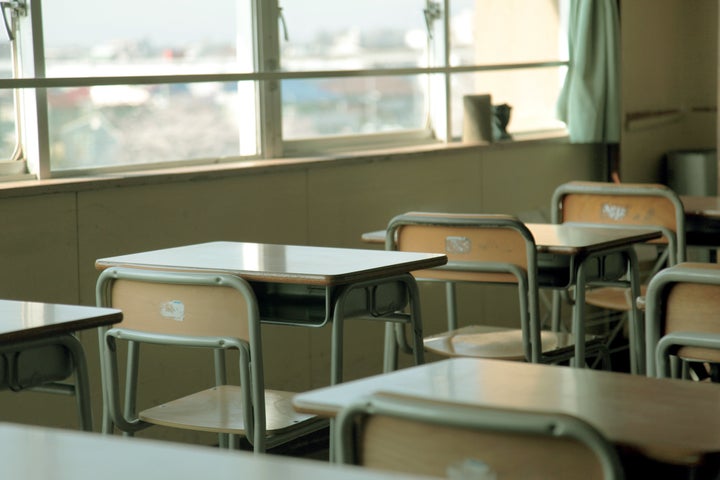 American students are looking less and less like their teachers. While most American teachers are white women, a majority of K-12 students are from minority groups. To solve this problem, foundations, states and local communities have tried to step up their recruitment of minority teachers.
But this strategy is only half of the solution, according to a new research brief out Wednesday. The other part is keeping teachers in the classroom once they're there.
The brief, released by the Learning Policy Institute and written by University of Pennsylvania professor Richard Ingersoll and University of Delaware Professor Henry May, looks at the reasons behind the gap in percentages of minority teachers and minority students. It considers decades of data on who's entering and leaving the profession, and confronts conventional wisdom about why there aren't enough teachers of color.
Since 1987, there has been a big increase in the percentage of minority teachers ― even outpacing the growth in the levels of minority students. From 1987 to 2013, the share of teachers who are non-white increased from 12 to 17 percent, the professors found.
This contradicts the idea that there is a growing shortage of minority teachers. In fact, increased recruitment of minority teachers is somewhat of an "unheralded victory," Ingersoll said on a call with reporters. "There's not parity, but there's been this big, big increase."
The big problem, according to the brief, lies in retention. Over the past several decades, minority teachers ― especially male minority teachers ― have switched schools or left the profession at higher rates than their non-minority counterparts. During the 2012-2013 school year, for example, the turnover rate for minority teachers was nearly 19 percent, compared to 15 percent for non-minority teachers. These high turnover rates undermine recruitment efforts, says the brief.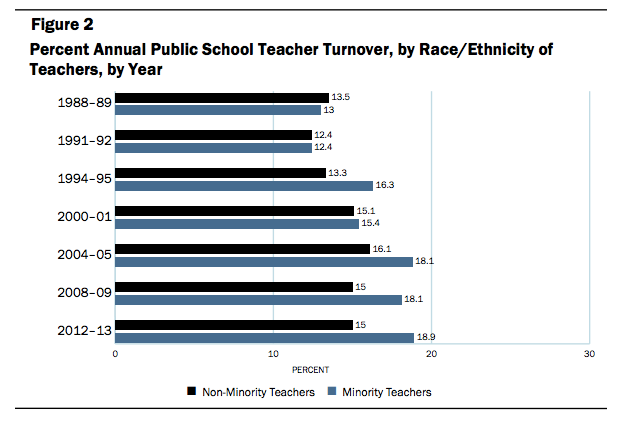 So what's the reason for these disproportionate turnover rates? It's not salary or classroom resources, according to survey data. The factors that most often played into a minority teacher's decision to leave the classroom "were the level of collective faculty decision-making influence in the school and the degree of individual instructional autonomy held by teachers in their classrooms," the brief said.
In sum, these teachers leave the classroom when they feel like they are not being given the space and autonomy to do their jobs. The issues might be particularly acute in schools where minority teachers tend to work, which are hard-to-staff schools with high levels of disadvantaged students. These schools might have "less desirable working conditions," according to the brief.
Pamela Lewis, author of the book Teaching While Black, can relate. She is currently an instructional coach and spent years as a classroom teacher in New York City.
Minority teachers are more likely to work in schools with high concentrations of students of color. But because of unconscious and overt biases, Lewis noted that school administrators do not always value those teachers' experiences they way they should. This especially stings when those teachers know they bring unique perspective to the classroom that can help students who look like them.
"It's one thing to work in a corporate firm where you're the token black guy or woman and people say things about you or about your culture as a joke, or don't acknowledge something you brought to the table," said Lewis. "It's another when the thing you bring to the table can help your own people, your own children."
The stakes in this issue are high. Currently, black students face harsher punishments than their white counterparts, and are disciplined at disproportionate rates. However, a 2015 study found that when black students have a teacher of the same race, this isn't the case. Black students also do better academically when they are taught by someone who looks like them.
Theoretically, improving some of these issues related to working conditions shouldn't be too difficult, according to Ingersoll, who thinks recruitment and retention strategies should be devised together. It doesn't cost "a lot of money to fix the key conditions that drive out minority teachers," he said, including problems like a "lack of autonomy and discretion in the classroom combined with lack of input into decision-making in the schools."
"Raising salaries is very expensive; fixing someone's working conditions is less so. We could go a long way toward achieving parity in the numbers of minority teachers and students in this country," he said.
Before You Go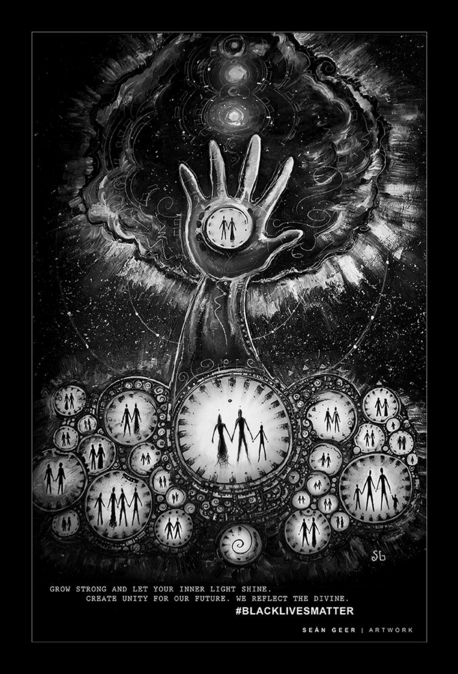 29 Inspiring Essays And Illustrations That Explore The State Of Black Future
Popular in the Community