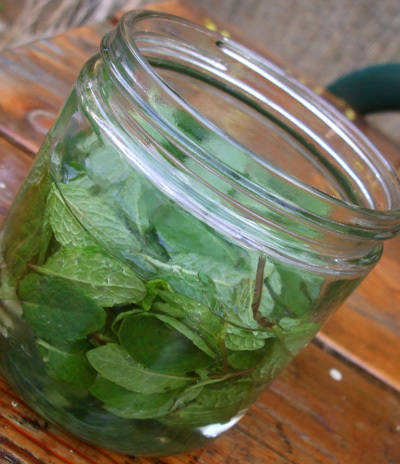 I've come to realize that the Kentucky Derby is a pagan holiday: On the first Saturday in May, a lot of people don ritual costumes, sing ritual songs, and drink ritual libations while they attempt to foresee the future by interpreting a coded and vague bit of poetry written into the past performances in the pages of the Daily Racing Form. Like other holidays rooted in the natural anxiety of changing seasons and uncertain futures, it is best enjoyed by groups. Don't sit alone swilling bourbon and wiring more and more money to your bookie, you'll go completely crazy. Spring is in the air. The high holy day of the Derby is a social celebration. It's time to gather friends and set up a betting pool.
Even up North, the mint has grown enough to warrant harvesting. Its gentle leaves are begging to be muddled. I've come to think that mint juleps are best made one at a time, or in small numbers at most, from fresh mint and sugar topped with bourbon, and packed with pillowy crushed ice and garnished with a lot more fresh mint. Sadly, however, doing that for a Derby party of even six people would mean that you'd be at the mixing station almost constantly. Mint Juleps are delicious drinks, and people drink them quickly. Even the host of the party needs some time to handicap the race, call in some bets, and watch the post parade.
The solution is to batch them. Start with minted simple syrup.

* * *
The day before you need the drinks, make a batch of simple syrup by combining one cup each of sugar and water in a sauce pan, and bringing it to a boil over medium heat. Some recipes call for five minutes of boiling, but whenever the syrup is clear and the sugar is dissolved, you are finished. Cut the heat and let it cool.
Rinse a bunch of mint and pluck the leaves. Take the cooled -- or mostly cooled -- syrup and pack it with mint leaves plucked from their stems. The stems can add woody, soapy flavors, so take the extra time to pluck. Leave the syrup and mint in a jar in the fridge overnight.
The ratio of mint syrup to bourbon is largely up to you and depends, after all, on how sweet you like your drink. I like three ounces of bourbon to one ounce of syrup. Which means that one cup of minted simple syrup is enough for a 750 ml bottle of bourbon.
Strain a cup of mint syrup into a carafe and pour in a bottle of bourbon, give it a stir. (If you need it to be portable, buy a liter bottle of bourbon, fill up a flask and then fill the bottle back up with the mint syrup.) Now crush a whole heaping mountain of ice and keep a bunch of mint in a glass for garnish. Scoop ice, pour julep, garnish with mint, gamble away savings.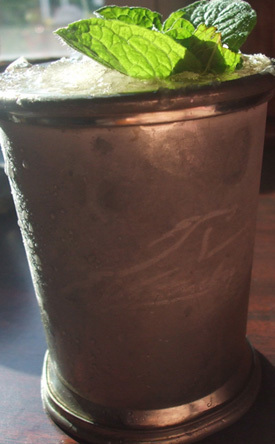 Popular in the Community