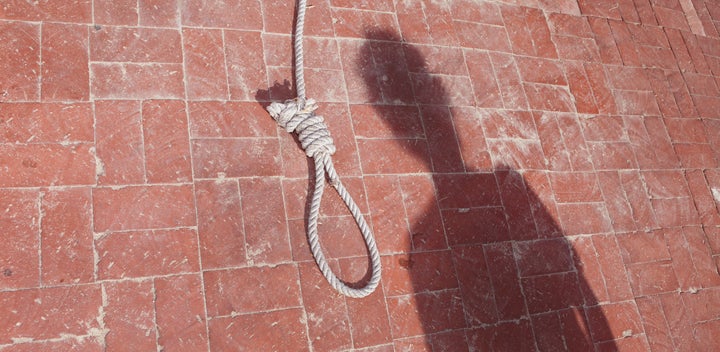 An employee of the U.S. Mint in Philadelphia allegedly threatened his African-American colleague with a noose at work.
The unidentified employee ― who operates coin-making machinery ― reportedly made a noose out of rope used for coin bags, then walked across the factory floor and left it at his colleague's work station, according to The New York Times. The entire incident, which occurred on June 28, was caught on security footage.
Rhonda Sapp, president of the Mint workers' union, confirmed to the Times that she was inundated with calls from horrified employees. The perpetrator was placed on administrative leave.
We have absolutely zero tolerance for the kind of misconduct reported at the Mint. [Treasury Secretary Steven Mnuchin] has directed that this matter be handled swiftly and seriously. The investigation is moving ahead quickly. We strive every day for a workplace environment that is welcoming and safe for all.
Nooses, a common and blatant symbol of hate used to intimidate African Americans, have been found in public places across the country this year.
In June, a noose was found hanging from a lamppost outside the National Gallery of Art in Washington, D.C. Also in Washington, on May 31, tourists found one lying on the floor inside the National Museum of African American History and Culture, and a week earlier, there was another hanging from a tree at the Hirshhorn Museum and Sculpture Garden.
Meanwhile, bananas were found hanging from nooses at American University in D.C. in May, following reports in September of bananas being used to harass students in two other incidents (no nooses were involved).
"While this incident targeted AU's chapter of Alpha Kappa Alpha Sorority ... and occurred after the first black woman and AKA member was sworn in as the Student Government president—our entire university community has been adversely affected by this cowardly, despicable act," university President Neil Kerwin said at the time.
Though current data on the frequency of these acts is hard to come by, the FBI documented a 6.7 percent increase in reported hate crimes in 2015, and other groups have documented a much more dramatic increase over the course of the last election cycle.
Popular in the Community