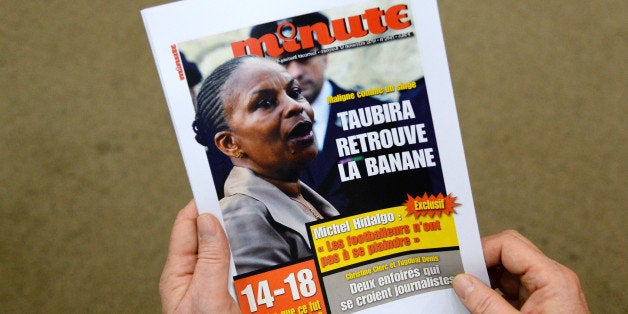 PARIS, Nov 13 (Reuters) - A French court opened a preliminary inquiry into a far-right magazine on Wednesday after the government complained about a front cover comparing France's black justice minister to a monkey.
The "Minute" weekly featured a picture of Justice Minister Christiane Taubira on its cover next to a caption that read: "Clever as a monkey, Taubira gets her banana back."
The magazine, whose cover exploits the fact that "banana" means "smile" in French slang, will add to fears of a rise in racism in France, coming weeks after a far-right local election candidate compared Taubira to a monkey on national TV.
"Racist attacks are unacceptable ... I vehemently condemn them and I am more than ever at Christiane Taubira's side," Prime Minister Jean-Marc Ayrault said after urging an inquiry into whether the cover broke French laws against hate speech.
A spokesman for the Paris prosecutor's office confirmed it would open a preliminary investigation on a possible charge of racist insult, a first step before a possible full inquiry.
Racial insults in public are punishable by up to six months in jail and fines of up to 25,000 euros. Latest circulation figures for "Minute" in 2006 puts it at 40,000.
The attacks against Taubira, who was born in French Guiana, coincide with growing support for Marine Le Pen's far-right party National Front party in parts of France hit hardest by factory closures and joblessness stuck above 11 percent.
Le Pen's party was shown in an opinion poll last month winning more votes than any other in a European parliamentary election in May next year, having gained ground along with euro-sceptic and anti-immigration parties across Europe.
Le Pen banned a candidate who compared Taubira to a monkey from running in a March 2014 local election. Another candidate was banned days later for belittling the Holocaust, a series that could hurt Le Pen's election chances.
The string of racist attacks on Taubira has prompted critics like Harry Roselmack - the first black prime-time news host on French public TV - to denounce a climate of worsening racial tension and increasingly uninhibited use of hate speech.
But Taubira herself declined to press charges against anyone who has insulted her, saying that legal action would serve as publicity and bolster support for the far-right.
Such attacks are not limited to France. Cecile Kyenge, an Italian citizen born in the Democratic Republic of Congo, has been the target of repeated racial slurs since her appointment as integration minister in April. (Reporting By Gerard Bon and Nicholas Vinocur; editing by Mark John)

Related
Popular in the Community