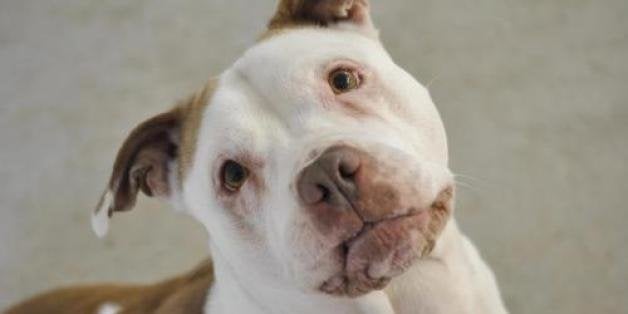 But don't feel sad for this sweet bear of a dog.
"Mira is the kind of dog that loves life, even her life here with us," says Britney Schoonmaker, who runs MHS's web and Facebook pages, cleans kennels, cares for animals, and helps out with anything else that needs doing at this shelter in New York's Hudson Valley.
"She gets excited to go outside, comes right up to her kennel door to see visitors and loves stuffed toys. Mira likes to play and run off-leash in our exercise yard, but she is also a couch potato and is content to lay around all day if you want," she says. "She grunts, snorts, and makes all kinds of other sounds that make people jump, but that's just our Mira!"
If Schoonmaker sounds a little like an enthusiastic matchmaker, it's because she is determined that, as satisfied as grunty little Mira may be with the current state of things, this dog will find a wonderful home.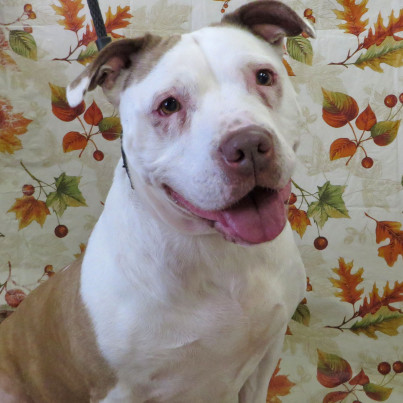 Here's Mira's adoption listing. (Middletown Humane Society)
At about 8 years old, Mira's spent nearly half her life at the shelter. She's MHS's longest resident.
"The second-longest is a husky/pit bull mix named Bowser, who has only been with us since around May of 2014," says Schoonmaker.
In a poignant Facebook post, a shelter volunteer named Danielle Hopper shared her theories as to why Mira's been overlooked all this time. She describes the day about a year ago when she saw past a big dog making scary noises, and got to know Mira in a way most potential adopters might not.
"I remember being so nervous of the dog from the corner cage who could eat my hand if she wanted to. I took her out to walk and she led me into the exercise yard," Hopper writes. "She took me into the exercise yard as if there was something she had to show me. And one year later, I've realized that she did show me something, she showed me her heart ... It surprised me when I looked at her in that moment, because I remember thinking that this is why you haven't been adopted yet, because nobody takes the time to get to see this side of you."
Schoonmaker's got some more ideas as to what's taking so long -- such as that when Mira first came to the shelter, false stereotypes about pit bulls were more widely accepted than they are today.
But even if more and more people are willing to bring blocky-headed dogs into their homes, Mira now has age working against her. And on top of that, this dog isn't great with other animals.
"She also has to be the only pet, and not a whole lot of people that come in are looking to restrict themselves so much," says Schoonmaker, who includes shelter staff in that group.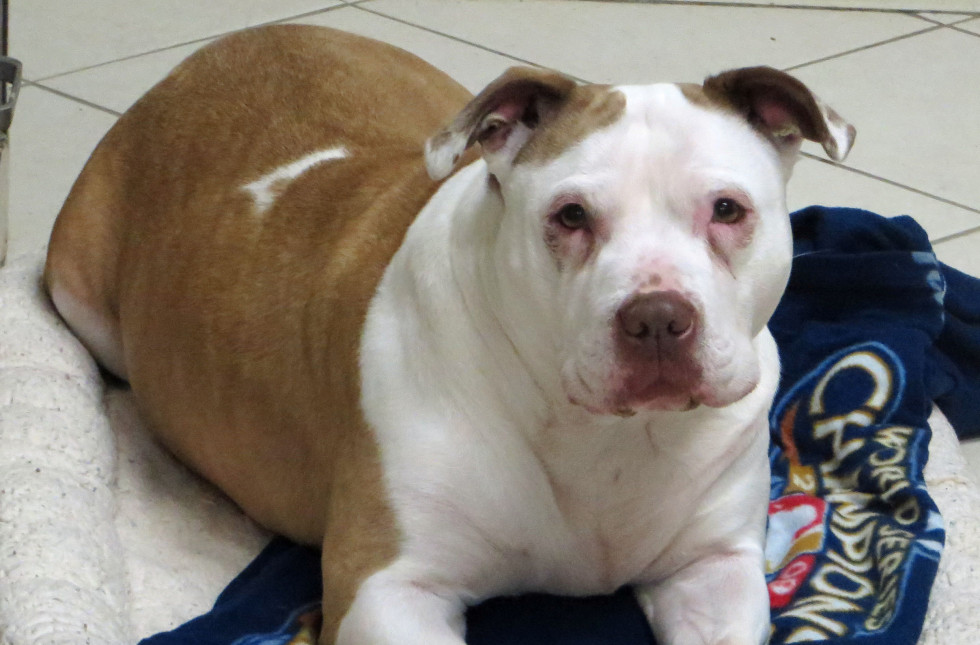 Here's Mira's adoption listing. (Middletown Humane Society)
"That couldn't be further from the truth. Mira is not sad or depressed," says Schoonmaker. "She gets fed twice a day, has a big bed full of blankets and comforters, has a roof over her head, gets daily walks, and has a building -- and the Internet! -- full of people who love her. The staff and volunteers are sad for her because of the fact that she is so happy here. The shelter is the equivalent of home for Mira, hinting that maybe she did not have all of these things wherever she was before."
While she can live at MHS for the rest of her life, if it comes to that, Schoonmaker and all the others caring for Mira want her to have more than just shelter and food and attention. They want her to have a home.
So Mira is prominently displayed on the MHS Facebook page, where Hopper's touching post is also featured. She's been advertised in the local paper.
Mira's adoption fee will be eliminated, "and we've recently had her loose in our office while visitors are there so she is seen out of her kennel," says Schoonmaker. "She would go to adoption events, but can't because of the other animals that go, too."
All that's needed now is for someone terrific to come into the shelter, where Mira can show off the wonderful dog she is, and why she should be their one and only for what is hoped -- what is expected -- will be many years to come.
"Mira's ideal 2015 would be in her very own home with a family that will love her forever," says Schoonmaker. "No dog should be as happy in a kennel as others are in a home. We want Mira to know how it feels to have a home and a family that loves her."
Get in touch at arin.greenwood@huffingtonpost.com if you have an animal story to share!

REAL LIFE. REAL NEWS. REAL VOICES.
Help us tell more of the stories that matter from voices that too often remain unheard.
BEFORE YOU GO
PHOTO GALLERY
These Pets Are Looking For Homes!