 WASHINGTON -- Academy Award-winning actress Mira Sorvino urged the nation's state legislators Thursday afternoon to pass new state-level laws to combat human trafficking.
Sorvino, a United Nations goodwill ambassador focused on human trafficking, said that more state laws are needed to augment current federal laws and to provide victims' services. State legislation, she said, would also aid local law enforcement in the crucial step of identifying instances of human trafficking.
"It should not just be the federal government fighting slavery," Sorvino said.
The state lawmakers are gathered in Washington this week for the fall meeting of the National Conference of State Legislatures.
Sorvino noted that sex trafficking and labor trafficking each constitute about half of all trafficking cases in the United States. Although many equate the term "trafficking" with the transportation of human beings from other countries to the U.S., she stressed that many of the cases are completely domestic. That means laws are needed in all states, not just those with major ports.
"It is a terrible, terrible world out there," Sorvino told legislators. "It is our own kids. It is not only foreign nationals."
Sorvino praised 28 states for adopting human trafficking laws in 2012, but said more needs to be done. She said that the Polaris Project, which works on human trafficking issues, has not found a single state that has adopted all 10 recommended measures.
Specifically, Sorvino called for efforts to train law enforcement officers to treat underage sex workers as victims and not criminals, to root out the causes of human trafficking in local communities, and to create victims' compensation funds through asset forfeiture.
She singled out one state in particular. "Wyoming, can you please tell me why you are the only state with no laws on slavery and sex trafficking?" she asked.
Wyoming state Senate Minority Leader John Hastert (D-Green River) spoke with Sorvino following her speech to explain that many of his fellow legislators do not believe human trafficking is a problem in the landlocked, sparsely populated state, but that advocates have been pressing the issue.
Wyoming state Rep. Dan Zwonitzer (R-Cheyenne), who was not attending the Washington conference, told The Huffington Post that legislation will be introduced by Reps. Cathy Connolly (D-Laramie) and Keith Gingery (R-Jackson) in the 2013 legislative session. Zwonitzer said that portions of Sorvino's agenda are already law in Wyoming but are not classified as anti-trafficking measures. He suggested that Connolly and Gingery's legislation has a strong chance of passing.
Sorvino is welcome to testify at a legislative hearing in Cheyenne at the end of January, Zwonitzer said.
When asked by HuffPost about that invitation, Sorvino said she welcomes the Wyoming legislation and would consider testifying if her schedule permitted. She also pushed Hastert to address the issue soon.
"To be the last state in the nation -- you have to wake up and smell the coffee," Sorvino told Hastert.
Before You Go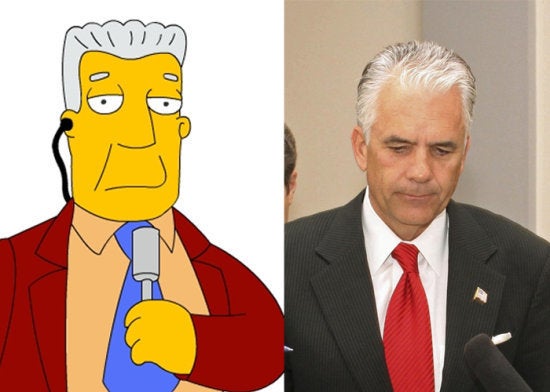 Political Look-Alikes
Popular in the Community