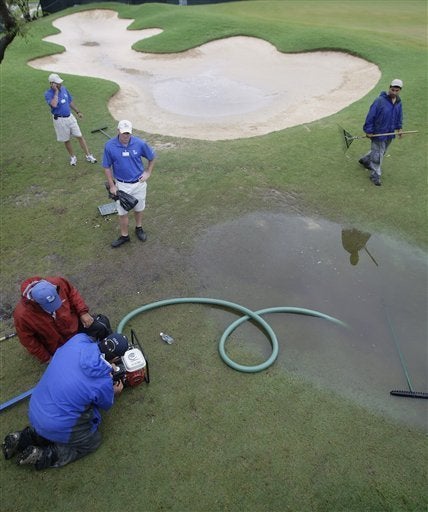 My golf buddy Bill is having both hips replaced this fall, and all I can think of is one unforgettable day in the early spring of 2006.
It was cold and wet and cloudy and Bill and I were the only two people on the golf course. Our only company was a dozen deer.
It was early spring of 2006, and we hadn't played in awhile. We expected a standard early spring hack-around at Indian Boundary, on the Northwest Side -- an investment in honing our golf swings for sunnier, warmer golf days to come.
So when we both got off to a good start, we didn't think much of it. As usual, we talked our way up and down the first few holes: mutual acquaintances. Articles we'd read in the newspaper. Last week's PGA tournament, this week's PGA tournament. Our work, our wives' work. Prospects for my Cubs and for his White Sox.
Bill and I didn't usually get somber until late on the front nine, when one or another of us realized the holes were dwindling and a deficit needed to be made up. Then, the talking gradually waned to "good shot," "nice putt" and "I think that one might be wet." And it was not uncommon nor uncomfortable for us to play the last five or six holes in stone silence broken only in the car on the way home, by National Public Radio.
We had started playing together shortly after we'd met 15 years ago -- he was my boss at a publishing company where we worked -- and in those days, we weren't all that competitive. He was 48, I was 23. He regularly shot in the 70s, while I usually struggled to crack 90. Occasionally I would play well and he would play poorly and we'd have a close match, but I never beat him more than once or twice in the couple-dozen rounds we played every year.
Eventually I got a little better and Bill got a little older. By 2000, he was mostly shooting in the mid-80s and so was I. And more recently, I had established the edge. After losing to him for so many years, I didn't wear my gathering dominance graciously, and after winning for so long, Bill didn't accept it gracefully. There was banter. There was trash talk. There was teasing. There were occasional arguments. He could be childish and I could be petty.
But on this particular day -- maybe because we felt we were lucky to be golfing at all in Chicago in March -- we talked cheerfully, taking little notice of the fact that Bill had made routine pars on the first seven holes. At the turn, I was four or five strokes behind, but I wasn't worried because I was playing well myself and I could expect the old man to have one or two bad holes on the back nine.
This was how we won or lost our matches -- and it's how most amateur golfers win or lose. While we all go to sleep dreaming of firing a five-iron at a tucked pin to make a birdie on the 18th hole, our waking rounds usually turn on a quadruple bogey on the 14th, caused by a drive out of bounds and an approach shot skulled into a pond.
In this way, over hundreds of unremembered rounds, Bill and I had issued each other countless bitter defeats and claimed as many slovenly victories. You'd think golf between us would have become meaningless long ago. But somehow, it hadn't. Even on a sloppy day on an undistinguished course in March, we both wanted to win.
But then Bill made a string of birdies so quickly and with so little bluster or even apparent effort that I didn't have time to get angry before I began to be excited by what he was doing. Suddenly he was two under par with one hole to play. Afraid of jinxing him, I didn't say anything, until his 18-foot birdie putt rolled downhill toward the hole.
"Yes!" we both shouted at once, hugging each other like Larson and Berra while the deer looked confusedly on.
A few years before he had shot a 71 in a tournament. But those few years hadn't been good years. He'd had a problem with his hip, he'd suffered from bad sleeping problems and chronic muscle stiffness. He'd been hitting the ball shorter and shorter distances and he'd threatened on a number of occasions to quit golf entirely. It had been awhile since he'd broken 80.
So while Bill's round of three under par wasn't exactly a miracle, it felt like one.
We should have called it quits.
But I wanted another crack at him -- drafting behind Bill's 69 car, I had shot a respectable 78 -- and Bill was hungry for more birdies. So we grabbed a bite in the empty clubhouse and set out into the cold and under the darkening clouds for another 18.
Even on a cold day, Bill and I thought nothing of playing 36 holes. Over the years we had barnstormed all around Illinois playing in 27- and 36-hole tournaments in small towns like Bushnell, Hamilton, Ottawa and Kewaunee. For us -- and Bill's wife Betty, who often came along on these trips to watch birds while we played golf -- golf was a happy reason to do what we also liked to do: Escape the city and drive for hours on two-lane roads through corn and soybean fields.
And talk, and talk, and talk.
When I met Bill, I was a hungry young writer from suburban Cleveland. Bill was 25 years older, a University of Chicago American history All But Dissertation entering middle age. That he hadn't found an outlet for his ideas didn't matter a whit to me. He was the first big-city intellectual I ever met and I was his pupil in literature, music, philosophy and golf. He loved to teach me and I loved to learn.
Over the years I had achieved some of my writing ambitions and put many others on the shelf, in favor of more realistic and more pleasurable pursuits, like golf. I had either appropriated or rejected most of Bill's ideas and, as he approached sixty, he wasn't making lots of new ones. Meanwhile, and just as importantly -- we were men, after all -- I had gotten better at golf, leaving Bill in an unfamiliar and ever-less-hopeful underdog role.
So if our friendship seemed unlikely in the beginning, what was much more unlikely was its survival all the way to the middle of that second 18.
"Dave, have you ever had a day when you just know you're going to hit every shot perfectly?" Bill asked me as he lined up a three-wood on the par-five 13th.
"Not a whole day," I admitted, too superstitious to add that I'd never seen anyone have a day like Bill was having.
"Well that's how I've felt all day long," he said without pride. And he blasted the ball down the middle and birdied the hole.
Cold rain began to pour as we arrived on the 18th tee. Incredibly, Bill was four under and needed only a par for a 68. In the downpour he suggested that maybe we ought to go to the car and call it a day. I suggested he was crazy if he thought we weren't going to finish the round. He made bogey, and finished with his second consecutive 69.
As usual, we didn't say much on the way home. We were wet and tired and quietly awestruck.
"David, I might as well tell you, I've been feeling a little inadequate lately."
"You have?" I said, though I knew perfectly well how inadequate he'd been feeling lately. I even felt a little guilty that maybe my relative youth, my golf winnings and my gloating had contributed in a small way to Bill's bad mood.
"This," Bill said quietly, "will help."
Postscript: About two weeks after his miraculous pair of 69s, Bill and Betty went on a birding vacation to Corpus Christi, Texas. Bill slipped on a mossy pier, fell on his elbow and tore his rotator cuff, necessitating surgery that kept him from playing golf all summer -- and, since he's 62, may reduce his strength and flexibility permanently. Then in November he had a heart attack, and now he's having his hips replaced and it's hard to imagine that we'll ever play in the same competitive way again.
Which only adds to the sense of wonder and happiness I feel whenever I think of what happened between Bill and me and a dozen deer on that that cold, wet gray day at Indian Boundary.
And I think of it very often.
Related
Popular in the Community