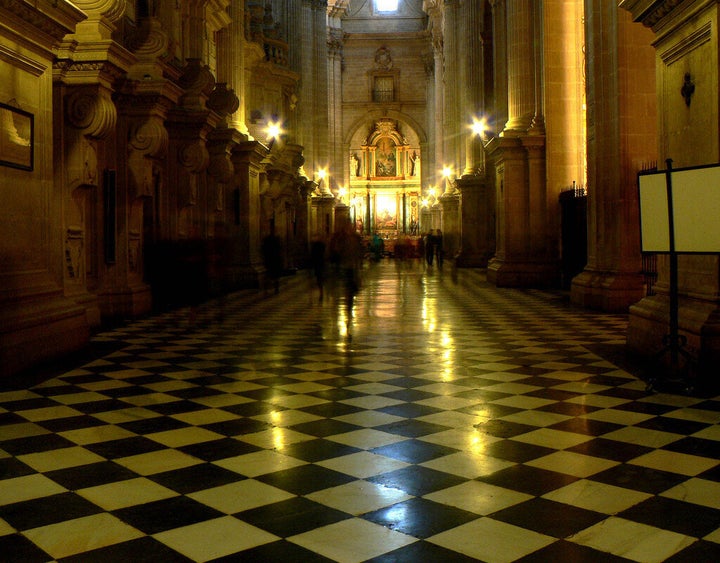 "To talk of 'entering' the past is absurd. But one can be entered by it, to a degree." --Elizabeth Bowen, 'A Time in Rome'
Heeding warnings I've heard about gifted pickpockets, I put my passport in my sock and wade into the teeming streets. My guidebook directs me to the Duomo, where San Gennaro's blood miraculously liquefies twice a year. His relics repose in the dazzling Chapel of the Treasure, encrusted with gold, silver, and precious stones, inlaid with colored marbles -- a soaring grotto of the High Baroque, every surface announcing the Church Militant.
As it happens, a very satisfactory miracle has taken place the previous morning, and Gennaro's blood is on view again today. The padre turns and turns the crystal reliquary to show that liquefaction has occurred. A hundred school-children line up to press their lips to the glass. My passport, meanwhile, has ridden up my sock and is now somewhere on the cathedral floor.
A couple of hours later, in another part of town, when I realize what has happened, I retrace my steps, legs turning to gravy. Every word of Italian deserts me. (It's a passport, for heaven's sake, easily replaceable at the American consulate. My anguish is an affront to stateless persons everywhere.)
When I get back to the cathedral, I find that it has closed for the afternoon. A few mendicant dogs lie about the front steps in a manner specific to southern Italy: on their sides, as if dead. It is a blistering day, and an elderly man sits fanning himself in the shade of the central door -- with my passport.
He's been waiting for me; and I can say with Goethe, on his arrival here, "Either I have always been mad or I am so now."
This miracle, this superb gentilezza, is for real.
Reprinted from NAPLES DECLARED by Benjamin Taylor with permission of Marian Wood Books/Putnam, a member of The Penguin Group (USA) Inc. Copyright (c) 2012 by Benjamin Taylor.
Calling all HuffPost superfans!
Sign up for membership to become a founding member and help shape HuffPost's next chapter