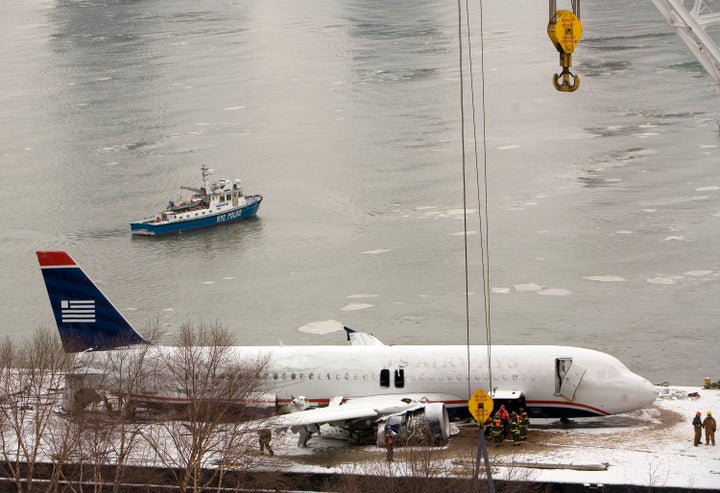 NEW YORK (Reuters) - The U.S. Airways airplane that made a splash-landing dubbed the "Miracle on the Hudson" more than two years ago began a road trip on Saturday to Charlotte, North Carolina, its original, and final, destination.
The Airbus A320 airplane, which had sat in a New Jersey warehouse since it was salvaged from the icy Hudson River after the January 2009 water landing, was loaded onto a trailer earlier this week.
All 155 passengers and crew survived the incident that made pilot Chesley "Sully" Sullenberger an American hero for his quick-thinking decision to land in the river when the airplane struck a flock of birds just after take-off from New York's LaGuardia airport and lost power in both engines.
The plane will make its way over several days to Charlotte, where it will beceom a permanent exhibit at the Carolinas Aviation Museum.
The museum was tracking the journey, originally announced to begin on Monday, through the streets of New Jersey and beyond, on Twitter at @CarolinAirMusem.
"Today (Saturday) we will stop in New Brunswick," a midday posting said.
Museum president Shawn Dorsch, who called the plane "a major international aviation icon," said it would take several months to reassemble the aircraft.
Sullenberger will be on hand for a special event at the museum on June 11, which sold out on Friday.
(Reporting by Chris Michaud; Editing by David Bailey)
REAL LIFE. REAL NEWS. REAL VOICES.
Help us tell more of the stories that matter from voices that too often remain unheard.