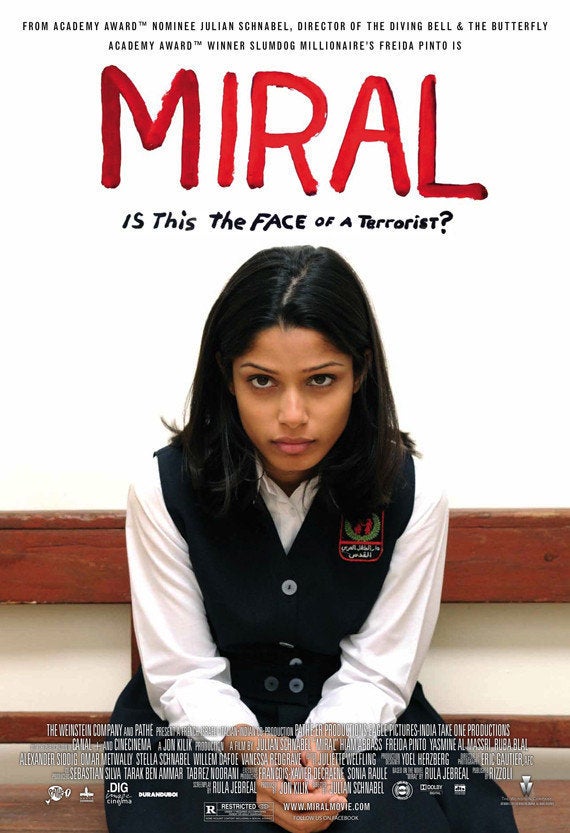 The extraordinary revolution we've witnessed in places like Tunisia, Egypt and now Libya has awakened the optimist in all those who work for peace and freedom. This movement has happened, in large part, due to brave, educated young people taking control of their lives and embracing democracy in a deeply inspiring way. This is their moment in time. And their actions will lead to a positive transformation of a very volatile region.
As a filmmaker, I wanted to open a dialogue with young people in the U.S. about one complicated and often misunderstood part of the region -- Israeli/Palestinian relations. Understanding this conflict requires not only historical perspective, but our ability to look beyond countless negative images and perceptions and one side usually portrayed as "the bad guy."
Our film, based on Rula Jebreal's novel, tells the story of Miral, a young Palestinian girl (played by Slumdog Millionaire's Freida Pinto) who grows up in East Jerusalem against the backdrop of war and occupation. From the age of five, Miral is raised at Dar El-Tifel, Hind Husseini's orphanage and school, where she is taught that education is the only way toward lasting peace. As she moves into young adulthood, Miral gradually awakens to her people's struggle and ultimately must choose between a path of violence or a path of peace.
As a father of five, I made Miral for young people. The heart of this story is all about the lasting impact of education and the journey of a relatable main character, who tries on several different approaches to solve the problems in her life, including violence, but in the end, falls back on the ideals she learned as a child. This is, in my humble opinion, an exemplary message for our time, especially for young people -- whether they live in Brooklyn, Jerusalem, or anywhere in between.
This is why I was shocked and saddened when the MPAA awarded Miral an "R" or restricted rating. As a filmmaker, I took great pains to tailor Miral to the intended audience and frame this material appropriately within the guidelines of a PG-13 rating. I made very clear aesthetic choices so we feel the impact but never see anything that could be construed as problematic or gratuitous. It was the first time where I was conscious of the MPAA during the filmmaking process, and steered clear of anything that might result in an "R" rating.
The "R" rating, I suspect, was given to Miral because of two important plot points that deal with the abuse of women. There is an implied molestation mostly learned through dialogue and one shot of a man getting out of bed. There is no nudity or simulated sex. There is also a scene where Miral is interrogated by police and caned. This is illustrated with a sound, and a subsequent bruise on her back in another scene. Again, no nudity or anything too graphic. There is no profanity in the film, except for two uses of the word "shit" by a character who gets reprimanded for saying it.
I have seen PG-13 films where entire armies or villages are destroyed without an ounce of remorse or understanding. Women are objectified constantly in PG-13 movies, and such objectification is rewarded by the MPAA in the form of a friendlier rating. Our film tells a real story with real consequences and offers real solutions for one of our most challenging problems -- and it is punished. It baffles the mind.
It's rare for a film this discrete and mild to suffer a restrictive rating. It seems the MPAA is doing so at a great disservice to those it is trying to protect. Stylized violence is accepted (and encouraged) no matter how brutal, and whether or not consequences are faced. It seems ironic that young adults are prohibited from seeing films, which contextualize violence, and yet are so privy to violent, unfiltered images beaming from their home televisions and computer screens.
Again, my goal for Miral was communicating about young people, to the young people in a manner that is appropriate for the young people. My producing partner Jon Kilik and I have appealed the MPAA's rating. It is our hope those who have great power to determine what is and what isn't appropriate for young adults will look inside their hearts and realize that as young people fight for freedom in one part of the world, our sons and daughters here at home will be afforded the opportunity to learn more about who those people are.
REAL LIFE. REAL NEWS. REAL VOICES.
Help us tell more of the stories that matter from voices that too often remain unheard.