The silent marches, the largest of which took place in Paris, were held in tribute to Mireille Knoll, who escaped a roundup of Jews in Paris at the height of World War II. She fled to Europe and Canada before returning to France after the end of the war, where she lived for the remainder of her life.
She was found dead in her apartment last week, and authorities said she was stabbed 11 times before her apartment was set on fire. Two men, ages 22 and 29, have been arrested and preliminarily charged with murder with anti-Semitic motives.
"I thought I was going to die on the spot. I cried all the tears in my body and I thought of her. She didn't deserve this," her son, Daniel Knoll, told The Associated Press on Tuesday. "How can one do that to anybody?"
French leaders quickly urged citizens to participate in marches this week to combat a growing wave of xenophobia across France. In Paris, politicians were joined by thousands of people who marched from the city's Place de la Nation to Knoll's apartment.
Earlier in the day Knoll's funeral was attended by French President Emmanuel Macron, who denounced the "barbaric" motives behind the attack.
″[The attackers] murdered an innocent and vulnerable woman because she was Jewish, and in doing so profaned our sacred values and our history," Macron said.
But the evening's silent tribute was interrupted by the appearance of far-right leader Marine Le Pen, who defied the wishes of Jewish groups who had asked her not to attend.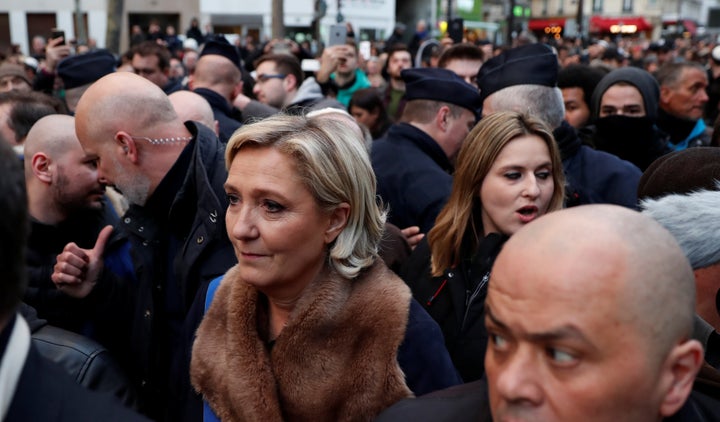 "Anti-Semites are over-represented in the far-left and the far-right, making those parties ones that you don't want to be associated with," Francis Kalifat, the director of Crif, an organization representing the country's Jewish groups, said before the marches, according to Agence France-Presse. "They should first clean out their own house," he later said.
Le Pen and far-left leader Jean-Luc Mélenchon, who was also asked not to attend, drew shouts of "Get out!" "Go home!" and "Nazi!" from the marchers.
"I find the behavior here undignified toward the [grieving] family," Le Pen said after she left the rally, according to AP. "Her son said he wanted everyone there, so we are here."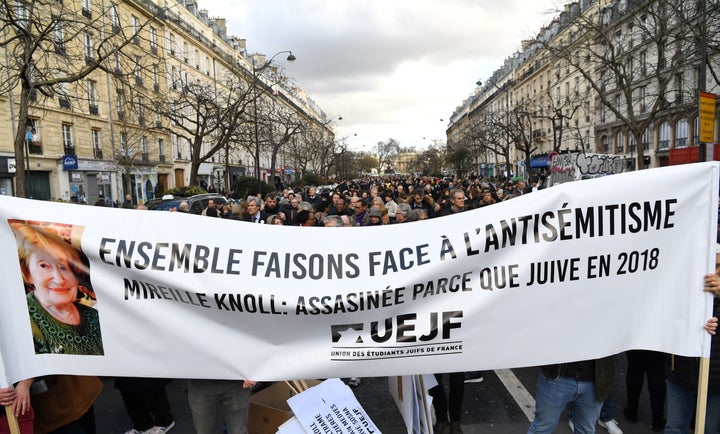 Popular in the Community