Miriam Linna sat down with me at Norton Records Headquarters in Brooklyn to discuss her debut solo album, Nobody's Baby, earlier this summer. Linna was as surprised as anyone by the fact that, after all these years of running Norton Records -- her own internationally revered indie label with husband and soul partner Billy Miller -- she had decided to record and release her own album.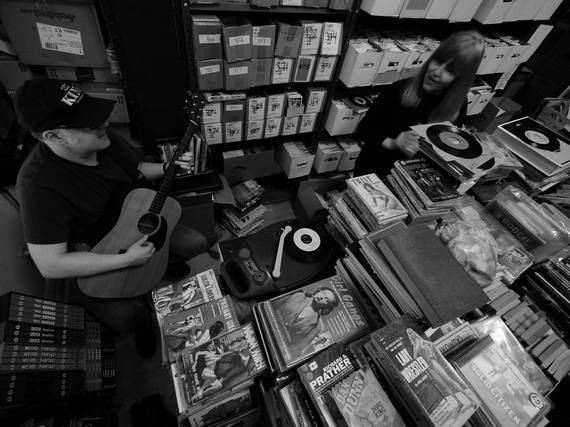 Miriam with producer Sam Elwitt
Photo by Justina Davies - Used With Permission
Linna's musical history looms large. After moving to the States at a very young age from Sudbury, Ontario, Canada ("it's only known for one thing - the most polluted city in North America"), she became the drummer in the original lineup of the Cramps. Linna was a drummer -- a chick drummer -- and this was pre-Bangles, Go-Gos, Bikini Kill, Sleater-Kinney, White Stripes. There were no chick drummers in the 1970's. People took notice. Joey Ramone for instance.
After several years of gigging and forming the seminal band, the A-Bones (who continue to perform today), Linna and Miller decided to start their own label, Norton Records, to spotlight the music that they themselves were passionate about. Artists like Esquerita and Hasil Adkins and the Flamin Groovies, Gene Vincent and Untamed Youth and Link Wray and the Dictators and Mary Weiss and Andre Williams and The Sonics and Sun Ra and the Fabulous Wailers suddenly saw the light of day -- again. And Norton, though no bloated behemoth like Sony or Warner Bros, thrived -- and thrives.
A few years ago Linna decided to start Kicks Books, the title taken from her popular 'zine of the same name back in the day. Kicks Books became, similar to Norton, a place where deliciously talented writers like Kim Fowley and Andre Williams and Nick Tosches and Harlan Ellison and Royston Ellis found a home for their long out of print books in beautifully produced hip pocket paperbacks.
And all was well... until Superstorm Sandy destroyed the Norton warehouse, the inaugural pressing of Kicks Books' first title, and hundreds of thousands of records, magazines, photographs, and irreplaceable collectibles. The arts and music community rallied around Billy and Miriam and gangs of volunteers worked painstakingly around the clock to save everything they could. Fundraisers were launched. And Norton Records and Kicks Books eventually emerged out the other side of that unforeseen tragedy. Though the bulk of their stock was ruined, much had been saved.
And now it's 2014, and Linna, who writes in the snappy pop-culture palaver of a modern-day Earl Wilson, described the birth of her solo album thus: "So here we are in this new-fangled world, but still, the beat goes on, as it has since boy first met girl and hearts ran hot and cold. One day, as the snow was piling high this winter, I got a phone call from legendary studio production wizard Sam Elwitt saying he wanted to cut a Gold Star Studio-inspired track with me giving a shot at the vocals. I said okay.
"We cut one. Then we cut another. And another. Over the winter, we cut two sides for a single, which grew into a collection of songs -- okay, a cavalcade of hits (got to keep with the CASHBOX-style hype lingo!) -- that together, formed one heck of a moody album, tipping heavily into Jack Nitzscheland and Andrew Loog-Oldhamsville... I did all the warbling, and Sam played all the instruments except the strings (!) on three songs, which were injected by Gregor Kitzis and David Eggar. Of course, Sam produced the heck out of everything.
"At the end of the day, we had a full album, a real LP of like-minded, restless recordings. This album is a collection of personal favorites from the mid-sixties (primarily) featuring unheralded, broody monsters from bubbling-unders (and overs) -- we even recorded an original heart buster which we hope you dig the most. Somewhere along the line, a gust of wind took off with my last name and I became a one-named person, like Cher. Or Rasputin, for that matter." Nobody's Baby seamless segues from Ross Watson's "My Love Has Gone" (the first single) to Tim Buckley's "It Happens Every Time" to the Ramones' "Questioningly" to Jeff Barry's "I'm Nobody's Baby Now" to Bobby Darin's "Not For Me" to Gene Clark's "So You Say You Lost Your Baby." The record is of a piece, a cohesive unit, a jingle-jangle confection sweet that reminds me in part of Tracey Ullman's much under praised 1983 debut You Broke My Heart in 17 Places on Stiff Records.
Linna poured me some industrial-strength java as we crouched around the coffee table in Norton HQ on a sunny Saturday morning. When Sam first reached out to see if she would indulge him by working on a new project with him, she was at first trepidatious. To say she had never done this sort of thing before would be a grand understatement, though her musical chops were well known. I asked how she and Sam found the material initially.
"We found a Neil Young demo called "There Goes My Babe," Billy brought this, it was a Neil Young demo that we both really liked and then Billy goes, that's like a cool song that's kind of from that era. Then we started listening to it and Billy said, you know, I think Neil wrote that as a demo for Cher. There's no documentation whether it was or not, but he said that Neil was writing for and working with Sonny and Cher's people at the time. So at any rate we said, OK let's try that."
Elwitt played all the instrumental tracks first before Linna laid down her vocals. "He played everything. Real drums. Real guitar. Real bass. He's unbelievable. And then he gave it to me and this all happened very quickly and we did the vocal tracks on it and we thought - oh wow, they turned out pretty cool." After a sip of her coffee, Miriam continued, "So that's basically how it happened. So we ended up over the winter and it was - from a personal perspective, it was like, not having to really think it out, you know. There's so much stuff that has been on our minds, so many worries and concerns - this was like going into something completely like an unknown realm. Almost like going into a dream state on those days... I went over to Sam's, he lives about a mile, half mile away, I would just walk over there and listen to the stuff and think about things and we'd drink tea and coffee and record."
Linna, Elwitt, and Linna's husband Billy helped come up with the songs that were eventually included on Nobody's Baby. They were aiming for a Wall of Sound - Andrew Loog Oldham - Jack Nitzsche vibe, which by the way they nailed perfectly. "We tried to pick songs that people would think were outlandish to do. Like - what is that song? What?! Who did that? It wasn't deliberately trying to freak anybody out or deliberately trying to do a really crazy song, it was more like we could try that and that's a challenge."
Elwitt's partner, photographer Justina Davies, overheard the material being recorded from another room at one point and noted that Linna's vocals were, "I forget the word she used - it was a word like, not fearless, but like unabashed, because normally I wouldn't be able to be doing that." The general consensus was that the entire experience was unique for all involved, "...because I felt like he knew what he was getting and I felt happy with what he got."
Nobody's Baby is an album in the truest sense, in the old school sense - the twelve songs seamlessly move one to the next in a magical way and set a tone that hearkens back to one's angst-ridden teenage years of love and heartbreak. Only this time in a way where the experienced, perhaps even jaundiced, eye of adulthood can admire and enjoy those precious diamond feelings. The music, too, is redolent with lush Sixties trims in a way that, frankly, is just way too lacking in current musical offerings. The songs are connected - it feels like an album, not a collection of material.
"It led into that idea that it was all kind of planned out without it being planned out," commented Linna. "This was kind of meant to happen. The worst, dreariest, coldest, awfulest winter months - weird stuff was happening in people's lives and so on and the passing of friends right before that. I had this feeling and I think Sam had it as well, that if things are happening and if things are lining up that you can do something, then for God's sake do it."
Linna was nervous about being out front onstage because she'd always had the protection of her drum kit. "I was telling Billy, like, Oh my God, I can't do this. I'm going out front. I've always been back there with this armor / shield and even then sometimes I wish I had a bulletproof shield. To go up front - I mean, Billy, how do you do this? He said, 'ah, don't worry about it, just go out there.'
"It was scary - heart-poundingly scary - for about twenty seconds, and I don't know how to explain it. But it was just like diving off a diving board or something like that - is the water going to be cold? Am I going to hit the bottom of the pool? No. It's going to be fine and you're going to swim it and it's going to be great."
Linna performs tonight at Bowery Electric along with the legendary Cheetah Chrome, Mad Juana, and Guest DJ Billy Miller. A few tickets are still available. She will also be performing Sunday night at the Ramones' 40th Anniversary Show along with Cheetah Chrome, Handsome Dick Manitoba, Walter Lure, Jesse Malin, Willie Nile and others at Bowery Electric.
Nobdy's Baby is available on vinyl and CD from Norton Records and is downloadable on iTunes.
For more on Kicks Books and the upcoming biography of Bobby Fuller, visit www.kicksbooks.com.
Calling all HuffPost superfans!
Sign up for membership to become a founding member and help shape HuffPost's next chapter