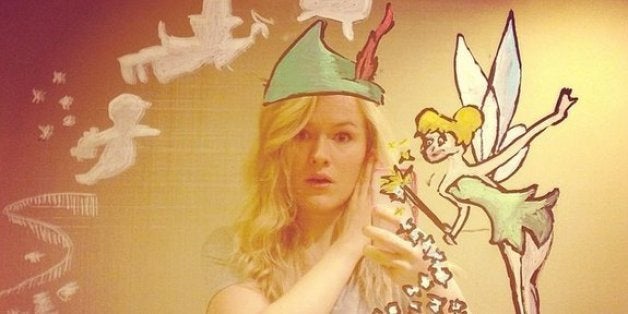 Anyone can take a mirror selfie, but Helene Meldahl takes things to the next level.
"I guess I've always been doodling on things like schoolbooks or napkins," she told The Huffington Post over the phone. "For me it kind of comes natural to draw."
Meldahl said that in the mornings she used to leave small drawings on the bathroom mirror for her roommate. One day she turned a drawing into a selfie and posted it online. She enjoyed doing it, and people enjoyed looking at it, so creating more seemed like a no-brainer.
These days, she enjoys a following of thousands (and growing!) and can bang out one of her inventive drawings in about 20-30 minutes.
"I'm not really one for details. I usually just get a picture in my head and go from there," she said. "One of my favorites is the one of me climbing a ladder, only because it made me laugh while I was doing it."
Meldahl says she typically uses chalk marker, acrylic marker or anything else that's easy to wash off a mirror.
After almost a year of regular posts, she says she's not yet sick of it.
"Some people write in a diary, and some people play tennis," she said. "I draw on mirrors."
Popular in the Community