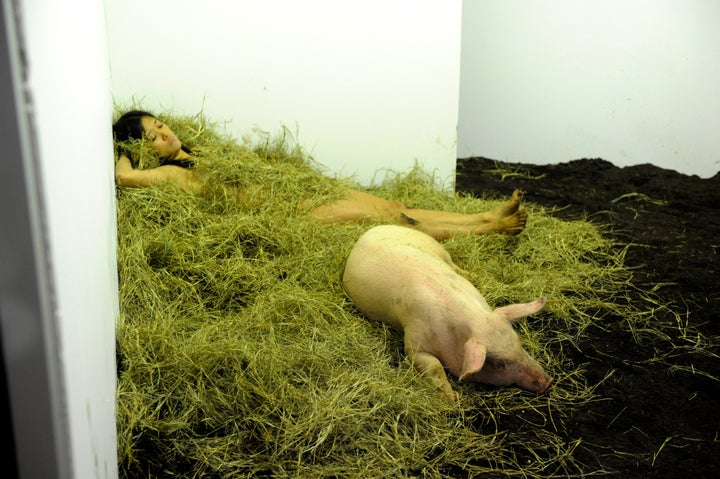 One of the most talked about exhibits during Art Basel Miami Beach was Miru Kim's "I Like Pigs And Pigs Like Me." For the performance, Kim spent 104 consecutive hours naked in a makeshift pen with two pigs in Primary Projects' window.
The artist told Cool Hunting she felt pigs are "more human-like than domestic pets like cats and dogs. Eye contact with them was shocking and mysterious, because their looks were so strange and yet so familiar." There's no denying Kim shares a strong connection with swine.
The Basel pigs were saved from a Hialeah slaughterhouse and the artist told New Times art critic Carlos Saurez de Jesus, "They will lead a very happy life and are already better off than where we found them. ... We are looking to place them as pets with a family or at a community farm after the show."
... according to animal activist Ana Campos, Miru Kim's much celebrated Art Basel performance has a filthy underbelly: art gallery Primary Flight ignored advice on how to take care of the pigs, neglected their health, and left them on a tiny Little Haiti farm taped up inside a cardboard box. The gallery didn't even donate the funds it promised to take care of them, she alleges.

"When I saw them, they had pneumonia and their ribs were sticking out," Campos says. "Primary Flight got a boatload of money and a boatload of attention... but the back-story is not so pretty."
Kim, however, told HuffPost Miami that the pigs didn't develop pneumonia during the show. "They were definitely already sick at the slaughterhouse, because they were coughing when the slaughterhouse worker picked them out. I was there."
She continues, "During the show, one pig was lively, but one was sleeping a lot and we called in the vet twice during the 4-day period and I was closely monitoring them. One of the gallery employees had experiences with large animals, so he was giving antibiotics. I did feel quite confident about their recovery, but I had to leave as soon as the show was over."
Kim told HuffPost Miami that once she was back in New York where she lives, she continually contacted Primary Projects about the pigs' condition. When she heard from CJ Acres Sanctuary about their illness, she gathered donations from her friends and sent $1,000 of her own from the print sales of the project.
Kim, whose knees are still peeling from spending time on all fours for the project, tells HuffPost Miami that she's "very friendly with animal rights activists" and that her work has been "very positively viewed by them and by environmentalists," citing reviews on the PETA blog, Treehugger, and Environmental Graffiti.
The artist said she really appreciates the work of activists like Campos who made sure the pigs were cared for. She told HuffPost Miami, "In the end, it was the gallery who contacted them because there was some trouble. And they helped, which I think worked out nicely, except for the fact that they're so angry."
New Times reports that Campos made contact with Kim before the performance to ask her to not use the pigs. Kim told HuffPost Miami that Campos' first correspondence was so aggressively odd she dismissed it. She recounts that Campos suggested Kim instead mimic swine insemination, gestation, and castration. Kim states, "That's not my art."
UPDATE: Ana Campos contacted HuffPost Miami to clarify that her message to Kim implied that she should imagine, and not mimic, the life of a pig. She supplied an excerpt from the email: "I suggest you use a gestation crate for your exhibit, not move, imagine being impregnated - repeatedly for life - imagine your newborns pulled out - castrated without anesthesia while you lie on your side immobile for the rest of the time. That's accurate. That's a powerful statement on their behalf and just a glimpse into a female pig's life."

Calling all HuffPost superfans!
Sign up for membership to become a founding member and help shape HuffPost's next chapter
BEFORE YOU GO