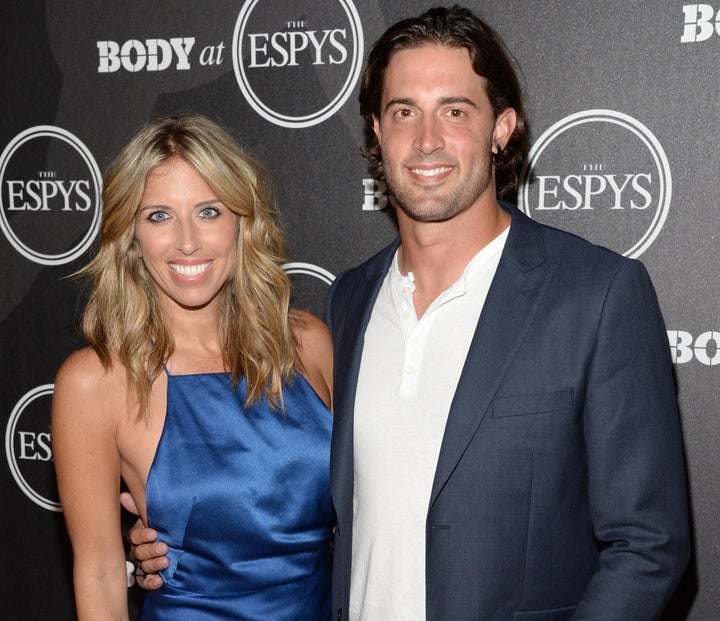 Former ESPN anchor Sara Walsh wrote candidly in an Instagram post Sunday about losing a pregnancy during a broadcast of "SportsCenter."
Walsh was three months pregnant when she suffered a miscarriage during a live SportsCenter broadcast from Tuscaloosa, Alabama ― the home of the University of Alabama ― she said in the Mother's Day post.
"The juxtaposition of college kids going nuts behind our set, while I was losing a baby on it, was surreal," Walsh said. "I was scared, nobody knew I was pregnant, so I did the show while having a miscarriage. On television. My husband had to watch this unfold from more than a thousand miles away, texting me hospital options during commercial breaks."
Walsh is married to minor league baseball pitcher Matt Buschmann.
She didn't say when the miscarriage occurred, though she hosted SportsCenter live from an Alabama football game in November 2014, according to ESPN.
Though pregnancy loss is common, misconceptions surround it. Healthy women have a 15-to-20 percent chance of having a miscarriage, the American Pregnancy Association estimates. And most miscarriages are due to chromosomal abnormalities and have nothing to do with maternal behavior, according to the Mayo Clinic. Experts say that when celebrities speak out about their experiences, it can help relieve some of that pressure on women who may feel alone when it comes to pregnancy loss.
Walsh said in her post she had two other miscarriages after the first one, and that she appeared on television throughout.
"More than once, I'd have surgery one day and be on SportsCenter the next so as not to draw attention to my situation," she wrote.
Walsh found out she was expecting twins last fall and "spent a third consecutive college football season pregnant, strategically picking out clothes and standing at certain angles, using scripts to hide my stomach."
She and Buschmann told only a few people about the pregnancy before the twins were born in late January.
"For as long as I can remember I hosted Sportscenter on Mother's Day, and the last couple years doing that have been personally brutal," she said. "An hours-long reminder of everything that had gone wrong. I wasn't on tv today, and I'm not sure when I will be again, but instead I got to hang with these two good eggs. My ONLY good eggs. And I know how lucky I really am."