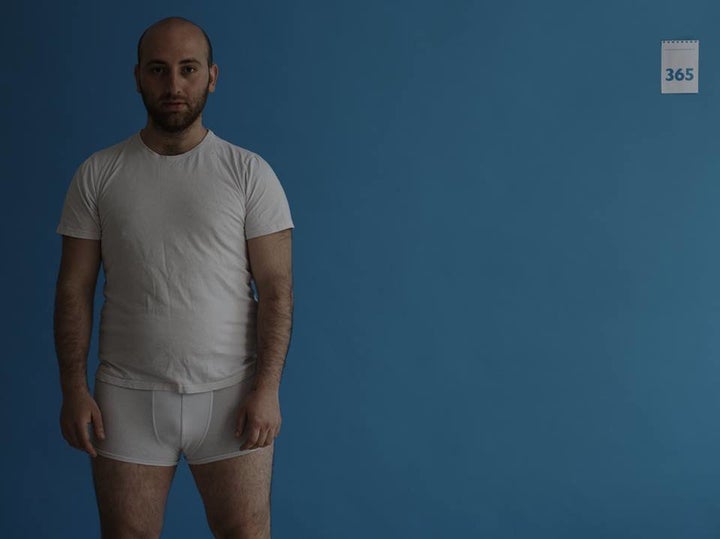 Editor's Note: The following videos may contain content not appropriate for viewing in work or other sensitive environments.
Just over two years ago, Berlin-based performance artist Mischa Badasyan made international headlines when he committed to having sex with 365 men throughout the course of a year ― one every day ― for a project he titled "SAVE THE DATE."
The long-term art piece had a profound impact on Badasyan, who navigated loneliness, violence, rejection and pleasure throughout the course of his artistic process. By the last few months of "SAVE THE DATE," the artist said that he had problems with both communication and establishing intimacy with other people.
Badasyan, however, also learned new things about himself and says, ultimately, that he can be romantic and "believes in human love." He says he grew quite a bit from the experience, particularly thanks to encounters and dates he had with HIV-positive men and men who identify as transgender.
"My sexuality has been changing a lot," he continued. "People created me new every time. When I was dating trans men I felt different, when I was picking up straight guys in the prostitute area of Berlin, I became kind of a prostitute myself. I was behaving the same and my language and movements were similar to the street sex workers."
While Badasyan initially did not disclose to his sexual partners that he was involved in this art project to keep the experience authentic, he later told the men due to the notoriety of the on-going project quickly received.
In order to better understand the effect "SAVE THE DATE" had on the artist, The Huffington Post chatted with Badasyan about his process as a whole, his most defining experiences throughout course of the year and how it helped shape who he is today. Several of the videos that resulted from the year-long project, which were directly inspired by his many encounters, can be viewed above and below.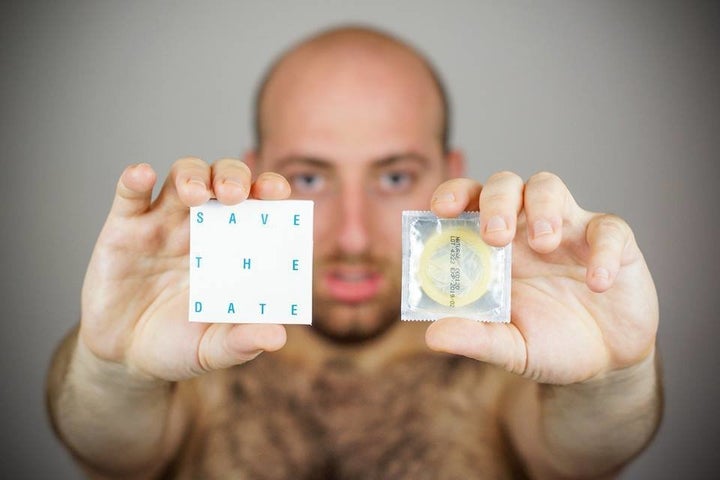 The Huffington Post: What inspired this project?
Mischa Badasyan: In my artistic practice I was moving from the concept into abstract writings and poetry, from thinking into feeling and being alive. My body was turning into non-body.
Step by step I pull my skin... It doesn't hurt anymore... I got used to it... Soon I will reach my bones, So that I can at last go to bed and fall asleep
I decided to be honest with myself and my audience and make a project about some of the most important and vital topics, such as loneliness. As I've never been in any love relationships, I wanted to make a body installation of my loneliness. This installation would consist of 365 dates ― 365 people ― 365 men ― 365 stories.
Did you have any ideas about what you thought would happen before you started "Save The Date"? Were you right or wrong?
I was preparing this project for at least six months. First of all, I took care of my health and I had an HIV test. The concept itself was changing and, of course, I was thinking of some moral and ethical issues and also about how I would complete this insane idea. The beauty of performance art or art generally is that there is no right or wrong. It is always a life experience, which can teach you a lot. If you're always afraid to make a mistake you shouldn't be an artist. I knew it is going to be a kamikaze mission and that I will suffer a lot but the pain is a basement of my performance art.
What did you learn from doing this?
Others create me and I am a reflection of others. I want to be part of you ― your body, your moment, your story and your life.
For the first time in my life I started crying while having sex. It never happened before and I was surprised how emotionally intertwined I became with my body.
I was just meeting people who inspired me and that I would love to see again, and that gave me so much energy and power. But there was this "but." There always has been an excuse as to why people rejected me in the end. First, they gave me hope and so much love and right in the middle I was facing a big wall that I couldn't climb over. It made me insecure; and I was very afraid to climb the walls. I don't believe in words anymore ― I just feel and I open myself to everyone.
"For the first time in my life I started crying while having sex."
I learned how to say goodbye to people, friends, lovers. This project created a lot of negative energy that I had to deal with. It was very hard for me to say no; to let go the feelings and just to relax.
For the first time I slept with a trans man who has a "dicklit" ― combination of a dick and vagina. And so I learned about how our bodies could be sensitive and powerful at the same time.
While engaged in the project I consciously went on dates with HIV-positive people and so I learned how to accept people and also about the virus itself. If people are on the therapy [undetectable] there is almost no chance for you to get this virus.
I also learned about the connection of violence and sexuality. In my last 4-5 months of the project I couldn't enjoy sex without violence. I had to punch, beat, slap in order to be high and excite myself. That was very new and strange for me.
What do you want others to take away from your experience?
I experienced a lot of hate speech and discrimination in the gay community. I hope very much that people can stay people and enjoy all those dating apps without any discrimination. I also want people to be honest with each other. Berlin is a great place for fun and sex, but nobody wants to accept that they are fucked up and depressed. Nobody speaks about the loneliness of gay people. They want to show only a good body and good mood. I hope they will wake up now.
"Nobody speaks about the loneliness of gay people."
What was the worst experience you had?
I was a bit scared when an Armenian Neo-Nazi was attacking me online. He said if I hadn't stopped the project he would kill me within 30 days and so he made a countdown every day. I reported him and blocked from everywhere. I was also shocked by religious fanatics who would send me quotes from the Bible and say I have to go to the church in order to save my soul and get back on the right track in my life. The worst experience could be also a rejection of people ― online, while cruising. It is a very difficult ― and I would say traumatic ― experience if everyone rejects you at once and you still have to find someone to complete a goal for a day. I taught myself not to cry and just keep saying to myself: Mischa, it is just a project, don't give a shit about them.
What was the best experience you had?
I had so many beautiful dates. For example, one dancer from LA flew to Berlin to date me. He made a dance piece in his college based on my performance and then he went on a date with me. Some dates became part of my work; some became my close friends. It is beautiful to be connected with someone who was just part of your art piece and now my life.
It was also very nice getting messages and calls from people around the world and hearing that I inspired or even saved them. For example, one guy from Russia sent me a message that he got the HIV virus and he felt so lonely and he didn't know whom he could speak to. Once he read about me he said he was happy that someone speaks out about the topic and he felt so released.
This interview has been edited and condensed for clarity.
Badasyan is currently working on a new project called "TOUCH" that builds on his work in "SAVE THE DATE." He says it deals with physical social contact and "helps me to rebuild the connection between me and other people that I lost in the last year. In order to understand something, you have to touch it." Check out a video from "TOUCH" below and head here for more info on Badasyan.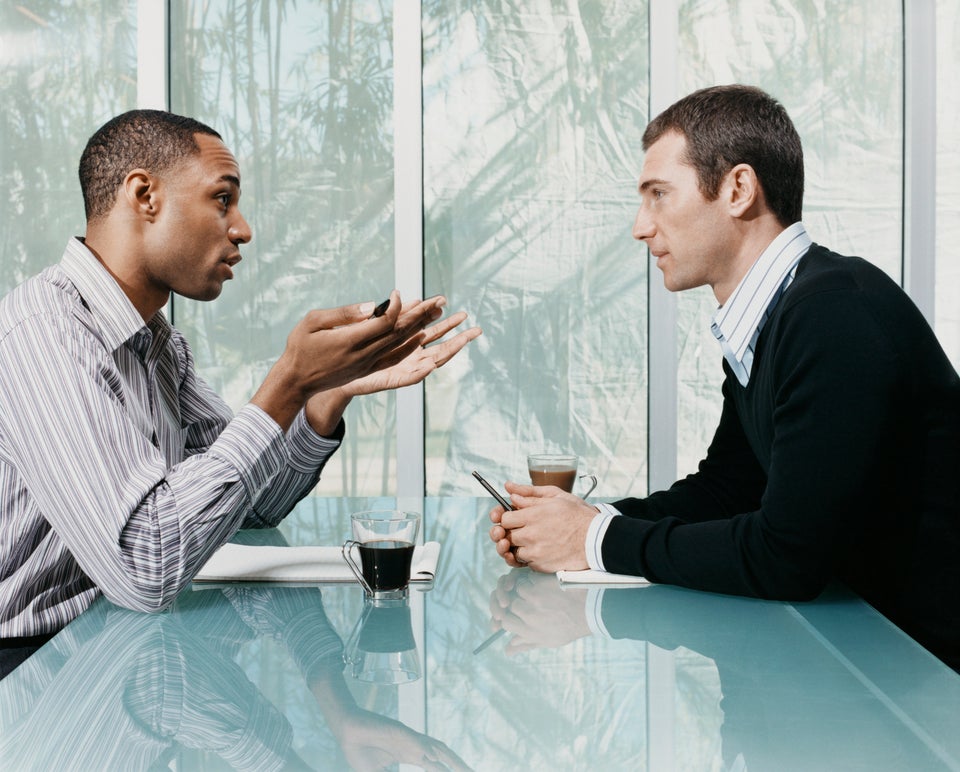 Lesser Known Sexual And Romantic Identities